Lately, I've had a number of conversations with friends and partners about what is a "Starbucks inspired moment"?
In fact, I'll admit to you, I've had friends and acquaintances tell me that they feel Starbucks stores aren't nearly as friendly and joyful as they once were, say eight to ten years ago. Just today (July 12, 2014), I listened to a friend mention to me that she felt that there were too many "uninspired" and "ho hum" Starbucks experiences.
I'll share with you today's experience and my two cents. I will say that what I don't think the Starbucks experience is:  It's not a social contract. I think this might come to the chagrin of many, but it's not a social contract. It is not an exchange with a binding code of conduct for each side of the counter. You take your customers as you find them – they open their wallets and spend money. And at the end of it all, customers generally want a delicious beverage, a clean store, and a friendly experience. That's it in a nutshell.
When an inspired moment comes along, by its nature, it's unexpected, and like the nice frosting on the cake. You can't force an inspired moment. It will just happen. Not every Starbucks experience will be epic – I think this is important. I think we, generally in life, have too many unrealistic expectations of each other. We hope for the best. That's it. I too hope for the best on both sides of the counter. But since there's no Starbucks coffeehouse social contract, baristas can't expect that their customers will act the way they want them too: Customers will have trouble ordering; they may not put down their phone; they'll bring in their yappy dog, and more. And in the space of a playbook 30 seconds, dear customers, your barista is not your new best friend. In fact, that 30 seconds is a tiny snapshot moment in time, and the customer has no idea what the barista is worried about in the back of his or her mind, and vice versa. There are plenty of times that I (like many) just want to rush in, get a beverage, and then head to wherever is next on the day's agenda. We hope for the best. And despite all of this, it is amazing what can happen at a Starbucks.
This morning (July 12, 2014), I arranged to meet someone at the Northgate Starbucks, at 9:45 AM.
I ran late. At close to 10:00 AM, I ran in the store, apologizing that I was late. I ran to the register, ordered a Grande Iced Coffee with a splash of milk on top at the end, and then sat down with the friend whom I'd arranged to meet. I paid for my drink, picked it up, and sat down at a table. I didn't even pay attention to who was at the register or who was the bar. It all happened pretty fast.
I sat in the store for about forty minutes. This very conversation came up, as the friend I was with mentioned that she felt like there were more "uninspired moments" than ever before. I realize that not every experience is something to write home about. Generally speaking, I tend to have good experiences. I really do. I can say in all honesty that the overwhelming majority of my Starbucks experiences are just fine in my book. Even if there's nothing particularly memorable, the drink is fine and the baristas are friendly. Maybe I'm lucky – it's very rare (though it has happened before) that anything goes wrong for me at a Starbucks.
My friend left about ten minutes before I did. I stayed behind, making a Facebook status update. My Starbucks cup was empty. I headed back up to the register (there was no line) and I said the following: "Hey, my drink was perfect. I'd like another one exactly like the last one," as I pointed at my marked up iced coffee cup. The register barista took the cup right out of my hands.
The bar barista jumped into the conversation. These were his very words: "You know why your drink was perfect? Because I made it." That made me smile. My attention was now turned to a young-ish man named Liam (as per his name tag) at the Mastrena area of the store. It was then I realized that I'd been so focused on running late and meeting up with someone, that the first time around, I'd been oblivious to who was on bar.
You will never see an inspired moment coming 'round the corner.
He took my cup and proceeded to make a second iced coffee in the same cup. I said to him, albeit in a bit of a teasing tone of voice, "You know, you're not supposed to use the same cup. I think it's some health code that you have to give a new cup in Washington."
Liam replied, "Oh really? I didn't know that. It's not like that in California, in the stores I worked at there." I quickly deduced that he'd recently transferred to this store.
The store was slow. I walked around to the beverage pick up area of the store. I asked, "So where are you from in California?" I dropped the conversation about re-using the plastic cup. I just didn't care >that< much about the cup and lost all interest in discussing re-using plastic cups. "I'm from the Huntingon Beach, Anaheim area," Liam replied.
"Oh I know that area!" I said, and then I added, "Did you know there's now an Evenings Starbucks in Huntington Beach?" In fact I'd just visited that Starbucks in May of this year. I'd planned a blog article about the Huntington Beach Evenings Starbucks and then scrapped the idea when I realized that I'd taken too few photos, and that my photos were too full of customers to really get good pictures of the store itself – it had been packed when I visited it in May. My experience at the Huntington Beach Evenings store had been quite fine – I even saw a partner who had transferred from the East Olive Way Starbucks to the Huntington Beach Starbucks, and so it was great to catch up with her. Here are the few good pictures that came out of that May visit to the Starbucks at Goldenwest & Yorktown in Huntington Beach, California: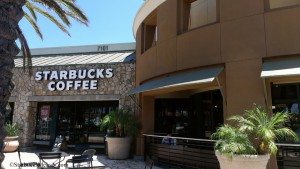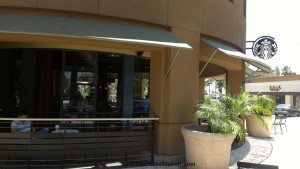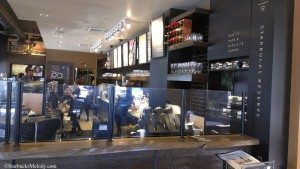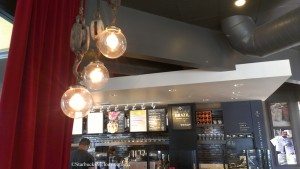 Liam's reply surprised me. I admit, now and then, I'll meet Starbucks partners who seem unaware that there are Evenings stores at all. Liam said, "Oh I know that store! Yeah I've been there – I have a couple of friends who work at that store!"
"Really? I was just there in May. I know someone who works in that store too." We talked for another second and realized we didn't know the same people at the Huntington Beach store. I asked him how long he's been a partner and he said since 2006. I leaned into the bar, which was still surprisingly extremely slow, and whispered, "I go to Orange County a couple times a year. My mom lives in Orange." Liam made an "awww"-like noise, and I think he was unconsciously batting his eyelashes, and said, "Awww, my mom and dad live in Orange too." Now I love you Liam.
Indeed, I'm sure I was smiling ear to ear. I switched gears on him. I said, "Hey are you much of a reader?" I ask that because I know that a lot of people don't read books. I recall reading somewhere that the average person reads five books a year. I know people who don't read any. "Yeah, I love to read. I read about two books a month." That's a lot of books. Liam, you're a reader. If you look at my Kindle, you'd find that I just started reading The Killing Floor, and that may take me a couple of months to read.
"Wait here and don't leave. I'll be right back." I knew I had a couple of copies of Tales of the Siren: A StarbucksMelody in the trunk of my car. I figured Liam might enjoy it. As far as I was concerned, I had had an inspired moment. I still hadn't mentioned to Liam that I had a blog or anything like that. He'll probably forget this conversation as one of many in his day. I returned to the store with my book, Tales of the Siren: A StarbucksMelody and told him that I hoped he would read it. He looked at me a bit confused, like 'why is this person giving me a book?' but in the most genuine tone of voice said, "Is this for me?" He thanked me for the book.
I said goodbye as I bolted out the door to my next errand for the day.
Thank you Liam for the inspired moment. That's a Starbucks inspired moment.
Related posts