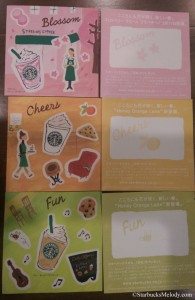 Last night, I was at a Starbucks in University Village. While I was there with friends, two people came in visiting from Vancouver, Canada, who knew me from social media. Yes, this was quite a coincidence! The couple – Andrew and Yoshima – were a delight to meet. I'd been following Andrew for a long time on Twitter! Andrew is a current partner in Vancouver, and Yoshima is a former Starbucks Japan partner.
If you'd been there, you'd have seen that it was an episode of pictures, instagraming, selfies, and more. Yoshima had a handful of cards on her that were part of a promotion for the Honey Orange Latte in Starbucks Japan in 2009. Here's Yoshima showing off the cards!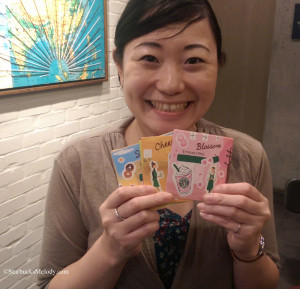 What cute little promotional cards! Apparently baristas gave them away at the register. One side has stickers of cute images and the other side has a blank area for the customer to write a note and pass it on to a friend. There were a total of six designs of these cards. And yes, Starbucks Japan always gets all the cool stuff!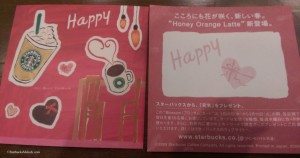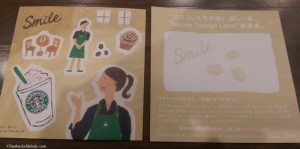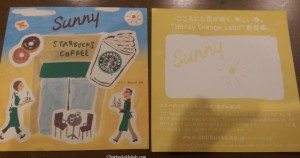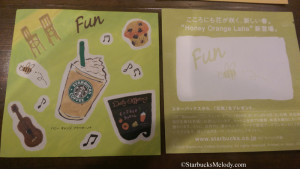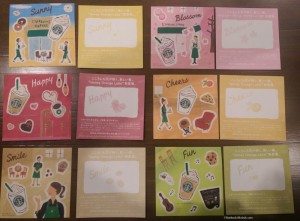 These little cards are so clever. I wish that Starbucks would do something fun like this in the US. I can totally imagine a Fizzio version of these cards.
Separately, I received some mail from long-time reader Izumi, who is in Japan. She sent me two current Starbucks Japan cards. They're stunning.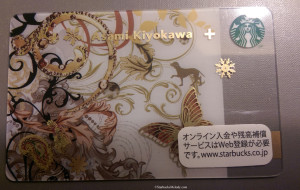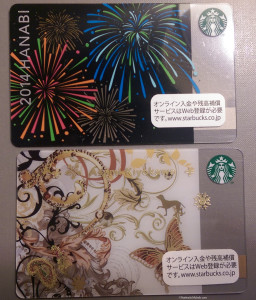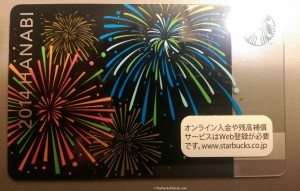 The butterfly card is so stunningly exotic and beautiful. It's called the "AR Butterfly" which means that it's an "augmented reality" butterfly card. Japanese artist Asami Kiyokawa designed it. My understanding is that if you viewed the card with a certain app, the butterflies would appear to flitter and fly.
The other new card is the "hanabi" card. It's my understanding that the Japanese word for fireworks is Hanabi. It too is very pretty!
Hope you enjoyed this quick detour to Japan!
Related posts