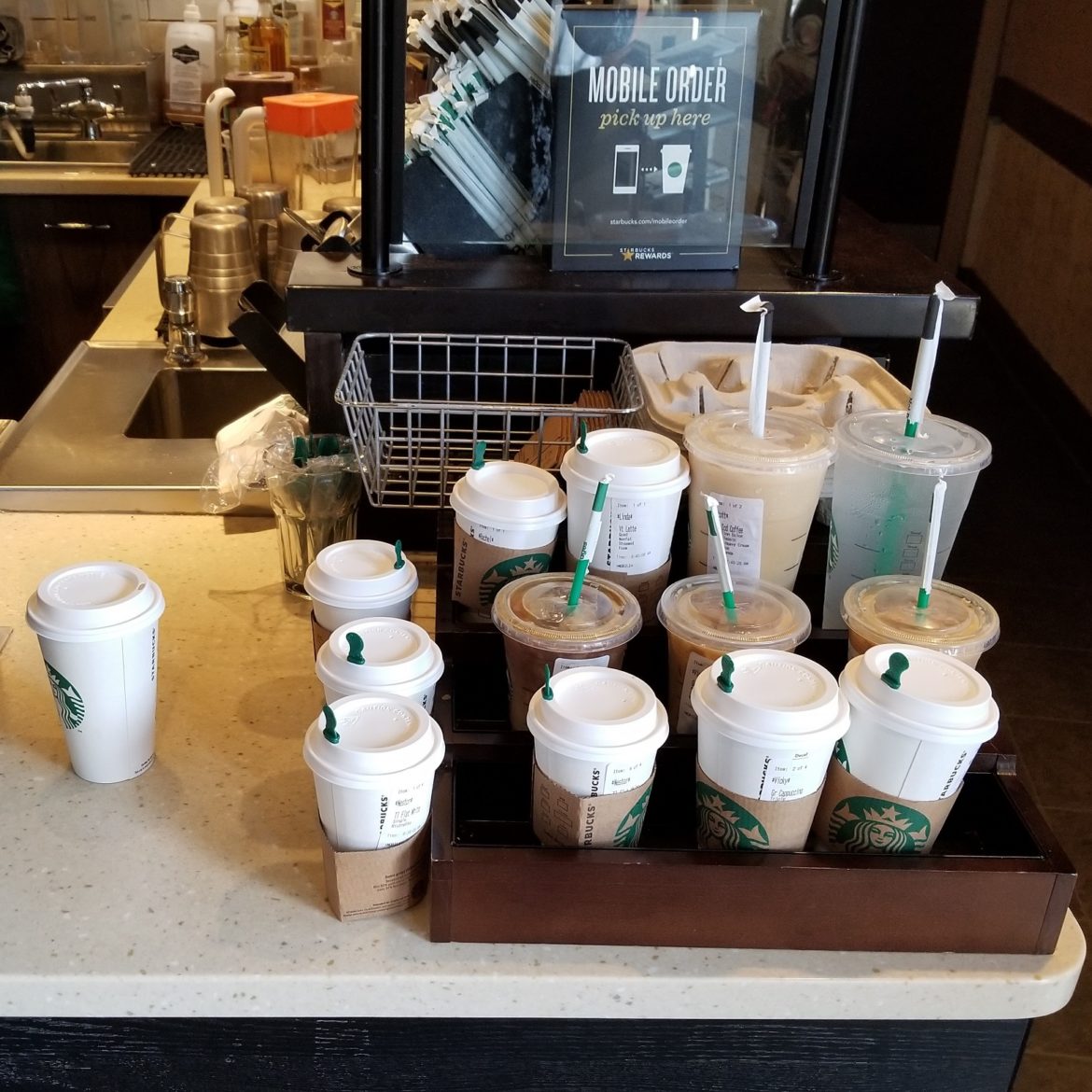 Almost two years have gone by since Starbucks Mobile Order and Pay launched nationwide in the United States. For those who don't know, this is when you use the Starbucks phone app and place your order without standing in line. In most stores, your mobile order item will appear in a staging area near the hand-off bar. In some cases, you'll need to ask the barista to get you your mobile order and pay food and/or drink item. It works much more effectively (in my opinion) for stores to have an area staged for mobile order and pay versus the customer having to get the attention of a barista, interrupt him or her, and get their drink directly from a barista.
This is a staging area: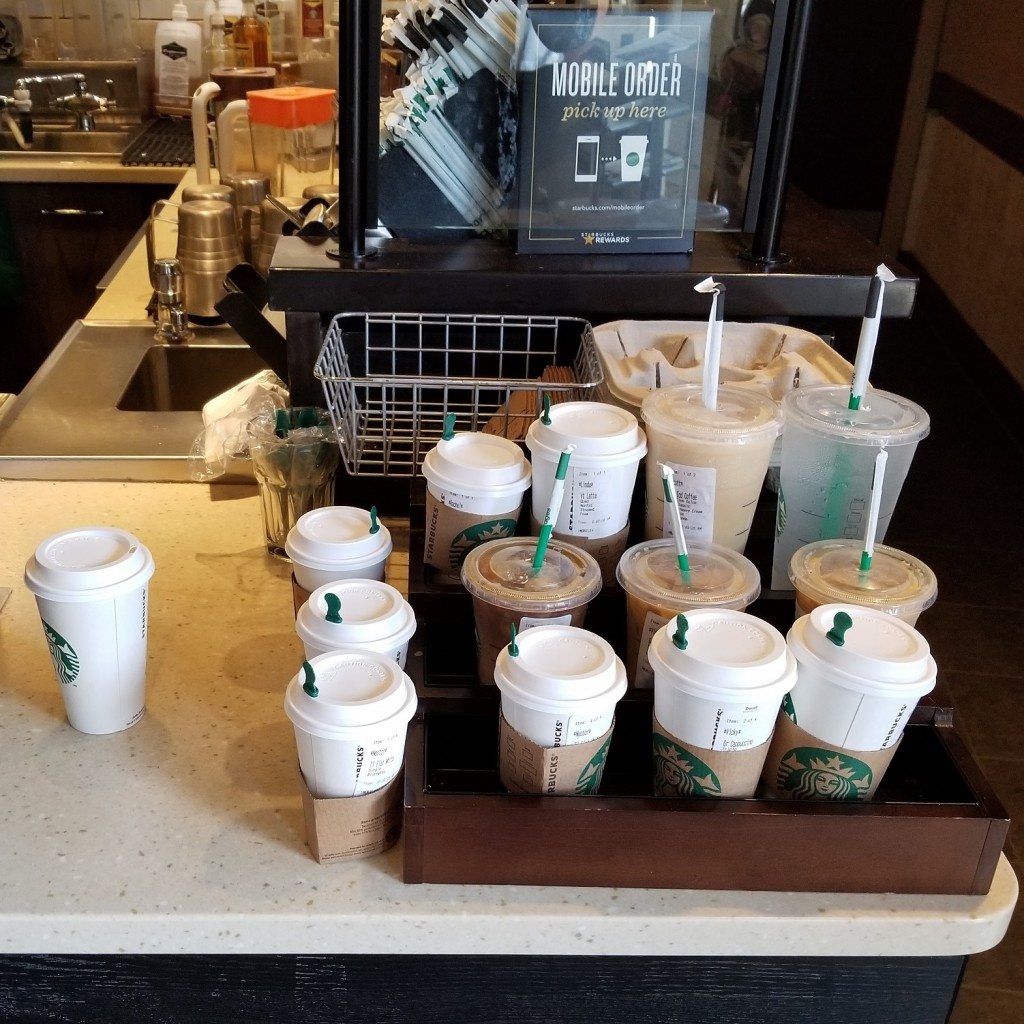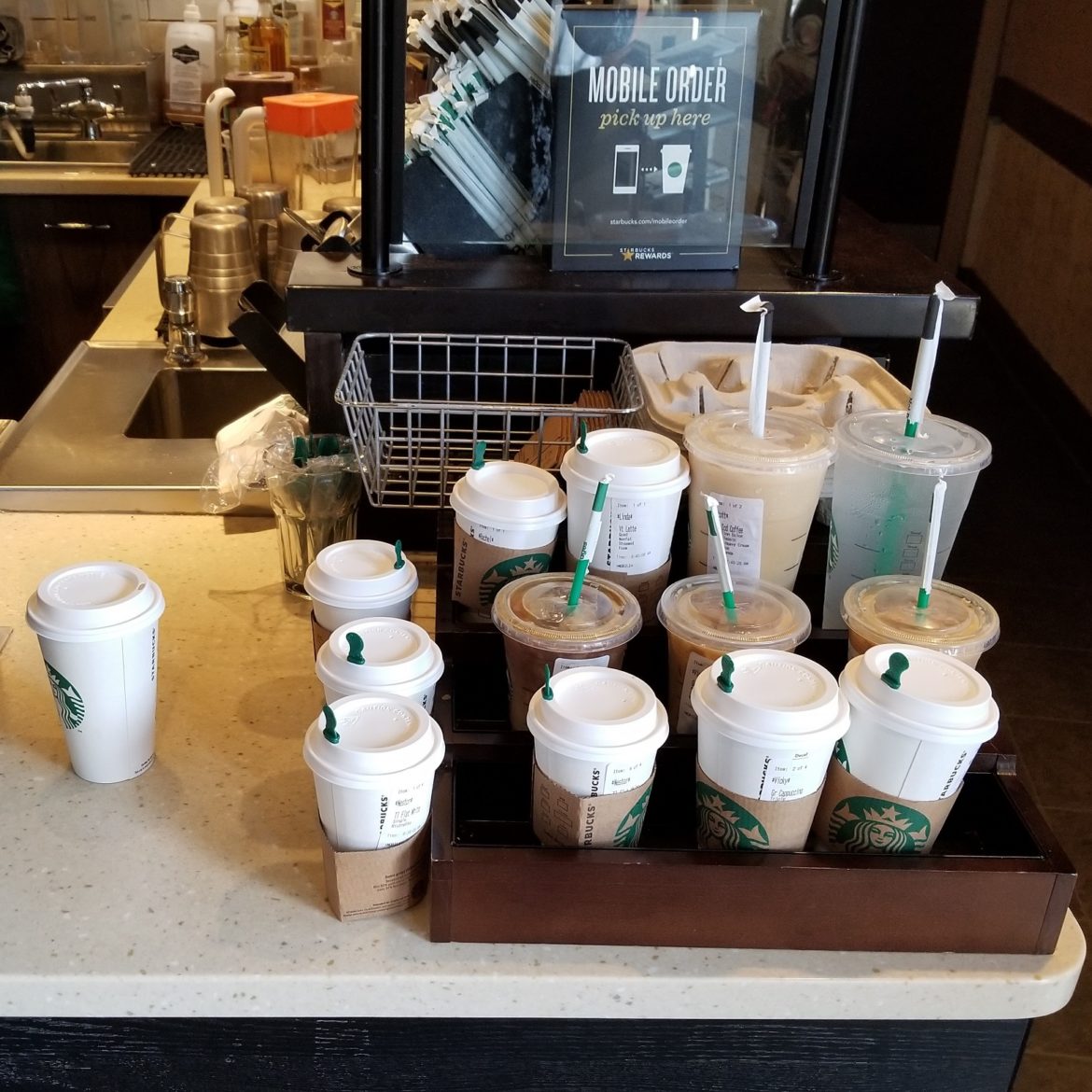 Mobile Order and Pay seems to have taken off. Some stores have close to half their morning peak orders come in via Mobile Order and Pay. In March of 2015, the Mobile Order and Pay feature of the Starbucks app was only available in select areas of the United States, primarily the Pacific Northwest. In September 2015, all United States (company operated) Starbucks were using Mobile Order and Pay. Mobile Order and Pay has even given customers the ability to gift a beverage to a person thousands of miles away. You could be talking to a family member and coordinate things like, 'Stop by your favorite Starbucks at the Starbucks on Katella at Stadium Crossings and an iced coffee will be waiting for you!'.
The Mobile Order and Pay technology has improved over time. In the very beginning, you could not redeem an earned Starbucks reward on the app, and now you can. You might even now get a text notification that your beverage is ready.
At the same time, Starbucks just announced that they're closing the online store, StarbucksStore.com. I have to say I'm stunned. It's been a great way for customers to order rare coffees that are not found in core Starbucks locations everywhere. You can even subscribe to the Roastery subscription and get rare coffees delivered to your doorstep once a month.
Since StarbucksStore.com is closing, there are lots of items on sale. Now is your chance to buy brewing equipment and more on sale!
So what do you think of all this? What is the seismic shift of the Starbucks customer? Is it simply that people love Mobile Order and Pay but don't shop for other Starbucks things on StarbucksStore.com? Please weigh in!
Related posts