Tanzania coffee and Starbucks and Origin Trips
Melody, September 17, 2011
46
3 min

read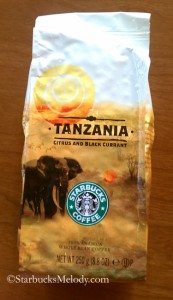 In the United Kingdom, Starbucks offers a "Tanzania" coffee.  This wonderful offering is a seasonal coffee that comes back regularly to the UK Starbucks market.  I actually had a bag of it about one year ago too.  It is washed-processed with a big juicy flavor, and a light lemony acidity.  I owe a big thank you to Dave Green who just recently sent me the bag of it shown in these photos.  I took the Tanzania to a Starbucks close to work and we had a very impromptu coffee tasting with the store manager of Starbucks store #101, and with a couple of partners working that afternoon.  I went to the bakery next door (Specialty's) and bought their "orange cranberry breakfast bread" to pair with it.
We made a French press of the Tanzania.  Everyone loved it.  The aroma was indeed very sweet.  The pairing with the "orange cranberry breakfast bread" was totally fabulous.  The citrus flavors in the coffee came to life and popped out more.
I thought the timing of this mini coffee tasting was perfect because it gives me a chance to also talk about "Starbucks origin trips."  Right now, several partners are all on a trip to Tanzania for an "Origin Trip."  Every year, Starbucks sends numerous partners on trips to growing regions to have the experience of working on a coffee farm, and the origin country.  Just as the Tanzania-coffee-gift  arrived in Seattle, I saw tweets from Jason Simpson, Dave Green and Jill Chatten that they were leaving for Tanzania.  What a cool thing for partners to do!
Jill Chatten started writing a tumbler blog about the trip.  You can find that here.  I saw a number of really great tweets today that I wanted to highlight here:
From Jill, "Drying table at the Burkaa estate, I can't stop smiling this much! 😀 #tanzania #originsexperience yfrog.com/h7vh2mjj"  And the photo is this link here.
Another one of Jill's tweets, "Beans, complete with parchment ready to go to the dry mill!#tanzania #originsexperience yfrog.com/nzig0kj."  And click here for the photo of the coffee beans.
Jason tweeted, "Nursery at Burka Estate. Shade trees. Tanzania #originexperience2011." Click here for the photo of the shade trees.
Dave tweeted, "Today was amazing, can't believe I got to pick coffee and roast it! Talking best we could with farmers, we have it so easy. #humbled."
So I almost can't think of anything more fun to talk about than a Starbucks origins trip.  If there are any partners reading this who know how you get selected to go on an origins trip, I'd love to hear more.  It seems as though the UK has a sophisticated coffee ambassador program, and that a trip to coffee farming regions are awarded to regional and district coffee masters.  I've wondered if there will ever be some sort of coffee ambassador program in the United States?  Please weigh in!  Jason Simpson is a US partner on this origin trip, and it looks like the rest are from the UK.
On the topic of UK partners, I recommend you follow  StarbucksDave, who produces StarbucksDave.com, and also be sure to follow StarbucksUKCA, who is the coffee ambassador for the UK.
Enjoy a few pics from the coffee tasting.
Related posts