Starbucks Colombia Coffee and Colombia Via: Taste and Compare
Melody, February 26, 2012
37
7 min

read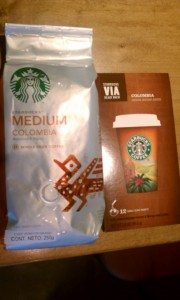 Today (2-26-2012) I dropped by the Starbucks at Fourth and Union in downtown Seattle and hoped to be able to do a quick coffee tasting.  This was spontaneous.  I didn't know who would be working and I didn't know if they'd be too busy.
A little over one week ago, a partner in Canada (who had just been on a vacation to Mexico) mailed me a bag of Starbucks Colombia whole bean coffee.  I drooled when I got it.  Colombia is still a core coffee in a number of the international Starbucks markets.  Since I had never had the opportunity to taste and compare Colombia Via side by side with Colombia whole bean core coffee, I thought that might work as a quick and fun coffee tasting.
Three partners were there working on this Sunday morning Starbucks visit:  Helen, Aaron, and Jenny were all very interested in trying a quick coffee tasting.  It was a Sunday morning, and luckily, I seemed to time this with a slower moment in the store.  Aaron told me that he wants to start his coffee master training, and that he is really interested in getting more coffee tasting experience.  He made a French press of the Colombia and prepared everything.
I have to say we loved the Colombia whole bean coffee.  Aaron and I were totally impressed with the beautiful nutty flavor, and the smooth texture, and light cocoa notes too.  This is a near perfect cup of coffee.  Aaron commented that he liked it just slightly better than the Guatamela Antigua which had been a favorite core coffee of his.
The Colombia Via Ready Brew was also quite good, and held its own quite well.  I could detect some nuttiness to it, though it lacked the beautiful aroma found in the whole bean version.  Suddenly I did appreciate the Colombia Via more than I had before, and bought a pack of it to take home.  Although I like darker coffees, I really do enjoy a nice 'medium' roast too, and the Colombia is definitely that.
Aaron and I chatted about tastings a bit, and I decided that I would do a roundup of numerous previous coffee tasting articles on this blog to make them a little easier to find.  Here you go:
There are more coffee tastings on this blog, but I think I'll stop right there.  By the way, I mentally categorize coffee events into three categories: Cuppings, Food Pairings, and Taste and Compare.  This is NOT an official Starbucks categorization, but it seems to work for me to describe the most common ways to learn about coffee.  And, I am of the opinion that to learn the most about coffee, one should experience all three of these.
I am having some computer problems at the moment, and so I'm just using whatever computer I can right now.  I took these photos (from today's Colombia tasting) on my phone on a low resolution setting so that I wouldn't have to use a photo editor to re-size them.  Sorry that they're not great quality.
Thank you again Aaron and everyone at the Fourth and Union Starbucks for a great quick tasting!
~Melody
(Edit:  After I wrote this article, I realized that some U.S. grocery stores sell Starbucks Colombia coffee!  That is a great find in the grocery store!)
Related posts