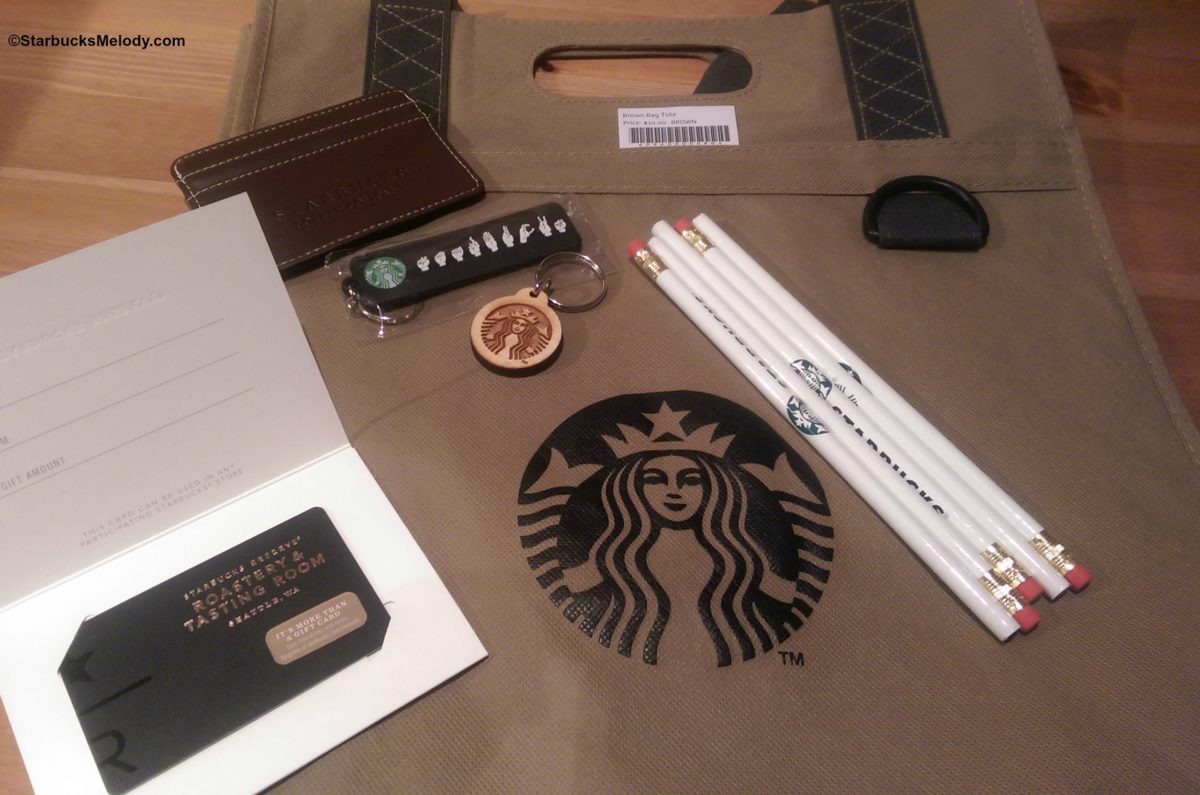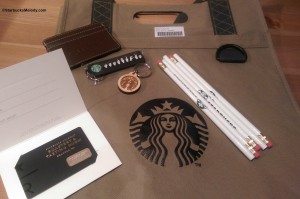 This is your chance to enter to win a Starbucks Reserve Roastery and Tasting Room card, loaded with $50, and an assortment of goodies, all from the Starbucks Coffee Gear store.Your goodies are seen in the picture – pencils, keychains, and card holder, and a Starbucks logo brown tote!
You can register the Reserve Roastery and Tasting Room card, and use it as your Starbucks card, earning stars and rewards, just like any other Starbucks card. As readers of this site know, a registered Starbucks card could be one of hundred and hundreds of designs, even including an Evolution Fresh card (the only Starbucks card that doesn't have the word Starbucks on it), Teavana Card, or any card you like that is produced by Starbucks.
Here's how you enter: this website has a horizontal banner space, which currently has the text "StarbucksMelody." I'd like a nicely designed image in that space. I'm looking for an image that would fit the dimensions 350 px wide and 79 px tall. (Actually please scale that larger in those proportions, and I'll re-size it down.) Over the years, this site has had various taglines in the header. At one time, it was "reporting on the latest Starbucks news…" or "What's brewing at Starbucks" or something like that. I do treat this site like a newspaper, for what it's worth, at least in the sense that there's always something new around the corner. I'm interested in a good tagline too. "Starbucks news and information, coming to you from downtown Seattle," or whatever you can think up.
This is not a situation where you enter a comment below and I will pick a name at random. You need to email me a banner image, and expressly give me permission to use it on this site! My email is Melody@StarbucksMelody.com. Please put the words "Banner Contest" in the subject line. Unlike previous contests on this site, you can enter from anywhere. I'll mail your prize anywhere – however, I am not responsible if the Starbucks card does not work in your country. I know that not every single international Starbucks market has Starbucks cards that work seamlessly with a U.S. Starbucks card. You must send me an email before February 12, 2015.
In short, put your design skills to work and design a banner for this site! 🙂
As an aside, I would like to make some commentary about contests on this blog. I enjoy giving away things, even if it is expensive. Over the years, I've done tons of giveaways and contests. I'll be brutally honest here: hosting these giveaways has been a bit irksome at times. I've never done a giveaway or contest where at least some number of the entrants didn't follow the instructions. I've repeatedly seen the case where a person enters a giveaway and never thinks to come back and look to see if they've won. I've had the situation where I've sent multiple emails to the email address used to enter, with no response whatsoever. If I can't reach you to send you a prize, then there's nothing I can do. I post winner names in the comments, usually in the article itself, and I send an email to the person, at the email address used to enter. Please make it easy for me to reach you. If you win, I really do want to send you the prize. What I really hope is that you'll enjoy this site and put your email address in the left side column to receive emails from me when I post something new. If you are using Facebook to follow me, turn on page notifications, otherwise you WILL miss 99% of my status updates. Facebook IS a pay-to-play system and I am just one person in Seattle. I don't have some huge advertising budget. I'd recommend Twitter too as a way to follow me. But under any circumstances, please check to see if you won and please don't disregard an email from me that says you are a winner.
There will be just one winner. And the banner that wins will be the one that I like the most!
Here's hoping someone can make me a pretty banner!
Related posts