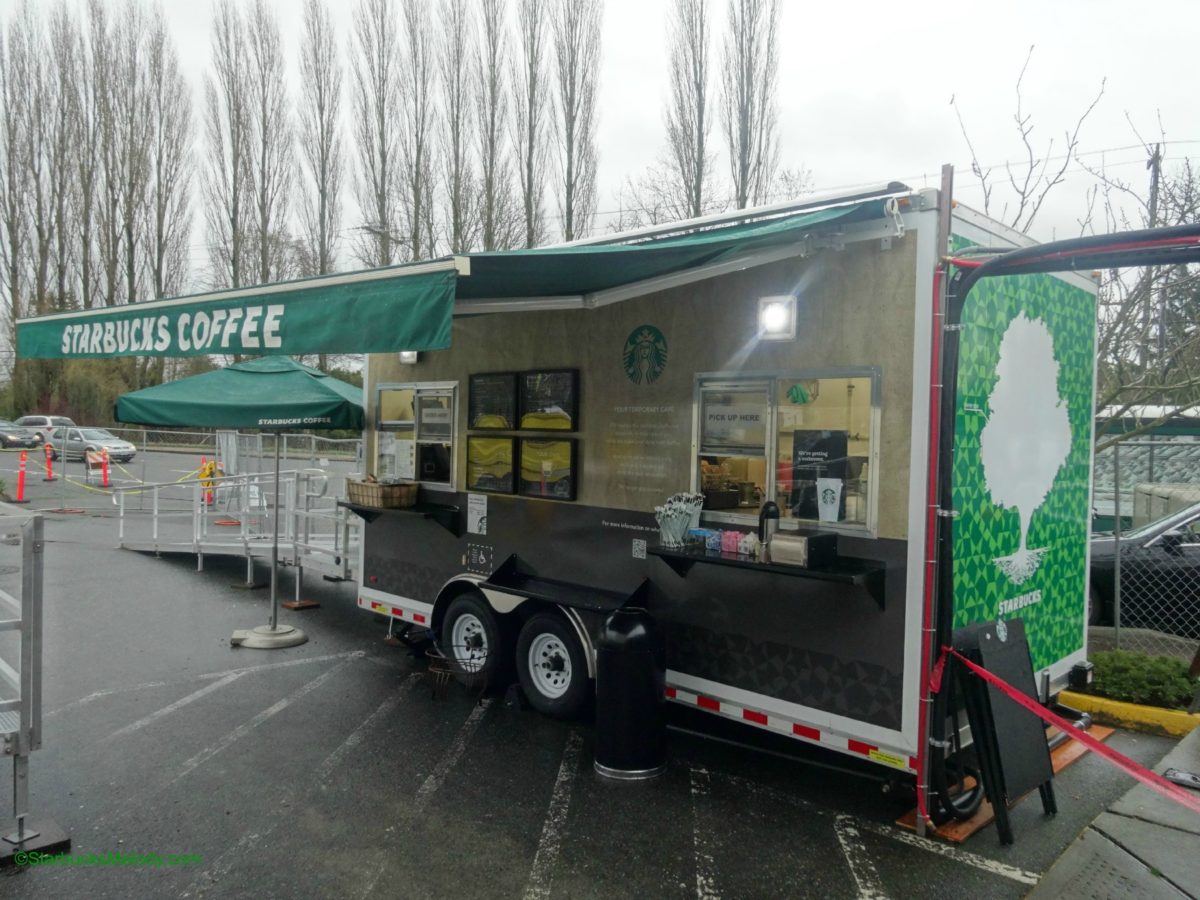 Starbucks on Wheels!
Melody, February 9, 2015
12
4 min

read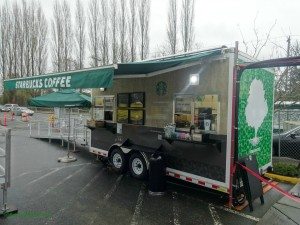 Once in a while, you may stumble upon a Starbucks on wheels: whether a truck or a trailer, the company does have a few of these mobile, re-locatable Starbucks on wheels.
The number one use for them is when Starbucks has closed a cafe for major renovations. In order to keep business operations going while a cafe is gutted for a major refurbishment, Starbucks will set up some sort of truck or trailer on the parking lot of that location. There is one right now in Lake Forest, Washington (a city just outside of Seattle). The "trailer bucks" opened up February 3, 2015, and will be at that site for about six weeks, while the cafe at 17039 NE Bothell Way, is closed for renovations. There are a few other uses for Starbucks stores on wheels, such as setting up operations for local special events, such as the Green Lake Milk Carton Derby or the Ballard Seafood Fest, but I'm not sure if these mobile Starbucks still get used for such events. Again, the number one use for a Starbucks on wheels is to continue business operations at a site undergoing a major renovation.
This portable "trailer bucks" in Lake Forest is unique. It's the first time that I've seen a drive-thru function out of a little trailer. The queue of cars wraps around the existing store, but the baristas have to run out an open door of the Starbucks-trailer and lean over a railing and hand off drinks and food. I don't think this would work if Seattle had harsh winters with snow and freezing temperatures! It would get so cold inside that little truck with the back door hanging wide open for hours on end, if the whether was freezing out! I asked the store manager how they had a drive through and he just said it was the existing lineup for cars, a few cars longer due to the mobile Starbucks.
These little portable Starbucks stores are kind of cute! Take a look at a few more photos: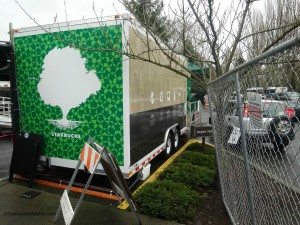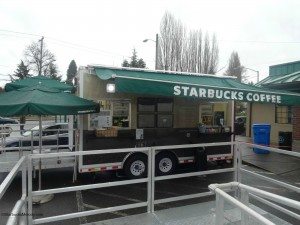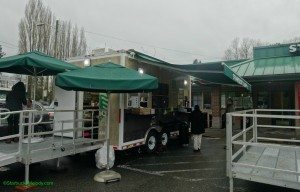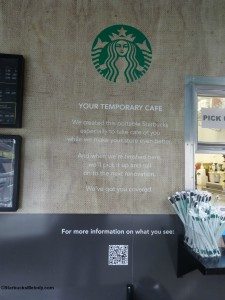 The funny thing is that I've been contacted a number of times by people who want to 'rent a Starbucks truck' and/or operate a Starbucks business from a truck. This isn't that uncommon of an email request to my site! I'm sorry to tell you, Starbucks does not rent these mobile locations for weddings, receptions, or any other customer events.
Starbucks experimented with mobile trucks on college campuses this past summer, however licensed business partner Aramark actually operated the trucks. They were not company-operated, such as when the trucks are stationary on a lot while a cafe is closed.
Even more surprising is when people tell me that they want to own one of these mobile Starbucks locations as a business venture. My gut reaction is that anyone who says that has not read Pour Your Heart Into It.
In terms of business models, any company could choose to grow by (1) franchising, (2) operating stores with other large companies via licensing, or grow their (3) company-operated locations. Each one of these things is very different from the other. Starbucks does not franchise. (I shouldn't say that as an absolute. My understanding is that there are a tiny number of franchised Starbucks in the United Kingdom.) In the U.S., you can't own a franchise of Starbucks. When a business owner buys a franchise, he or she operates their own business. They gain enormous control via the purchase of a franchise. The parent company loses some control over the franchise. It's very hard to close a franchise because the franchise owner legally owns their franchise. A license store is a permission to operate a store, but not an ownership of that business. Another business partner (usually a large successful company with their own retail operations), such as Safeway, Target, Aramark, or HMS Host (operates airport locations) enters into a contract to operate Starbucks. Just as you might have a license to drive – which can be revoked if you do something against the rules of the road – the business owner has a license, which can in fact be revoked if there is a serious contract violation. It is much more difficult to take back something that another person actually owns.
If you have handy your copy of Pour Your Heart Into It, re-read pages 171 through 175 for Howard Schultz's take on franchising and why he objects to it. Starbucks granted their first licensing agreements in 1991, with the airport locations operated via HMS Host. Occasionally, I have had the thought that there are an awful lot of licensed Starbucks in the U.S., which are a little harder to control than company-operated stores. I've had moments of worry about that, but I have to trust that Starbucks knows how to pick excellent business partners for their licensing operations.
The bottom line is, and I'm sorry to tell you, that if you send an email to Starbucks asking to buy a franchise (or if you send me such an email), you'll be told that is not possible.
Hope you enjoy the photos of the mobile Starbucks!
Related posts