15th Avenue Coffee and Tea: Opening day and beyond
Melody, September 12, 2009
6
6 min

read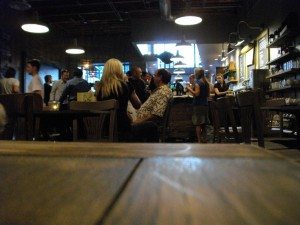 On July 24, 2009 Starbucks opened to the world a non-branded concept store at 328 15th Avenue East in Seattle.  I got up early that morning and wanted to get in right away to see it.  When Starbucks opens a new concept store, for me, the experience is akin to the anticipation of awaiting a sequel in a series you know you already enjoy. What will happen to Harry Potter in his sixth year at Hogwarts?  What will Starbucks dream up next for a concept store?
For those of you wanting to dive a little more deeply into this brave new adventure, you can follow 15th Avenue Coffee and Tea on twitter.
Previously, that location had been a Starbucks and so of course it had its own store page on V2V.  And I absolutely recommend having a look at the "multimedia" link on that page. I uploaded a series of photos of the store, some of which I took myself, and some from the generosity of others.  (In addition, I particularly like the photo of 15th Avenue Coffee accompanying this post.  The copyright holder is a guy who tweets as SmooveBCoffee, and also has a coffee blog with an entry on the store.)
So on opening day in July, I waited for the store to open and managed to be person #2 in the door.  Once inside, I found a quiet corner to plop in and get a good look of the store.  The seating is old-fashioned folding hardwood seats.  Aesthetically they're lovely, but not really the comfy seating that Starbucks is known for.  Juan Valdez, a Starbucks Gossip columnist, can't write "From the Comfy Chair" but rather it would be "From the Coffeehouse Seating Equivalent of Stadium Seating".
The pastries are from Essential Baking Company.  Unfortunately, there is no refrigerator so one can choose from white-flour and sugar products primarily, and for other options there are limited choices.  A cheese quiche or broccoli quiche are also available.  It is surprising for me to say, but I think a regular Starbucks offers more food variety than 15th Avenue Coffee and Tea.
The whole bean coffee offerings are exquisite.  There is always something rare and unique to the store that simply can't be found easily elsewhere.  If a customer wants brewed coffee with a filter method, the choice is a "pour over" cup of coffee, otherwise the Clover brewing method is the main option.  Of course the great advantage of the "pour over" brew method is that its flavor is like brewed coffee, but each person can get his or her choice of coffee beans freshly brewed for him or her.  Major Cohen, project manager for the Seattle non-branded concept locations, tries to find rare internationally available Starbucks beans that would never be found at a regular Starbucks, so I hear.  Thus, the store has had available a Brasil blend of beans which can only be found in a Starbucks in Brazil, and a Puerto Rico blend only found overseas as well.
Turning back to July 24th, Arthur Rubinfeld, president of Global Development, was there that morning checking the place out, and I also saw Cliff Burrows meandering around the place too.  Starbucks partners abounded.  I chatted briefly with Mr. Rubinfeld about store design.  Given that it was 6-something in the morning, and I was tired, I doubt it was even a coherent conversation.  On the topic of store design, the lights in 15th Avenue Coffee are well worth noticing.  After visiting a couple of times, it dawned on me that the ceiling lighting was copied exactly in style from the Starbucks at 1912 Pike Place.
I've been back to 15th Avenue Coffee many times, at a variety of hours of the day.  I've gone to numerous cuppings, including two tea cuppings in the mix.  The coffee enthusiasm in that store is far more genuine that what's happening at a typical Starbucks.  I am sure many of us have had the experience of meeting someone who is a Black Apron Starbucks Coffee Master who says "I don't like coffee".  I encountered that recently and said, "but you're a coffee master" to which she replied, "you only need to know about coffee to be a coffee master".  I've gone back as much as I reasonably can, though in reality that neighborhood of Seattle is not convenient to my home and work.
Personally, I wish they had plopped 15th Avenue Coffee and Tea in the exact spot that one currently finds the Starbucks at First and Pike (aka the Heritage Starbucks).  That store would have shined in that location, had less competition for the coffee dollar from independent coffeehouses, and selfishly, would be a far better location for me to regularly visit it.  I can still hope for an Oz-like tornado to help make my dream come true.  Additionally, if the store had been situated at First and Pike, it would eliminate the current (and perpetual) confusion tourists have when they arrive at First & Pike, see a brown siren logo, and think they've reach the original Starbucks, not realizing that they reached a concept store opened March 13, 2009.
Will the concept store be a success?  I hope so.  I think it has all the right magic, but at least from what I can see, it is getting a slowish start in developing a loyal fan-base.  The people inside are personable, and real, and the design is a medley of concept stores (reclaimed wood table and furnishings) and 1912 Pike Place inspiration (lights copied from original store, and a manual espresso machine).  One of the major criticisms of the store has been that it is essentially contrived as an indy-style  coffeehouse; If one is already well acquainted with other concept stores, and the store at Pike Place, 15th Avenue Coffee's  interior design appears to be in logical sequence as the latest episode of the concept store novel.
Perhaps the next concept store will borrow themes from the wood display encasement at 1912 Pike Place (below the registers, display cases) showing the various beans available with engraved coffee names, and prominently displaying a variety of roasts. (Here is a small picture of the interior of the original Starbucks. Underneath the register area one can see wood coffee bins with angled customer-facing glass displays. Though not visible in that picture, each coffee's name is engraved in wood underneath its display. Likely, once a upon a time, the coffee bins served a vibrant purpose when the store made all its revenue from whole bean coffee.  The copyright holder for the Pike Place Starbucks picture is Lisa Suender.)
Related posts