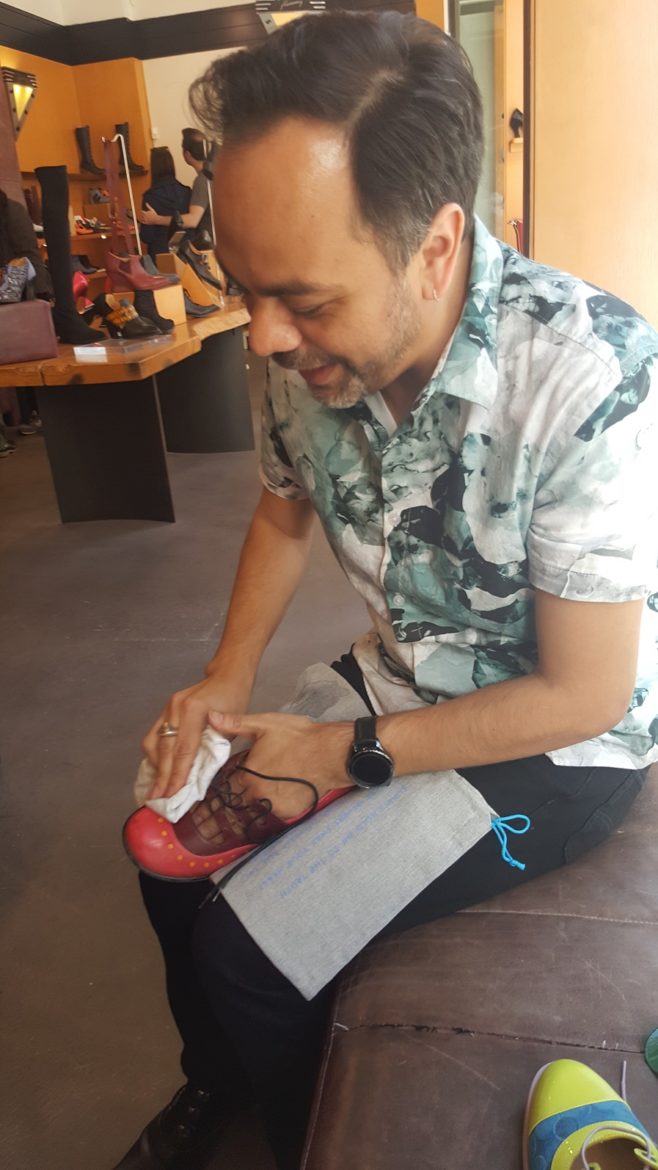 What is great customer service? I don't know.
It's hard to define. It surprises. It's calm in the face of angry customers. It's a routine and a habit for every customer. It's a habit for customers old and new. It's one of those things that you know it when you see it. One thing it's not – it's never dig your heels in and get defensive.
Whatever you call great customer service (and reasonable minds may differ), I definitely think 'surprise' is an element.
People who know me personally, know that I wear a lot of colorful and fun shoes. Literally, 99% of the time I'm in Fluevog shoes. Here's why you'll find me in a lot of Fluevog shoes: I like the styles. They're fun and original. They're really comfortable. (Well, I avoid tall heels but I hear others say that even the heels are comfy).  They hold up really well. I live in Seattle and on a day-to-day basis, I walk to work starting from about the Roastery and ending up about one mile away at my office. Rain or shine, my Fluevog shoes tolerate a lot of walking and still are comfy.
On Saturday, April 15th, I went to a large deaf-language interpreted coffee seminar and tasting event in Olympia. I wrote about it here.
After I got back to Seattle, I walked down to my neighborhood Fluevog store at 2nd and Pine Street. Right now Fluevog has a contest where if you just try on shoes, you'll be entered into a giveaway. The winner (picked at random from all the entrants) gets 10 years of free shoes! The winner will be announced on May 15, 2017. You can enter more than once! You can only enter once per day, but it's possible to go back to the Fluevog store day after day and keep trying on shoes!
I decided to try on the "Sue" shoe: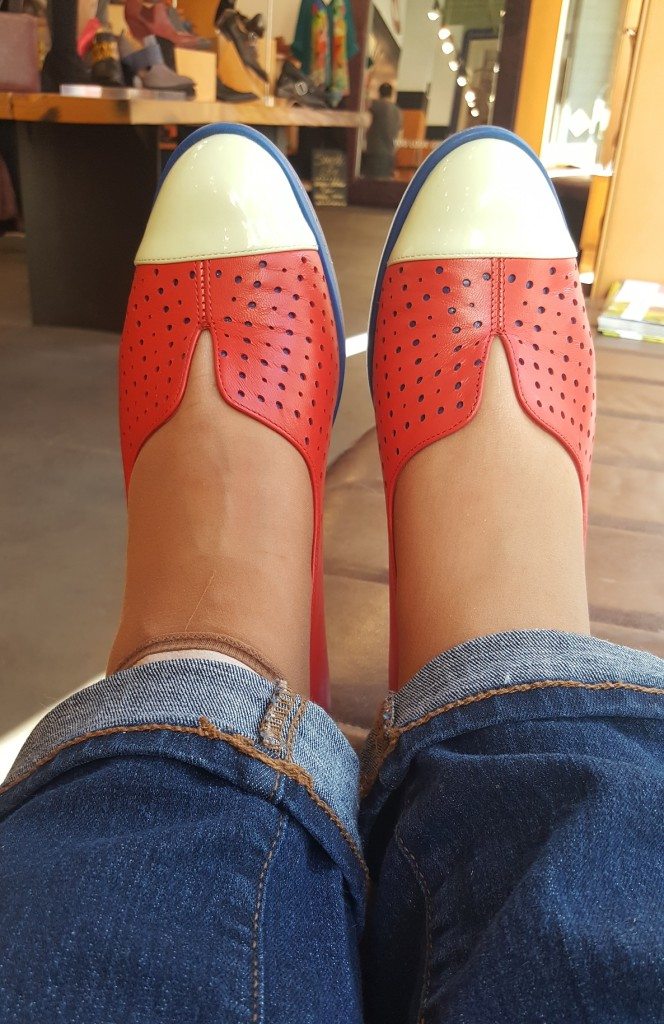 I've been torn between the Jacquie shoe and the Sue shoe. I really like them both a lot and wanted both, but that's not really affordable for me.
While I was trying on my Sue shoes, Roland noticed that my Anika shoes (the Fluevog shoes I wore in) were quite muddy. They were muddy! I'd just spend the morning on a grassy lawn in Olympia.
Roland simply grabbed the shoes, cleaned them, giving them some kind of leather protection too: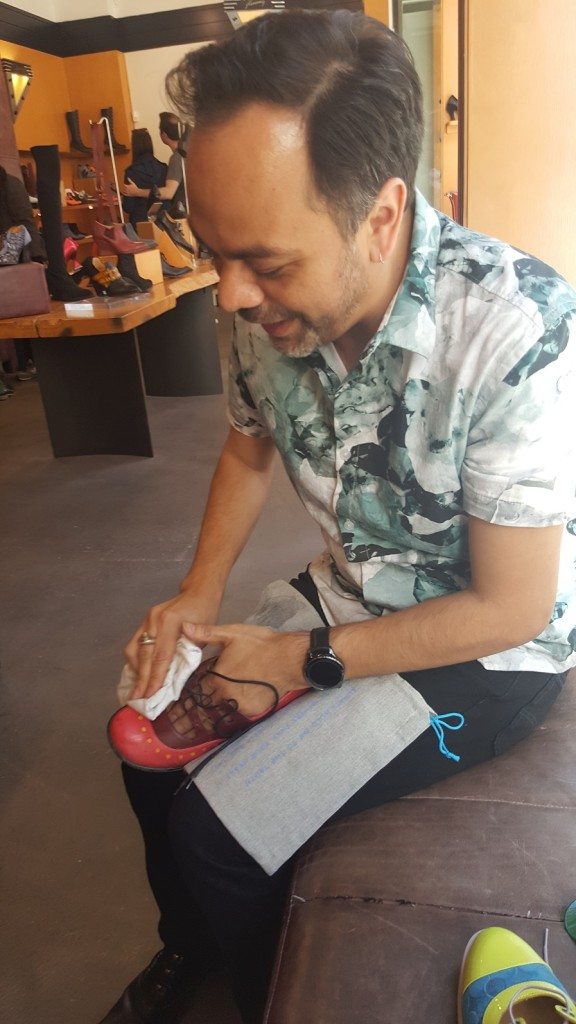 This is amazing: There's so much in this one photo that I don't know where to start.
Roland loves his own product so much. He cares what the shoes look like all the time. He even said something like, "We can't let you walk out with muddy Fluevogs!"
Roland always treats his customers like customers. Even though he's seen me in that store 1000 times, he doesn't act like well, "It's just Melody. I don't have to be nice to her…" Once in a blue moon, I've seen Starbucks locations (and to be honest, I have experienced this at the Roastery too) where if they see you daily, then they stop going the extra effort and stop caring about your experience. "It's just Melody. She'll be back tomorrow…".
The entire thing was a surprise! I was so happy to walk out with clean shoes! (I wish I had taken a before and after photo but since the whole thing was a surprise, I didn't think to do that.)
I have heard that Starbucks is now implementing a new protocol to improve customer service in their stores. The vast majority of my Starbucks experiences here in Seattle are amazing. I hear stories of salty baristas at some stores, but thankfully they don't seem to be in downtown Seattle. At the end of March, I was totally surprised by a Green Apron Card from the 3rd and Pike Starbucks!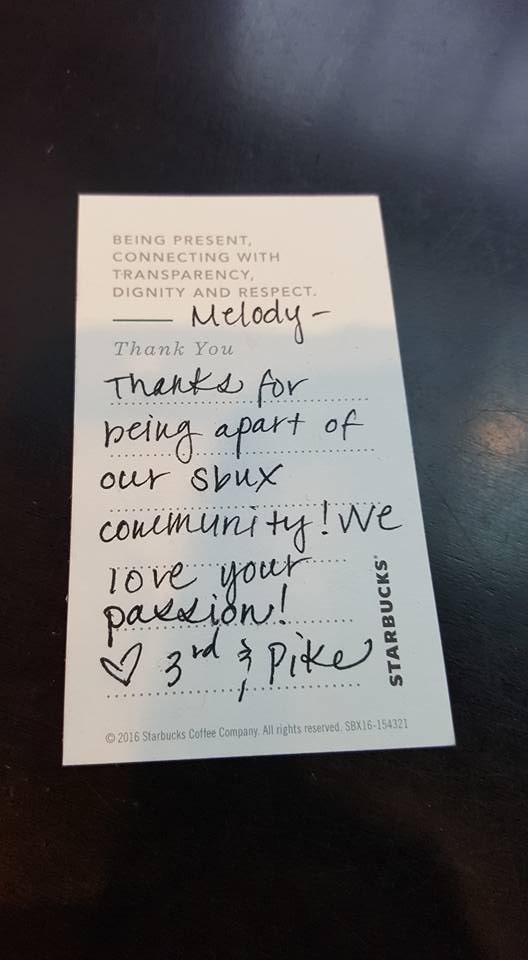 Very sweet!
Sometimes it doesn't take much to make a customer's day. I guess I should say it doesn't take much to make my day: Clean shoes and some kind words are wonderful!
Hope your day is perfect too!
Related posts