Mobile Order and Pay at Starbucks: Starting March 17th
Melody, March 10, 2015
28
2 min

read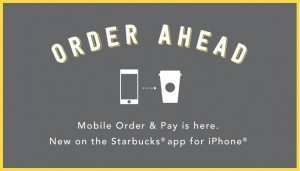 Starting Tuesday, March 17, 2015, if you're visiting a Starbucks in Washington, Oregon, Alaska or Idaho, you'll be able to order and pay for your food or beverage with your iPhone. This represents about 650 Starbucks stores that will have mobile order and pay, beginning on the 17th. Starbucks has said that their plans are to launch this nationwide at some point in 2015. (Mobile order and pay is only available in company-operated Starbucks stores at this time. Licensed stores, such as stores inside Safeway, Target, or other such businesses, are not offering the mobile order & pay.)
Mobile order and pay functionality was tested in Portland, Oregon, starting early last December.
In order to use "mobile order & pay" you need to have an iPhone and accept the app's location functionality. Starbucks has said that the Android version of this is coming soon.
This is huge. No waiting in line. It actually seems a little strange to me because I'm so used to saying what I want to baristas. I've been asked a few times if I've used the new Starbucks app with mobile order & pay. The answer is 'no, not yet.' I do hope to have the chance to give it a try. It's just that it was tested in Portland (not Seattle) and I use an Android phone. As soon as I can, I'll definitely give it a try.
I think this is super interesting. There's no doubt, it's an idea that customers have been asking for on MyStarbucksIdea.com. (Starbucks launched MyStarbucksIdea in March 2008: It's an idea website where anyone can submit an idea for Starbucks.) Take a look at these MyStarbucksIdea.com threads: Order Your Drink Ahead of Time, Ability to order drinks from the Starbucks App, Order in advance, Order from smart phone while waiting in line, Order your drink from your phone, Order from your phone, Order through app, pre-order drinks prior to arrival, and there are many, many more such ideas on MyStarbucksIdea.com.
I'd love to hear what you think – Have you tried mobile order & pay at Starbucks? Would you use it?
Related posts
Socialize

Subscribe
Join the StarbucksMelody.com mailing list to receive a weekly email with new posts.
Recent Comments