The Cup Art of Starbucks Partner Gabriel Nkweti
Melody, April 5, 2015
9
3 min

read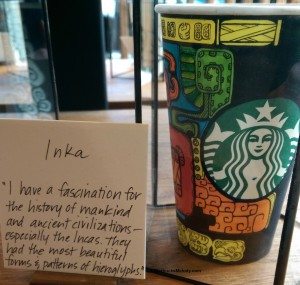 Right now at the Starbucks Reserve Roastery and Tasting Room, there is a cup art installation featuring the artwork of British partner and artist, Gabriel Nkweti. They're stunning! The Roastery cups on display were commissioned especially for the Roastery.
I was able to contact with Gabriel via his Twitter page. We exchanged email info, and so I was able to ask him a few questions about his art.
Before I go any further, I want to comment how touched I am by this partner! In the two hours that elapsed between when I emailed him and he replied, he said he quickly did a "Melody" cup. I'm so flattered and touched!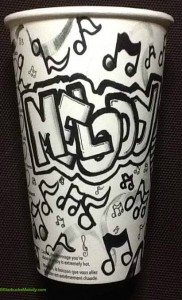 I asked Gabriel about a memorable experience he's had involving his cups, and here's what he told me:
One day, as I was at the till in my store, I welcomed a family from Brazil. I served them and noticed immediately how sweet and gentle they were. These kind of people makes you smile the whole day. A few minutes after, the little boy asked to the barista doing the drinks, who did the cups exposed on the shelves behind the bar (the remaining, because some are already at the Roastery as you know). I was told he was admiring them for a moment, forgetting to drink his beverage. They sent him to me right at the moment I was going for break. The mother introduced me to the little boy aged around 12 years old. In the beginning he was shy. I felt shy too and asked him which one he likes the most. Then the conversation went on very easily. He had this huge smile in his eyes and the passion for drawing and art was quite obvious. The mother was happy and kept smiling, probably the joy if seeing his little boy discussing in English made her even more proud. It was a nice conversation about the characters I drew, and small talk. My ten minutes were gone, I didn't have a proper break but I didn't really matter because I had one thing in my mind at that moment. I was going to do one for him. A special cup, with his name on it.. I wanted home to remember this moment for the rest of his life. I went back to the office, hiding so I could make him the surprise. I them came back to him, hoping the didn't leave!!! Hopefully the whole family was still there. For a strange reason I felt shy again but found him and give him his cup. He was so happy that he didn't say anything for a few seconds then said "obrigado" in Brazilian-Portuguese. It means thank you! He congratulated me saying he loves my cups and would like to buy them. That was so cool! I'm proud to know he will most probably remember his day in London, his day in Starbucks, in front of the British museum when he met a guy that did a unique cup for him. I made his day and he made mine.
Next I asked Gabriel if he is a barista, shift, or store manager, or what his role was at Starbucks. Gabriel said he's a barista and a coffee master. His favorite coffee is Guatemala Antigua.
Without any further delay, please enjoy these amazing cups drawn by Gabriel Nkweti. And be sure to follow him on Instagram also.
Related posts