Cute Pre Fab Concept Drive Thru in Orange, California!
Melody, June 2, 2014
7
2 min

read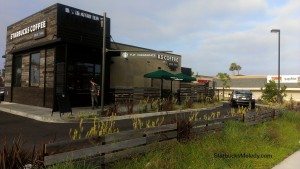 There's a cute, new (opened January 10, 2014) pre-fab design Starbucks in Orange, California. It's on the corner of Tustin Avenue and Chapman Boulevard. The address is 1630 East Chapman Blvd., and the phone number is 714 – 289 – 3682. This is one of a few stores in the company that are made of pre-fab construction though not made from shipping containers. This blog article here has pictures of the pre-fab construction drive thru in Tacoma, Washington.
The store manager, Lisa, is a ten-year Starbucks partner. She is terrific. Be sure to say hello to her when you drop by! She has such incredible passion for all things Starbucks. I had a couple of minutes to talk to her and told me that she started her career as a barista at the Euclid and Crescent Starbucks (Anaheim) and two weeks into it, she knew that "this was it." One day, as a customer was leaving, he yelled out to her "thank you." As a two-week partner she wondered, "What did I do? I was just doing my job." And she saw how the customer's day had been brightened by a trip to Starbucks, and she was part of that experience. Lisa said she knew then she was going to make Starbucks a career. Her ten year anniversary was March 12, 2014. Congratulations Lisa!
Lisa's favorite coffee is Espresso Roast. She says she loves it as a drip or as a shot (I'm in agreement – Espresso Roast makes a fine drip coffee). And her favorite beverage is an iced Venti six shot Americano.
She posed for a photo in front of the walk-up window at her Starbucks. It's kind of a funny picture. If you look very closely, you can see through the window the face of a barista inside who has a look on his face like, "What's going on out there?"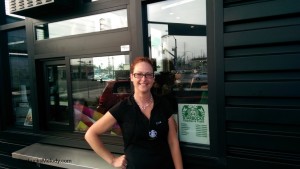 I like the cute little wood fence that runs around the perimeter of the store. And I like that there's a patio seating area. She says her partners will honor the refill policy for patio guests.
I know I mentioned the location already, but once again, this is Starbucks store number 20402, 1630 East Chapman Boulevard, in Orange, California.
Hope you get the chance to visit this store!
Related posts