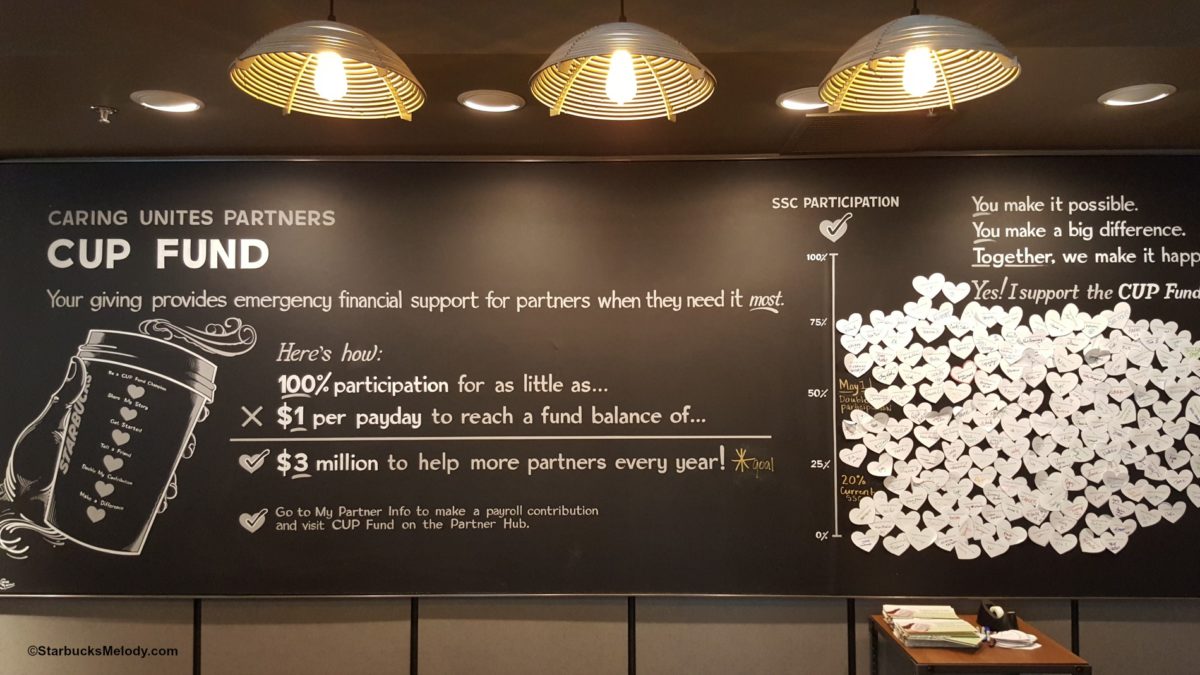 The CUP Fund: Caring Unites Partners.
Melody, May 24, 2015
4
4 min

read
The CUP Fund is emergency financial assistance fund to help partners during a time of disaster, illness, or other significant immediate hardship or crisis. The CUP Fund stands for "Caring Unites Partners."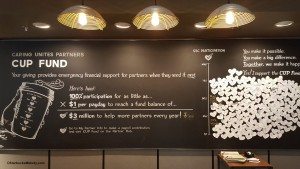 You might be wondering about the above photo. It's taken from inside the Starbucks headquarters, in the SODO 8 Starbucks. That is not a store with public access. The location is 2401 Utah Avenue South, 8th floor, and that's actually inside the corporate headquarters. You can get into the store if you work inside the Starbucks headquarters are your visit to the headquarters is hosted by a Starbucks corporate partner.
So how does the CUP Fund get donations so that it has money to give to partners in need?
Proceeds from sales of Howard Schultz's book Onward are donated to the CUP Fund and the Starbucks Foundation.
Partners can donate money to the Cup Fund via their paychecks. (Log into my partner info and look for information on donating.)
Anybody can make a one time donation via the Starbucks registers.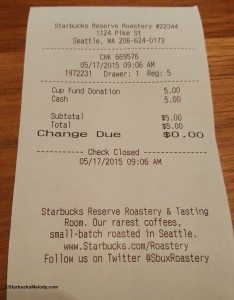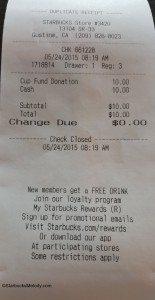 I want to mention the register donation option for a specific reason. I've had a few partners tell me that if a customer has a Starbucks card that is not registered, was a gift, and has just a tiny amount of change on it, they've encountered this scenario:
"Your card has 23 cents left on it ma'am."
"What am I going to do with 23 cents? I almost never go to a Starbucks and it's a long drive to get to one!"
"Ma'am, if you'd like I can donate the 23 cents to a special Starbucks good-cause organization called the CUP Fund. It helps out Starbucks employees in time of catastrophe such a fire, major illness. It's donated millions to partners in times of hardship!"
"Oh that would be great!"
And then the partner wipes out the tiny bit of money as a donation to the CUP Fund. Starbucks has millions and million (something like 70 million transactions a week) each week. That might not happen very often, but it could add up. Be sure to get the customer's permission first! 😉
The CUP Fund is available as an emergency relief fund to all Starbucks partners in four countries: Japan, Canada, United States, and China.
There's more about the CUP Fund here. The CUP Fund has donated more than 14 million dollars to partners to date! It was started in 1997 by a few Seattle-area partners who wanted to be able help their fellow partners in crisis.
All of what I've written above applies to partners. Starbucks calls their employees "partners." The above doesn't apply to licensed store Starbucks baristas, who actually work for their parent corporation, such as Target, Safeway, QFC, and more.
I want to segue into a mention of "Secure" Starbucks stores, since this article mentions the SODO 8 Starbucks, which is considered a "secure" store. As everyone reading this knows, in March this year, Starbucks launched "mobile order and pay" in about 650 Starbucks stores in the Pacific Northwest. It's coming everywhere eventually.
If you, a customer, are using the Starbucks app for mobile order and pay, and you see a store that says "Secure Access" please don't select that store to pick up your order unless you can actually get to it. There are a few stores on the app that simply are very difficult to get to for the general public and may require special access requirements. I was having a casual conversation with Maggie Jantzen (Starbucks media relations partner) and she mentioned that stores that are deep inside hospitals, SODO 8, and a few other stores are all tagged as "Secure Access" Starbucks locations as it would be extremely difficult (if not impossible) for an ordinary customer to swing by and pick up his or her order from such store.
I wrote this article quickly having a coffee and yogurt while sitting inside the Santa Nella Starbucks. This remote Starbucks is busy! Seems to get an incredible amount of traffic off I-5! Thank you Santa Nella Starbucks for the nice visit. 🙂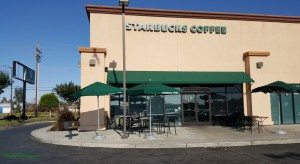 Related posts