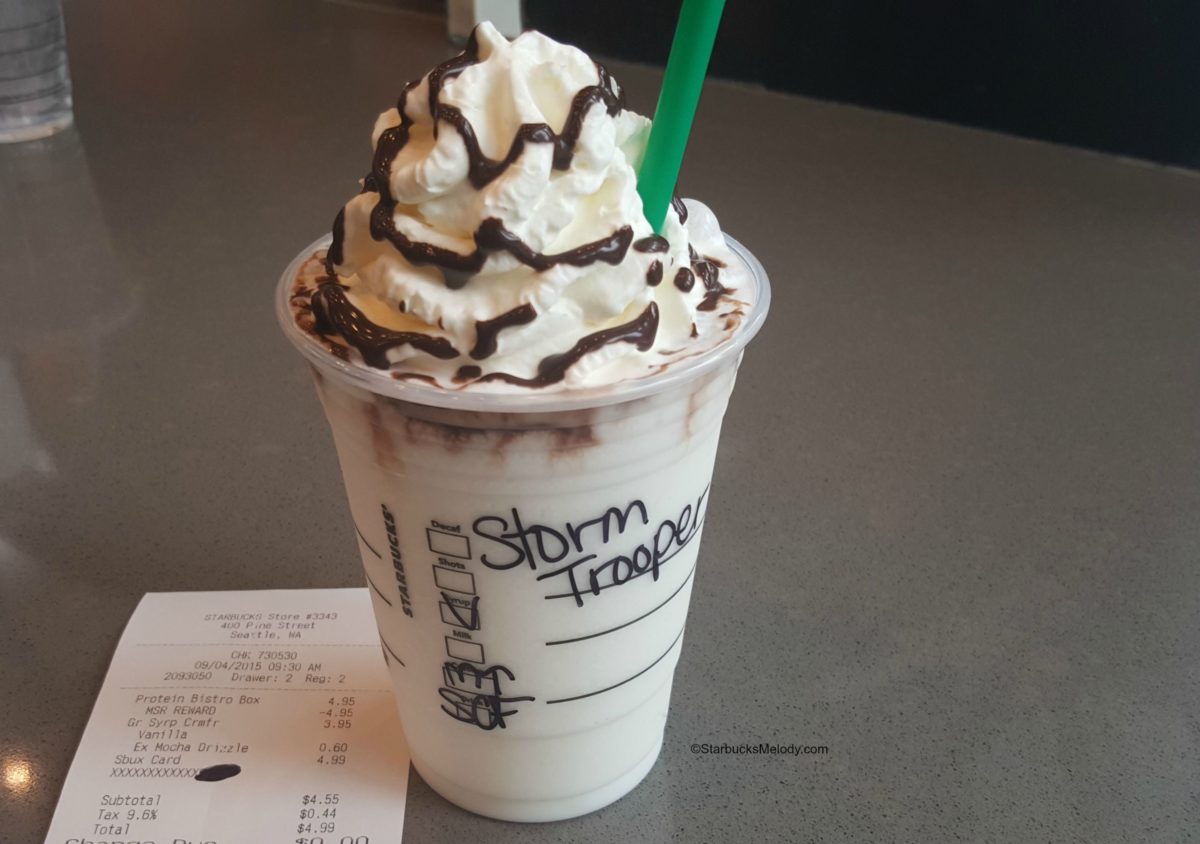 Disney Force Friday: Frappuccinos Inspired By Star Wars.
Melody, September 4, 2015
8
4 min

read
In the world of Disney, today was "Force Friday." Today new Star Wars merchandise came out, in anticipation of the movie Star Wars: The Force Awakens.  The Starbucks store in Downtown Disney (in Anaheim) came up with three Star Wars-themed Frappuccinos!
Just in case Frappuccino fans everywhere were curious about these creations, I thought I'd share them here.
There was the Trooper Frappuccino:
This was a Vanilla creme Frappuccino. It's not the Vanilla Bean version, rather it's the syrup-creme version. Top the whipped cream with mocha drizzle. This was a fun Frapppuccino. It had been a long while since I'd ordered a Vanilla Creme Frappuccino, so it was fun treat!
Next up, is the Dark Side Frappuccino: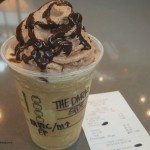 The recipes for the three Star Wars-inspired drinks is on this Disney blog (appears to a fan blog, not an official site, as best as I can tell. Sometimes it can be hard to tell a fan blog from a company-operated one! 😉 ). In order to order these beverages, you have to be able to tell your barista the recipe. I'm not sure I said this one right to the barista. It is an Espresso Frappuccino with Mocha Sauce blended, topped with chocolate whipped creme, and finished with Mocha drizzle atop the whipped creme. Honestly, this is a bit too sweet for me. I didn't order it correctly since I missed the part where the mocha gets blended into the beverage.
One other problem with the Dark Side Frappuccino is that your Starbucks won't have chocolate whipped cream. I think most stores won't make it for you. In this particular case, I went to a Starbucks where a number of the partners know me and my blog, and they often give 110% in helping me order fabulous things for the blog and making photogenic beverages. I'm going to cycle back to this fabulous store at the end of this article.
Last but not least, there is the Green Monster:
The Green Master is a Green Tea Frappuccino, add java chips, and finish with whipped cream and caramel drizzle. This was a fun one! I'm not that huge of a fan of green tea Frappuccinos but the java chips are a nice touch!
A few weeks ago, SeattleMet.com ranked every single Starbucks in Seattle. It certainly was fun to read! I'm pretty sure it was written a bit in jest and fun, and not to be taken too seriously. That article ranked 104 Starbucks stores, included in their story a mix of company-operated and licensed stores. I noticed they included the Starbucks at 5th and Wall, which is a licensed store. And they missed two company-operated stores: West Seattle Junction Starbucks and the Zulily Starbucks. Nonetheless, they took on quite a task by visiting so many Starbucks. I've thought about ranking them myself, but that's a lot of stores to visit!
Out of the 104 Starbucks locations ranked, the Westlake Center store came in at 100. That made me a little sad! It doesn't deserve to be ranked at the bottom! That store is a fascinating, unique store. And it's place that through three different store managers, I've had a number of great experiences. I consider it to be within my "home" district of stores, so I visit there plenty. I went to Westlake Center Starbucks for the project of making the three Force Frappuccinos, and they were totally game.
Westlake Center Starbucks will turn 15 this December 16th. I went to a fun coffee event there in 2011, which lasted for several hours. In 2012, I watched a wedding happen at the Westlake Center Starbucks. It's been a great store. I moved into that district in 2010, and have had so many great experiences at that store. I watched the store go from store manager Greg, to Jesse, to Victoria. I remember feeling worried when Victoria took over the store. I thought, 'Will it still stay great?'. She is awesome. I had nothing to worry about. The team has changed a few times over but this story has partners who are really giving 110%. It's unique because the clientele of customers includes panhandling individuals, tourists, a few regulars, business people, and pretty much every diverse range of customers you could imagine. I have watched tourists stand at the menu and struggle to order. It's near the Ride The Duck in Seattle, and so gets people far and wide. The team sometimes calls themselves #Bestlake. It's extraordinary the patience the partners have at this store. Actually, if I were a partner, I'd love this kind of store: every day would bring something new.
And with that, I want to thank Westlake Starbucks for many fun times and for making my Force Frappuccino beverages earlier today. It's not 100 out of 104 in my book. It's a top 10 Starbucks.
Related posts