The Yogurt Frappuccino – Honey, Banana, or Strawberries Yogurt Frappuccinos.
Melody, August 30, 2013
5
2 min

read
This summer, Starbucks stores in Bulgaria, Romania, Cyprus, and Greece have been offering up a unique Frappuccino.  It's the "Yogurt Frappuccino" and it comes in three standard flavors on the menu: Honey Yogurt, Banana Yogurt, and Strawberry Yogurt Frappuccino.
By the way, just hearing about the Yogurt Frappuccino gives me a pleasant flashback.  This blog's first article ever was about the "Honey Vanilla Vivanno" which was a test beverage in 2009.  Don't laugh at that!  My blog went live September 9, 2009, and it was the first Starbucks thing I wrote about!  And, Starbucks tested a yogurt smooth again in May 2012, tested in limited areas of Northern California.  Who knows?  Maybe now that Starbucks is partnering with Danone, there will be another round of testing a yogurt smoothie or Frappuccino.
So, I am a little jealous of Starbucks in Bulgaria, Romania, Greece, and Cyprus that have a yogurt Frappuccino!  These pictures make it look like a yummy treat.  Two different readers sent in photos – thank you to both of you!
Here is the Strawberries and Creme Yogurt Frappuccino – I hear that it is much more popular than the Honey Yogurt version: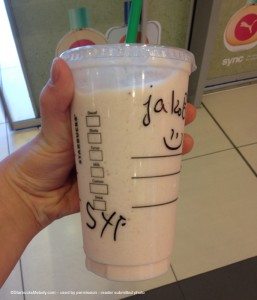 I asked a partner and regular reader of this site (located in Bulgaria) to email me a photo of a Honey Yogurt Frappuccino, and I got this picture in my email.  Trust me, I could not stop smiling! There is my drink waiting for me on a table – in Bulgaria!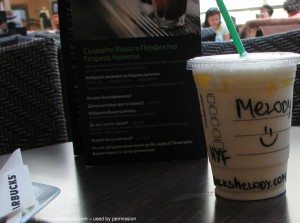 The Starbucks partner in Bulgaria also sent in a few pictures of her pastry case.  Somehow, the international treats always look more tempting than what we have here in Seattle:
I also love how beautiful the Bulgaria global icon mug looks.  The rose on it reminds me a little bit of the new packaging for Starbucks Verona coffee.
And of course, there are signs in stores for the summer yogurt Frappuccinos:
You can follow Frappuccino on Twitter too.  Would you try a yogurt Frappuccino at Starbucks? (It's a little confusing to me at what point a Frappuccino morphs into a smoothie, by the way!)
Related posts