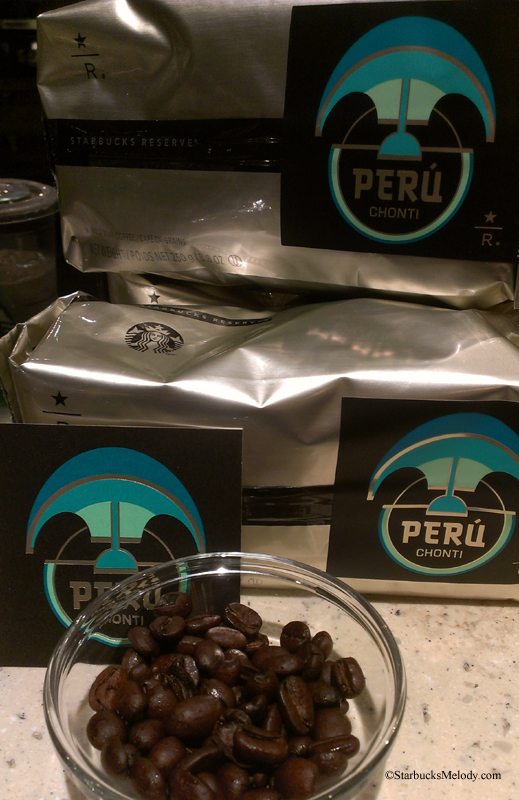 I went to two coffee events this week that I want to tell you about.
The first was a coffee seminar at the East Olive Way Starbucks. As a reminder, the East Olive Way Starbucks offers free seminars on Monday evenings at 6:00 PM. They generally have them two Mondays each month, so call ahead for the schedule. (Their phone number is 206-586-5185). On Monday the 21st, Starbucks partners Topher and Jordan presented the Zambia and Peru Chonti Reserve coffees. We compared and contrasted them, and tried them with the La Boulange Double Chocolate Brownie. The Peru was a surprisingly wonderful coffee. It was full of cocoa notes, which absolutely popped with the chocolate brownie. The Peru Chonti is grown at a very high elevation. We tried it Clover brewed and noticed that it had a fairly clean aroma, a rounded chocolately flavor, and a medium body. This coffee is roasted just past medium to a dark roast profile (but on the light spectrum of dark roast). The Peru Chonti is an in-store only coffee, and not found on StarbucksStore.com, unlike most Reserve coffees. You have to try it! The Zambia coffee was much more brighter, juicier, and floral. I didn't think the brownie was all that amazing with the Zambia.
One interesting thing about the Zambia coffee is that it is a peaberry formation. Most coffees grown like a peanut – they have two halves that come apart. A peaberry is generally a very small, rounded bean, that doesn't have the two halves. Only about 5% of the world's coffee grows as a peaberry.
Nicely done Topher and Jordan!
Enjoy the photos from the East Olive Way coffee tasting!
On April 22, 2014, I went to a coffee seminar at the University Village III Starbucks. This store does coffee seminars most Tuesday nights, at 6:00 PM. Again, they're free to the public but call ahead for the schedule. Their phone number is 206-523-1718.
Both the East Olive Way and University Village III Starbucks are "Evenings" stores, meaning that customers can purchase beer and wine during the late afternoon and evening hours.
Stephanie walked us through a coffee tasting the Ethiopia Yirgacheffe (Bialetti brewed) compared with a Deschutes Inversion IPA. Just having the coffee made via the Bialetti was a great experience. The Yirgacheffe was rich with berry notes and had a very jammy mouth feel. I felt like the Bialetti brought out a lot more texture and character to this coffee than a Clover brewed Yirgacheffe does.  The Bialetti also produces less sediment than a French press does. If you're making coffee with a Bialetti at home, grind your coffee for about a paper filter (#6 on an official Starbucks grinder).
We paired the Yirgacheffe with the Deschutes Inversion IPA, hoping to see how the sweetness and floral notes of the IPA highlight the sweetness of the Yirgacheffe. I sometimes think that it's easy to forget that one can do a very valid coffee pairing by trying coffee with another liquid. It doesn't always have to be the case that you try coffee with food. (And in fact, one should get the habit of doing many coffee tastings that don't involve food to learn to compare and contrast coffees.)
Lots of people around me seemed to think that this worked to bring out the lighter notes of the Yirgacheffe. I think my palate is still warming up to the idea of a beer/coffee tasting but I wouldn't mind trying this again! If you try this, let me know what you think. Brew the coffee, and then drink the coffee, then a small sample of the IPA and compare when you drink the coffee again.
Hope you enjoy the photos!
Related posts