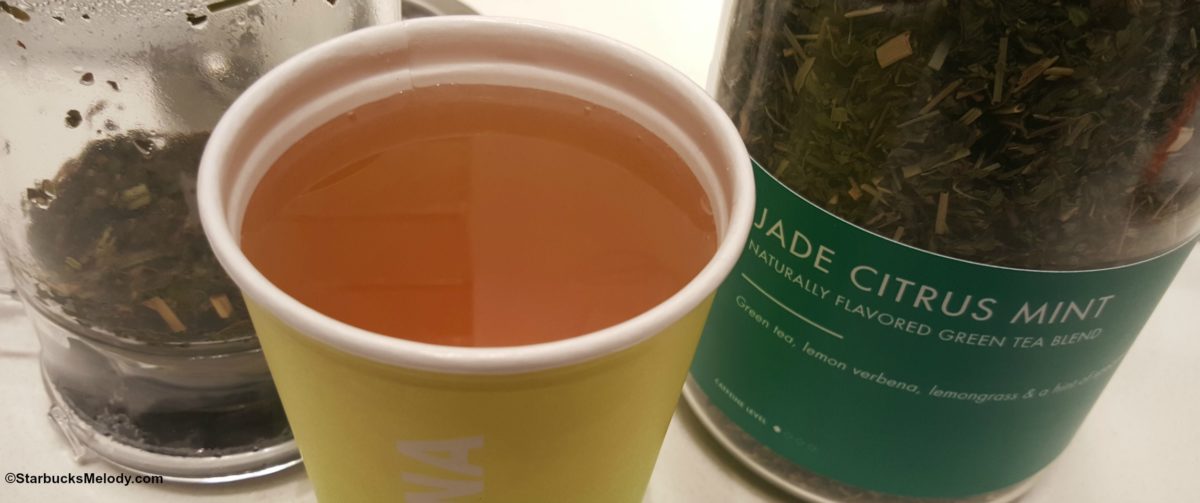 Mint-tea fun at Teavana!
Melody, December 8, 2015
0
5 min

read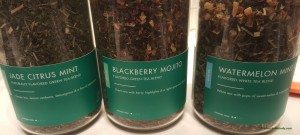 I dropped by the newly-remodeled Bellevue Square Teavana store tonight for a tea tasting. This was a treat! We tried three minty Teavana teas: Jade Citrus Mint, Blackberry Mojito Green Tea, and Watermelon Mint Chiller White Tea.
First off, we tried the Jade Citrus Mint Green Tea. This is a very popular green tea at Teavana. You can also order it by the cup at Starbucks – Of the three teas we tried tonight, this is the only one offered at both Teavana and Starbucks.
The aroma of this loose leaf tea is just incredible. It's has a very strong minty order, almost like a refreshing pack of gum! This tea uses both spearmint and peppermint and includes the soothing herb, lemon verbena.
We brewed the two green teas using a Perfect Tea Maker, which I have to admit is an incredibly easy way to make tea. Use 3 teaspoons of tea for every 16 ounces of water. If you're using a Perfect Tea Maker, 16 ounces is about to the top handle. (The above image of the Perfect Tea Maker is a stock Starbucks image, not from tonight's tea tasting).
When you are brewing green tea, you don't want to scorch the tea. If you're brewing flavored green tea (or flavored white tea) and using the Perfect Tea Maker, start out by putting about 4 ice cubes into the Perfect Tea Maker. Pour your hot, boiling water over the ice cubes, to the level of the handle. You are reducing the temperature of the water down to about 175 degrees, which is a level where it won't scorch the tea. Set a timer to 2 minutes. That's all there is to it! It's not hard at all.
When you are brewing an herbal tea or Rooibos tea, there isn't a need to fussy about the water temperature. In fact, I'm drinking the Teavana White Chocolate Peppermint Tea right now, which I made at home with the Perfect Tea Maker. Simply added tea, 16 ounces of water, and set the timer for five minutes. Very easy! When the timer goes off, put the tea maker over a mug and it will release the freshly-brewed tea.
Turning back to the Jade Citrus Mint, this was a soothing and relaxing tea. Mint is such a soothing aroma, and I've heard it's good for digestion. This would be a great go-to tea if you're feeling under the weather too. This was probably my favorite of the three minty teas we tried. I'm a fan of mint, and this had the strongest mint flavors of the three that we tried.
Next up, we tried the Blackberry Mojito Green Tea. This is a fun tea, but the mint flavors are subtle. If you want a lot of mint flavor, this one isn't for you. However, this is a super popular tea and I loved it. This is one that would work perfectly iced. If you're making this iced, try it with lemonade or even something alcoholic. 🙂
The aroma of this tea is wonderful with lots of berry aroma. The tea, when brewed, has a slight pinkish color, which comes naturally from the hibiscus in the tea blend. The base of the tea is Teavana Dragonwell Green Tea, and apple pieces, raspberry, blackberries, and spearmint are given to create a beautiful tea cocktail. The hibiscus adds a hint of tartness to the flavor.
The Blackberry Mojito is a juicy treat. Like above, use your Perfect Tea Maker, and be sure not to scorch the tea. You never want to scorch your green tea, otherwise you'll end up with a bitter cup of tea. As mentioned above, add four ice cubes inside the Perfect Tea Maker, pour the hot water over the ice, and then add your tea.
By the way, as we explored the three minty teas, Teavana partner Trisha sampled the minty teas to customers: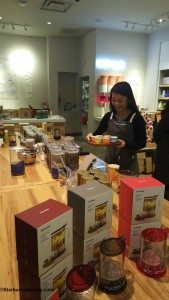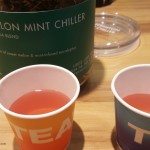 WATERMELON MINT CHILLER WHITE TEA:
Last but not least, we tried the Watermelon Mint Chiller Tea. Hunter, the Teavana partner leading the tea tasting, brewed this in a Blomus tea brewer. It works conceptually like the Modern Tea Maker, brewing a small amount of tea over water and then twisting the top to release the brewed tea. You brew 16 ounces of tea in the top portion of the Blomus tea brewer, which is then poured into 16 ounces of hot water in the main area of the Blomus brewer. It sounds much more complicated than it really is!
The Watermelon Mint Chiller also had a fairly subtle mint flavor. It brews to a beautiful light pink color, which does look a lot like watermelon! The base of this tea is a Mao Feng white tea, and then Teavana adds in a mix of berries and cantaloupe to create the effect of a watermelon chiller.
This tea also has a hint of hibiscus, which adds a hint of tartness, but overall it is a naturally sweet tea.
I tried all three teas unsweetened.
One interesting this is that the mint for these teas all is sourced from right here in the Pacific Northwest. It's all local Northwest mint, used for all these tea. I didn't realize it until today, but Washington State produces more mint than anywhere else in the country. That is interesting! As I was working on this article, I mentioned this new trivia on Facebook. One of my Facebook friends in Yakima said that there are "fields and fields" of it in Yakima, and that 77% of all the hops in the U.S. come from Eastern Washington. I've always thought of Washington State producing a lot of apples, but mint and hops is a new one to me!
Have you tried these teas?
By the way, look Teavana articles on StarbucksMelody.com and TeavanaMelody.com on Tuesdays. If you have an idea for a Teavana Tuesday article, please contact me.
Related posts