#TeavanaTuesday – The Modern Iced Tea Maker by Teavana.
Melody, September 22, 2015
0
3 min

read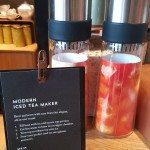 I recently bought Teavana's Modern Iced Tea Maker for home. I had been making iced tea with an Infusion Pitcher but wanted to try something new. Just to let you know, I'm a huge fan of Teavana's Blueberry Bliss iced. I know that many people recommend using it to blend with other teas, but I love it straight and made as an iced tea! I add a little sugar to iced tea too.
With the Modern Iced Tea Maker it makes a perfect small batch of iced tea for two or three people. What this doesn't do is make a huge batch of tea, if you want to serve a large group. It simplifies tea making because you don't even have to measure out water!
You fill the Modern Iced Tea Maker with iced. Do not over fill it with ice: if you overfill it, you won't be able to screw the top portion onto the bottle. When I was buying some Blueberry Bliss for home, the partner at the Teavana store suggested that I try making Blueberry Bliss ice cubes for my tea. So you can see the Blueberry Bliss ice sticks in my glass in the pictures.
Fill the filter portion with a few teaspoons of tea. (About two teaspoons per  8 ounces of water.) One nice thing about making an herbal or Rooibos iced tea isn't that you don't have to be extremely precise. You can add a little more tea if you like it stronger.
Use boiling hot water and pour into the top portion of the Modern Iced Tea Maker. A word of caution: if you are making a White Tea or Green Tea you don't want to use boiling hot water – use water at about 175 degrees.
Notice that you don't have to really even worry about measuring how much water you use with this tea maker: Just fill the filter area to the bottom on the line inside the filter.
Teavana will always suggest that for the very best results, use filtered water. I live Seattle where the tap water is very drinkable. For an herbal iced tea, or a Rooibos iced tea (like the Blueberry Bliss in these photos) steep the tea for about five minutes. You can even steep another minute or so, if you want it stronger.
When the tea has finished steeping (put the lid on it as it steeps – I've shown you it without the lid for a better visual), gently turn the filter inside its casing. This causes the hot tea to fill into the container full of ice. Instant beautiful iced tea.
It is very popular to blend Blueberry Bliss with Pineapple Kona Pop. You will even find Pineapple Kona Pop at Starbucks stores everywhere, available in small tins of loose leaf tea.  I know some people really like Pineapple Kona Pop as just an iced tea.
Pour your finished tea over ice and enjoy! Keep in mind, I made Blueberry Bliss iced tea ice cubes (actually they're ice sticks) so that's why my glass is prepped with unusual ice cubes.
Related posts