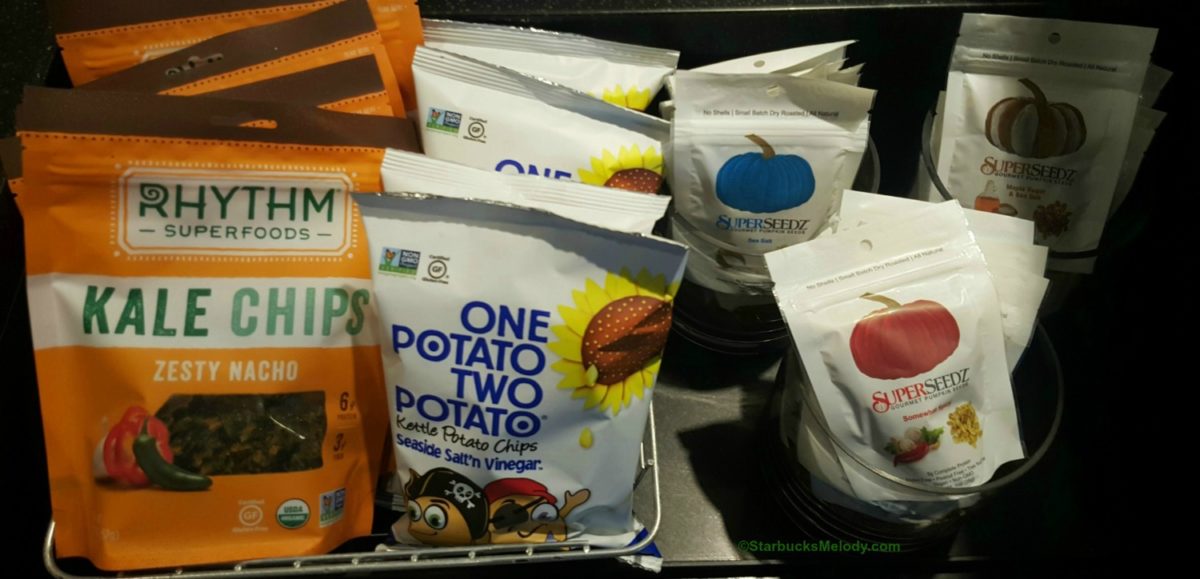 On Tuesday, January 5th, Starbucks introduced a new curated collection of snack foods to their stores. This follows  (somewhat) on heels of the summer's "Snackin' foods" which offered a selection of snack items summer 2015. A few of those items carried forward for the fall season into Starbucks stores everywhere.
And now we have lots of new snacks! I've been slowly eating a number of them, sharing them with friends as I nibble away at many snacks. Here's a few of the things you might find (not a complete list):
Moon Cheese is back – This time the flavors are Gouda Moon Cheese and Pepper Jack. You might still find the Cheddar flavor around, which is my favorite of the three. The Pepper Jack Moon Cheese was a little bland to me at first and then had a lot of pepper at the finish. I still recommend trying the Cheddar Moon Cheese as part of a coffee pairing. I think it could pair with Sumatra (just my suggestion).
New in the lineup our the "Super Seedz" snacks! I have only tried the Maple Sugar and Sea Salt flavor of these, but loved them. They're the right balance between and still being able to taste the underlying pumpkin seed. They're also truly a one-person snack size too. Some of the snacks come in large enough sizes that it feels like you should eat them over a couple of days, or share with a friend. Other flavors include "Somewhat Spicy" and "Sea Salt". This is also one of the least expensive snacks, at under $2.00 each.
Pretzel Perfection Pretzel Sticks are totally new to Starbucks too. I haven't tried these yet, but it looks like you will find the Tomato Basil Pretzel Sticks, Garlic Herb, and Chipotle flavors.
Rhythm Super Foods Kale Chips are new to Starbucks. You'll find a Kool Ranch flavor as well as Zesty Nacho. I tried the Zesty Nacho chips and didn't really like them. I'm not particularly a fan of kale chips, generally speaking nor do I eat a lot of zesty foods. I tried them during a very small meeting, sharing them with a few colleagues who had a mix of reactions to them: a couple of people loved them and one person really disliked them. She said to me, "Melody it tastes like a kale chip trying to be not a kale chip." All I can say is that either you'll like these or you won't!
Next up, I tried the One Potato Two Potato chips. I bought the Sea Salt and Vinegar , which was delicious. Can't wait to try the other flavors. I shared these with a friend at work who also gave them two thumbs up.
I have to mention the Rip van Wafels cookies. I bought the Honey and Oat version. Delicious! This is the perfect one single cookie to enjoy with a cup of coffee or espresso beverage.  It's not overwhelmingly sweet and is a great balance between soft cookie and crunch. It does remind me of a little waffle flavored with honey and oats! The oat-aspect of the cookie is fairly minimal.
Vosges chocolates are available too. There is a bar of chocolate that's maple bacon and dark chocolate, or a small box of them that includes a dark chocolate and bacon bar, as well as a milk chocolate version of the same.
I'd love to know what you've tried so far! You can use your rewards for these snacks – they're just a food item like any other food item in the store. (As always, click onto the photos to make them larger).
Related posts