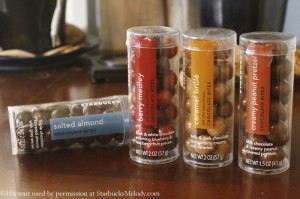 I'm very curious if anyone reading this has seen these sweets/ chocolate bites at his or her local Starbucks?  There are four small containers of chocolate bites which should be located somewhere near the register area of your neighborhood Starbucks store.  The four treats are as follows:
Salted Almond Chocolate Bites
Berry Medley Chocolate Bites
Caramel Brûlé Chocolate Bites (That seems to be missing an "e." Typically Starbucks writes Brûlée out with two Es.  Not that I really care what you call it so long as it tastes delicious.)
Creamy Peanut Pretzel Bites
I am so curious if you have tried these?  I have looked high and low for them here in downtown Seattle.  I've checked all my neighborhood stores, and asked a number of partners, even to the point of some downtown partners looking at me as if I were speaking gibberish.  I could tell that a few partners looked at me as if they were thinking, 'What in the heck is that girl talking about? Pretzel bites?'
After much searching, I found a very small supply of the Salted Almond Chocolate Bites, and I discovered that the Caramel Brûlé are widely available. The Salted Almond ones are amazing.  Toe-curling amazing.  I haven't tried the Creamy Peanut Chocolate Bites, nor the Berry Medley.  Seattle got passed over for these!  If anyone wants to put a pack in the mail to me, please email me. 😉 Melody at StarbucksMelody dot com.
When I tweeted about these, lots of people raved about these little bites!  A partner in Texas sent me this photo: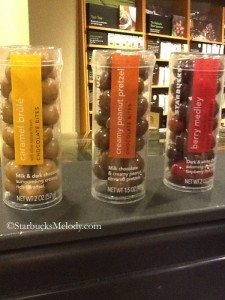 Have you tried these?  What do you think? Will you send me some pretty please with sugar on top? 😛
(Thank you very much to the two partners who sent me these photos to use on my blog.  When I first glanced at the top photo, I had thought it was an official Starbucks photo that I hadn't seen before.  It's so well done.  Nope, not an official photo.  The partner told me she just quickly staged the chocolate bites, took the photo, and emailed it to me.)
Related posts
Socialize

Subscribe
Join the StarbucksMelody.com mailing list to receive a weekly email with new posts.
Recent Comments