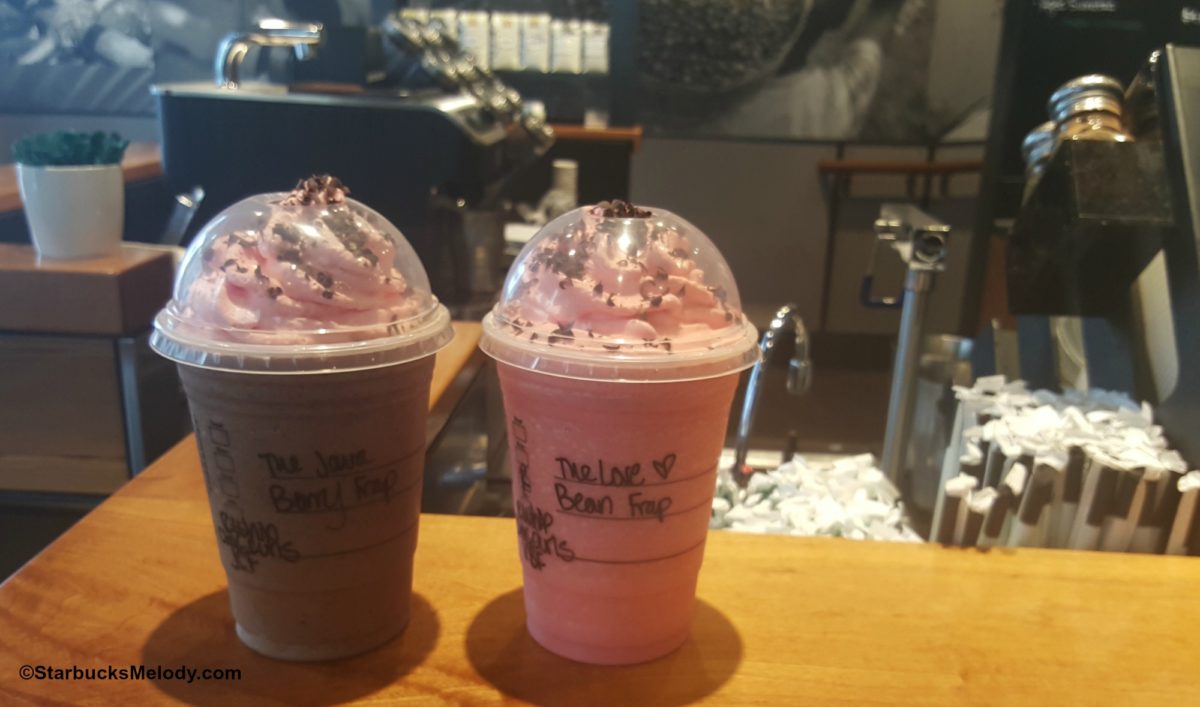 The Love Bean Frappuccino and the Java Berry Frappuccino
Melody, January 22, 2016
5
3 min

read
Just in time for Valentine's Day, you can order a couple of fun love-inspired Frappuccinos: The Love Bean Frappuccino and the Java Berry Frappuccino.
These Frappuccinos are the creation of a licensed Starbucks barista in Arizona. They've gone viral, which made me very curious to try them. I saw stories about the love-themed Frappuccinos on Delish.com ("There's a Secret Starbucks Valentine's Day Frappuccino"), abc news ("3 New Starbucks Valentine's Day Drinks"), bustle.com ("Starbucks' Secret Valentine's Day") and more.
First up, I tried the LOVE BEAN FRAPPUCCINO:
This is a Vanilla Bean Frappuccino with add raspberry syrup, topped with raspberry-infused whipped cream and chocolate curls. Here's my drink: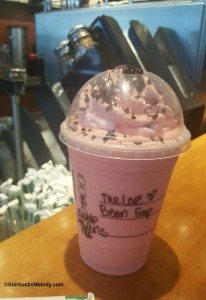 This is definitely a blast of raspberry flavor. It's a sweet treat. The chocolate curls on top of it are just wonderful. Keep in mind that there is a surcharge for the chocolate curls. (Here in Seattle, that's a 50 cent charge, but prices may vary by location/ region.) Also the raspberry syrup is an upcharge also.
I hope that Starbucks sells a lot of these over Valentine's Day. A blast of pink does radiate smiles, hearts, and love. 🙂
Second up, I tried the JAVA BERRY FRAPPUCCINO: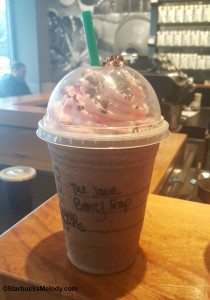 This one is a Java Chip Frappuccino topped with the pink raspberry-infused whipped cream. It's also a very sweet drink, with the extra fun of blended in chips, giving the you something to bite on now and then. Raspberry whipped cream is pretty and delicious.
In the news, there was a third Frappuccino, called the Valentine Frappuccino, which was a multi-colored drink. Often drinking two Frappuccinos, there was no way for me to consume a third, and the Valentine Frappuccino looked like the most complicated to order.
Unfortunately, there are a couple of problems with these two delicious Frappuccinos:
Since these were not created by the Starbucks headquarters in Seattle, there are no official recipes. If you just say that you want a "Love Bean Frappuccino," there's a good chance your barista will have no idea what you mean. You have to be able to order by the recipe.
Starbucks stores don't normally have raspberry-infused whipped cream ready-to-go. I had gone to a store where I knew the store manager, and they very willingly made the raspberry whipped cream for my drinks. In an ideal world, your baristas would gladly make you a whipped cream you love. However, the reality is this: Your baristas are busy. They might be working with less than a full crew. You might arrive in a rush. It's just very likely you'll hear your baristas say, "no" they can't make you some raspberry whipped cream. In fact, it's pretty realistic that you'll get a "no" to this request from many baristas. My only suggestion is go to a store where you already know the partners and have a great relationship with them and arrive during a slow part of the day, if you're going to try and ask for raspberry whipped cream. And don't be too upset if they say, "I"m sorry I don't have time to make a raspberry whipped cream for you."
If you do get to try these, let me know! Maybe a few stores will keep some pink raspberry whipped cream handy just for Valentine's Day!
Related posts