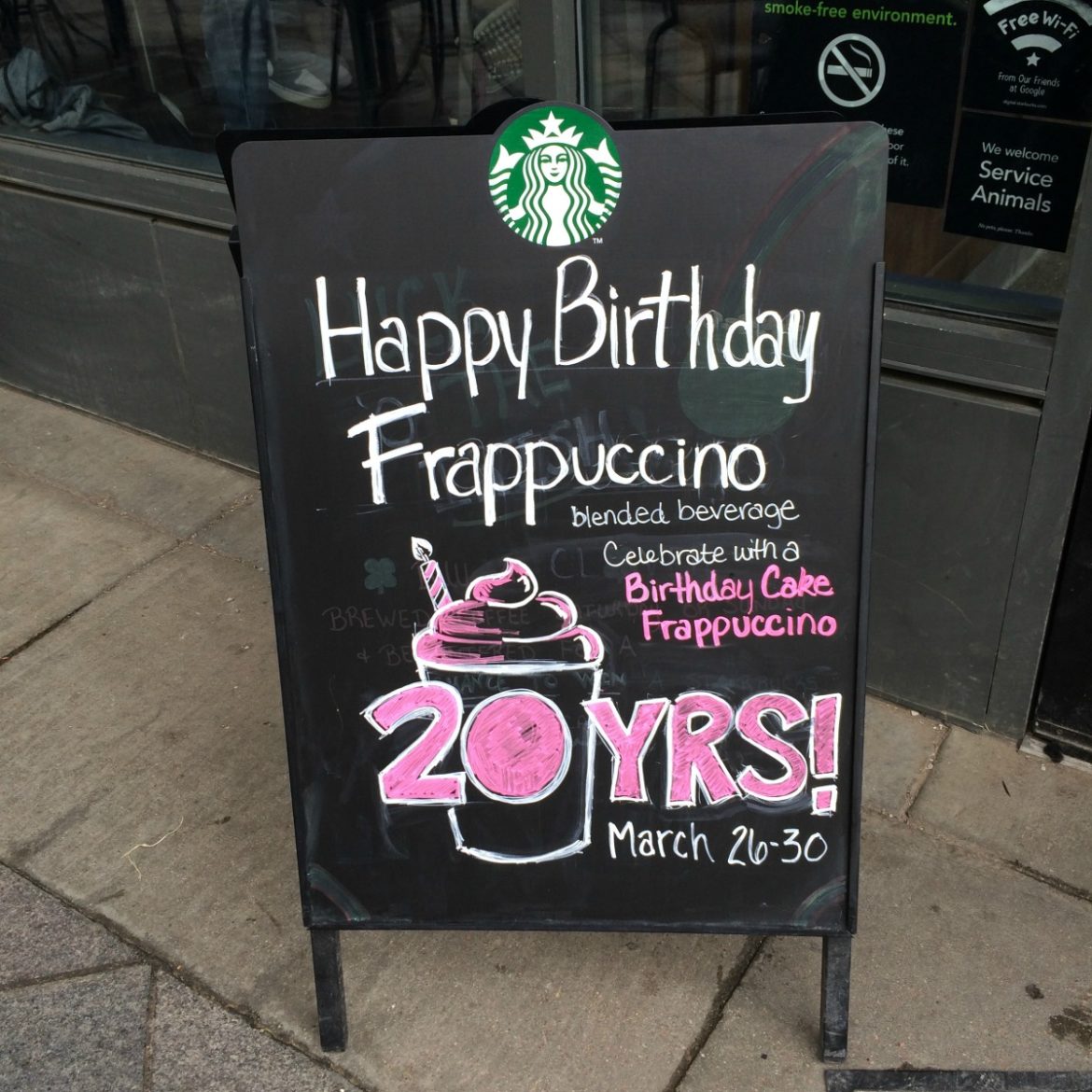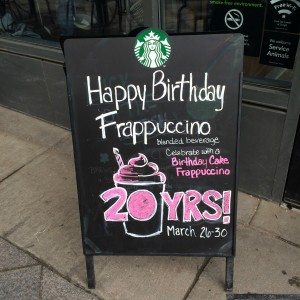 March 26th – 30th, Starbucks stores in the U.S. will be featuring a special "Birthday Cake" Frappuccino, in honor of this classic beverage's 20th birthday. The limited edition Birthday Cake Frappuccino will have raspberry whipped cream, and will be a creme based Frappuccino with hazelnut syrup. It's available at all participating locations – all company-operated Starbucks stores and I believe some licensed stores will be participating too.
I feel like this promotion would be best with a history lesson. Anyone can go to Starbucks and get a single drink. It speaks volumes to go inside and get a story and a smile. I almost wish Starbucks had printed a cool little history book to go along with this promo. People would have loved it and it could have been a moment of connection! (If you're a partner in a Starbucks, hope you'll consider sharing this with partners at your store.)
The recipe for a grande Birthday Cake Frappuccino is three scoops of vanilla bean powder, two pumps of hazelnut syrup, with three pumps of creme base syrup. Whole milk is the default milk though you can always ask for soy milk, coconut milk, two percent or non-fat milk. The Birthday Cake Frappuccino is topped with raspberry whipped cream!!
Without further delay, here's the Frappuccino story:
Most of the Frappuccino story is Pour Your Heart Into It, pages 205 – 207. (I've added a little from my own knowledge). The Frappuccino made its national debut in Starbucks stores everywhere in 1995. There were just two flavors: you could get a coffee Frappuccino or a Mocha Frappuccino. The original recipe called for Italian Roast coffee brewed double strength, ice, and milk in a blender.
The name Frappuccino comes from a Boston company that Starbucks bought out in 1994: The Coffee Connection. When Starbucks bought out that company they acquired the intellectual property, including trademark product names. To be abundantly clear, the Frappuccino that Starbucks launched never was the Coffee Connection version of it – Starbucks developed their own recipe – only the name is  from The Coffee Connection.
The real story of the Frappuccino began in 1994 when a Southern California district manager decided that her customers needed a cold, icy drink for hot California days. The district manager did an early single store tests with a blender in one store in 1993. By May 1994, the district manager put a blender in a Santa Monica Starbucks (Third Street Promenade store) and let the store manager, Anne Ewing take over the project. Anne and her ASM took ownership of it and began experimenting with different blending times, the ratio of ice to liquid, and fresh brewed coffee. By October 1994, using a recipe developed by Anne Ewing and the ASM (Greg Rogers), Starbucks launched a test of the new drink in 12 southern California stores.  Starbucks launched the all-new blended coffee Frappuccino nationwide in the U.S. by April 1, 1995.
The Frappuccino has gone through many variations and changes! Remember in the beginning you could get only Mocha or Coffee. There weren't even dome lids in the very beginning. Customers complained and wanted room for whipped cream. Partners took the flat lids and pressed the inside rim outward with their fingers to make room for a little whipped cream. The dome lid and green straw were introduced at the same time as the Caramel Frappuccino. In May 1999, Starbucks launched the Rhumba Frappuccino, Caramel Frappuccino, and the Tiazzi line-up of blended tea beverages.
By 1998, you could order an Espresso Frappuccino (simply a coffee Frappuccino with an add shot), Coffee Frappuccino, Vanilla Frappuccino and Mocha Frappuccino. In May 1998, Starbucks experimented with the "Power Frappuccino" – for 50 cents, customers could add a protein powder with vitamins. Along the way, in the late 1990s and early 2000s, there were blended tea Frappuccinos also. (I remember these well and loved them!). There have been a few test versions of the Frappuccino that never made it out of testing: In 2012, The Pink Lime Frozt Frappuccino was Passion Tea, Lime base (used in Refreshers), creme base, and ice in a blender. The Tazo Citrus blended Frappuccino launched in 2002. In fact, in August 2002, the first creme based Frappuccino (not a tea blend but a creme base as we have now) was the Coconut Cream Frappuccino.
One thing for sure, the Frappuccino never stands still! It's always changing! However many times the recipe has changed or new options have been introduced, Starbucks has stayed true to the flavor profile of Italian Roast coffee. (For many, many years, partners brewed Italian Roast in the stores for their Frappuccino customers!)
HAPPY 20TH BIRTHDAY FRAPPUCCINO!!
(Maybe for your 21st birthday, Starbucks will add a shot of Kahlua ;-))
Related posts