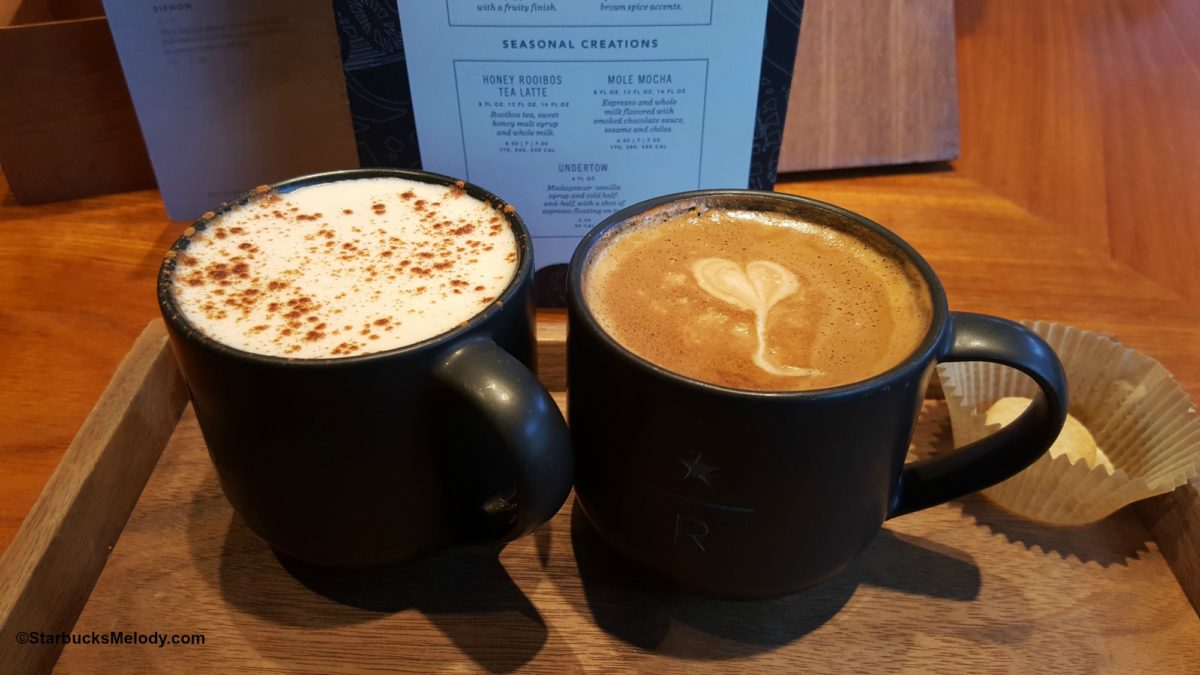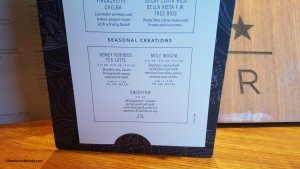 The Starbucks Reserve Roastery and Tasting Room always has a few beverages that are seasonal, exclusive drinks.
New to the Roastery, right now you'll find the Undertow, the Honey Rooibos Tea Latte, and the Mole Mocha.
The Undertow: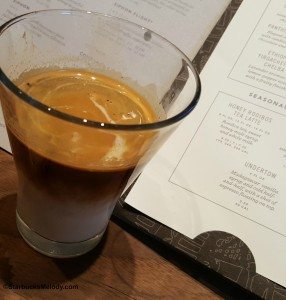 The Undertow has been around for a long time, unofficially, as an off-the-menu Starbucks drink. When done correctly, it's about a 4 to 6 ounce beverage, with cold milk on the bottom with espresso shots floating on top. In the Starbuckian world, I've heard a lot of people order it with vanilla syrup or even white mocha sauce on the bottom (or pre-stirred in with the milk). You don't use very much syrup because it is a small drink.
At the Roastery, this beverage is espresso over cold half-and-half milk with Madagascar vanilla syrup. It's of course very delicious, but as with a number of the things at the Roastery, it does feel a little spendy to spend $5.50 on a small beverage that will be gone in a few gulps.  Well, that's my humble opinion. Everyone is different in what they can afford, but I do think that the Roastery is an expensive proposition for most ordinary, non-partner customers. Reasonable minds may differ.
Here's the Starbuckian version of the same thing: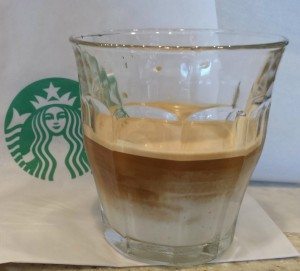 Next up is the Honey Rooibos Tea Latte at the Roastery: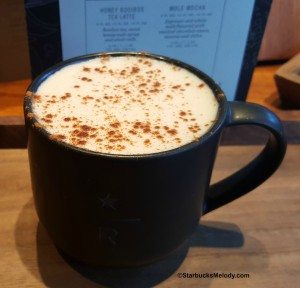 This was my favorite of the three! It uses a Rooibos tea, which is sourced by Teavana, steamed with a sweet honey malt syrup and whole milk. It's a sweet, delicious treat.
Last up, we have the Mole Mocha:
Mole sauce is traditionally used in Mexican cuisine. The touchstone of mole sauce is that it uses red pepper (and/or chili peppers) in a sauce combined with dark chocolate. Often there's some cinnamon in a traditional mole sauce too. The idea of a mole mocha is definitely not new. Lots of people like mole sauce! It's even been suggested on My Starbucks Idea before! (If you like the idea of a mole mocha at Starbucks, you could go vote up this link here.)
This wasn't my favorite, though I think most people will love this beverage. I normally don't order any mochas at all at Starbucks anyways. The truth of the matter is my first love is just a cup of black coffee. Despite my saying all of this, the mole mocha at the Roastery did have a wonderful chocolately-spice kick and I think most people will love it.
The Seattle Reserve Roastery and Tasting Room is located here in Seattle at 1124 Pike Street. There is also a plan for a Roastery in New York in the works.
Related posts