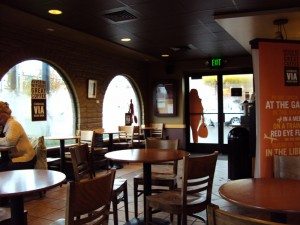 Time for a (roughly) monthly store review!
On this extremely rainy afternoon, I made my way down to Tigard, Oregon to visit a Starbucks. Unlike Juan Valdez who randomly chances upon his Starbucks for his reviews, I plot out which stores I will visit.
I picked this store because a familiar barista works there. A really wonderful barista transferred from a downtown Seattle Clover store to this store in Oregon. My understanding is that she is originally from Oregon, then moved to Seattle and first worked briefly at a Starbucks at 1st & Walker in the SODO neighborhood, and then from there moved to a downtown Seattle Clover Starbucks, where I met her. And then, the story doesn't end, sadly she moved back to Oregon.
This store is a small brick building as a stand-alone cafe on a busy roadway, near a Subway, and next to George's Giant Burgers.  I arrived early afternoon, and it didn't let up raining the entire time I was there. Three partners were working when I arrived, including the store manager, Kristin. It tickled me pink to see one of the baristas wearing a green apron with not one but FOUR pieces of "flair". Her apron boasted four mug pins.  I arrived in the middle of a rush, but as I sat there the business died down to just  a few people in the store. When it was quieter, one barista came out and swept the floors, and cleaned up around the store.  After the rush, a steady trickle of customers came in and out.
I had quite the afternoon. I spent nearly half an hour engaged with another customer who asked me "what is a blog?' and wanted to know what I was doing at my little netbook.  As it turns out, she needed to get online, and needed to go through the validation of her new Starbucks registered card, and so I ended up offering her my netbook for a moment and she accessed her yahoo email.
She asked me a million and one Starbucks questions (she seemed a little confused that a person would write about Starbucks) and finally the conversation ended with, "Starbucks should be paying you …" (It's not the first time I've heard that). I told her the truth that I would probably not be blogging about Starbucks forever … at some point I'm going to run out of things to write about! (This is probably going to be a short-lived blog).
While at this store I ate "Portland Coffee Cake" with my Thanksgiving Blend coffee, because it appears to be a local offering.  I'm a little puzzled but it seems in Portland the coffee cake offering is a slightly different recipe coffee cake than any other Starbucks coffee cake.  The topping is a bit more crumbly and it has a stronger sort of 'spice' flavor to it, and the cake part is not quite as sweet as the typical Starbucks Classic Coffee Cake.
I have to comment on the bathroom too. So I did step into the ladies' room and it was spotless.  I noticed that the bathroom mirror was perfectly spotless.  I don't normally pay too much attention to the bathroom, just so long as it is 'cleaner than a gas station' but this bathroom was truly clean. I had to wonder if they had just been in there with the Spic 'N Span moments before me, and I just hadn't noticed.
I spent a long time at the store, and even after being there 90 minutes, the baristas – without any hassle – re-brewed Thanksgiving Blend for me. That was impressive too!
The store has 2 Mastrena machines and a typical Starbucks interior with some wooden round tables and two comfy chairs.  As an aside, I prefer the round wooden tables to the square ones I've seen at a few stores. I have heard it said (though I've never been able to confirm this) that when Starbucks was very very small, they spent a lot time studying what tables would work best in their stores and ultimately decided that the small tables had to be round.  There were 2 reasons for this: (1) They decided that square tables were more commonly associated with fast food and (2) that somehow a person sitting alone looked less lonely at a round table than a square table.
All is well that ends well … another successful and lucky store review excursion!  Clean bathrooms, Thanksgiving Blend, and Portland Coffee Cake! What more could I ask for?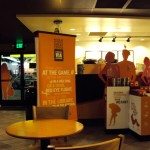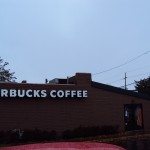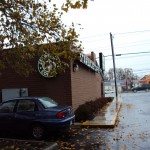 Related posts