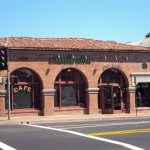 Located in the heart of touristy San Juan Capistrano, there's a beautiful Starbucks in an old historic building across the street from the Mission San Juan Capistrano.  I picked this store for a store review because lots of people come to San Juan Capistrano to visit the Mission, and especially for the annual Swallows Day Parade.  The old historic building that houses this Starbucks has been here since the turn of the 20th century.  My understanding is that it started out as a mechanic's shop in the early 1900's, and then was a greasy spoon ("The Capistrano Cafe") for a long while, and at one point became a Deitrich's Coffee, and finally a Starbucks.
One thing that is quite remarkable about this Starbucks is that there is no hanging Siren anywhere.  No lovely green logo hanging anywhere.  In order for Starbucks to get this site, the City of San Juan Capistrano required as much preservation as possible of the historic building.  The motto of the City of San Juan Capistrano is "preserving the past to enhance the future."  The register partner who greeted me was Madeline, a three-year partner.  If you come to this store you've got to meet her!  She knows the "swallows story" and a tremendous amount of history about this area.
I ordered a lemon loaf, bold pick coffee in a for-here cup ("Anniversary Blend"), and a Venti Black Tea with Orange Mango.  Borrowed-partner Melissa (from the Dana Point Drive Through store) on the bar made my tea drink, and thought it sounded like a good one.  I pointed out to her that all the best beverages start out as partner creations:  I got the idea for that drink from a partner in downtown Seattle.  The partners chatted with me a while.  Madeline told me that her favorite coffee is Anniversary Blend.  My brother and sister-in-law met up with me at the store, and so Melissa (who came out from the bar to say hello) got to meet my family.  Eventually my sister joined us too, and it was an entire family of Os camped out in the comfy seating.
I managed to arrive at the store at the peak of the rush of customers.  It looked a little chaotic but the store handled it perfectly.  I imagine this is a challenging store to work at because of the constant flow of tourists from the Mission.  By the way, while visiting San Juan Capistrano I went to the Mission too because it had been years and years since I had been there.  A few of the photos below are from the Mission.
My brother ordered a Venti Mocha and thought it was fine, though he's not a regular Starbucks customer.  He thought it was strong!   My sister-in-law drinks decaf pumpkin spice lattes.  We had a great visit.  I spent a lot of my time hanging out with my family so I didn't do a good job of paying attention to whether there were lobby slides going on, but it looked to me like the store was maintained clean while I was there.  Just before my brother arrived, a young barista named Aaron came around with a tray sampling the pumpkin spice scone.  I like the icing the best on it!  Right before we left, another barista came around sampling the Pumpkin Spice Latte.  There was a lot of sampling going on, and I commented to my sister-in-law that I wondered if they were doing that because of my visit (I really don't know.  It seems unlikely but it could be possible).  My sister in law commented that the barista with two dark braids sampling the pumpkin spice lattes is really friendly and often there, and my sister in law further commented that this Starbucks "was the best of the San Juan Capistrano Starbucks."
It was a lovely visit, and I recommend you stop in and check it out whether you're a local to the town, or touristing to visit the Mission.
***************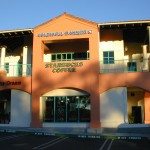 On a new topic, I want to mention a brief visit that I had to store #5900 also located in San Juan Capistrano on a different part of Ortega Highway.  I'm breaking my own rule of never writing a negative store review, but here it goes.  On Monday the 27th of September I arranged to visit the Starbucks with "Refreshers" in San Diego.  I was driving on I-5, and after a change in plans, decided to stop in San Juan Capistrano to again visit my brother and sister-in-law.  I got off the road and stopped in Starbucks #5900.  It was blazing hot out but the store's air conditioning was working just fine.  I decided to stay a minute, killing a little time while my family was still working at their jobs.
At about 4:30ish in the afternoon I walked up to the register and ordered a tall bold pick of the day.  The barista grabbed a paper cup and headed to an urn with a red light on.  He put the cup underneath the urn and poured a cup of coffee.  He then took a big swig.  I went from calm to sudden alarm in a flash.
I called out immediately, "Hey you just drank the coffee! Why did you do that???"
The barista, in a totally calm voice said,  "I was just testing the coffee to see if it was still okay to serve."
I was shocked.  I might have blurted out, "That's why you follow 30 minute timers!"  I looked around and saw no signs of timers.  Another partner walked over to the register and offered to give me coffee for free.  This now began a new round of tension and unpleasantness.  I don't know why giving something for free "fixes" a problem, and then I insisted on paying for the coffee.  The barista who drank the coffee said it was not okay to serve and he'd need to brew a fresh pot.  There was a round of arguing at the register where I got my way and was permitted to pay for the coffee.  I stopped arguing, realizing they're never going to acknowledge to anyone that they weren't using timers.  Actually, it's human nature to be defensive and protect your own interests: For all I know they may say terrible things about me, but the bottom line is that I was assured that the problem would be fixed and that's all that matters.
Finally I got my coffee and I stayed a little longer and drank it.  While other things in the store might be going right, and this might have been a fluke visit, this store gave the apparent impression that they had given up on the use of 30 minute hold time timers.
I complained immediately.  Literally twelve hours later, first thing on Tuesday morning the 28th, the District Manager for #5900 wrote to me apologizing for the visit and assured me that the situation would be corrected.  All I want is the store to use timers.  I have no doubt that if you're using a 30 minute time, there will be no reason to take a big swig of the coffee to check if it is okay to serve (and assuming that other standards are being followed too.)
Given the extremely fast response by the District Manager, I am encouraged and trust that the situation will be corrected.  Maybe next time I'm in Orange County I will stop back into this store and see how things are going at it.  So I want to make it clear that this Starbucks visit has a happy ending to it.
I didn't take any pictures of this store while there.  The copyright holder for the photo for Starbucks #5900 is Winter, (produces the blog starbuckseverywhere.net) who gave me permission to use it.  Thank you Winter.
*************************************
This trip to Southern California produced a total of three store reviews: (Eventually all of the links will work, but some of the posts below have not yet been published)
If you like reading about store reviews, check out this link here for previous blog posts at StarbucksMelody.com featuring stores:
And now for some beautiful pictures of Starbucks store #14023 (and a couple of pictures of the Mission):
Related posts