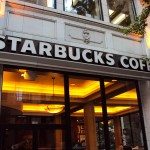 It's time to feature another Seattle Starbucks store.  Many readers tell me they like hearing about stores in my area, and so I decided to feature a store that just recently underwent a remodel, now has a Clover, and has a track record of great customer service.  It's located in the heart of downtown Seattle and it is the "Fourth and Seneca" Starbucks.
4th and Seneca (Store #392)

1125  Fourth Avenue
Seattle, WA 98101
206 623 0860
About ten months ago, I mentioned this store in a previous blog post that covers all the downtown Seattle Clover Starbucks stores:
Clover Coffee Episode #3 – Your guide to Clover stores in downtown Seattle.
The Fourth and Seneca Starbucks is one of the more recent stores to get the Clover.  I think the Clover arrived at the store sometime in the Spring of this year.  Overall, though, the store has a fascinating history.  It represents one of the very few Starbucks that once operated as a "Circadia" branded store.  Those were restaurant concept Starbucks, which eventually became "Cafe Starbucks" and then finally much later stopped food service.  I found an old article from 1999 mentioning this store's unique piece of Starbucks history:
Puget Sound Business Journal:  "Starbucks still seeking a rhythm for Circadia."
There isn't too much to say about this store except that I like it, and I don't get to it quite often enough.  I was in the store just this past Sunday and I bought some Aged Sulawesi Kalosi which is part of the "Reserve" series of coffee.  (yes, I need to mail that out along with  a few other things to readers of this blog).  The register barista, who did not know me at all, asked, "how are you brewing your coffee at home?"  It's been a while since a partner just randomly asked me an open-ended coffee question.  I replied honestly, "any way my boyfriend makes it is fine by me. But he's a fan of the Melitta Pour Over."
By the way, I will be soon mentioning Circadia again in this blog.  I plan to review some of the stores that were once Circadia stores due to their unique history.  And with a little help from Sebastian Birr, I might get to most of them.
But the bottom line is this is just a good store to visit.  It's big and comfy, and has perfect customer service.  It's also amazing to me how you can be right in the heart of downtown yet feel far away from the hustle and bustle of downtown when you are at this store.  Here are some photos from the recent model, just completed within about the last month:
Related posts