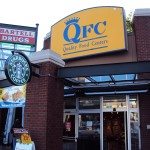 As I often have said, my store reviews are not random. They are carefully planned with a reason. Today, I write this post answering the request of a North Carolina reader who tells me that he will soon be moving to Seattle due to a job opportunity.  He contacted me through this site and inquired as follows:
"I'm moving to Seattle and will be working on First Hill.
 I'd like to read a review of the sbux
which will be closest to my new work place.
Is that possible?"
This post is for you!
After some more email conversation, the reader provided me with a location for his new job. With that information, I have pinpointed that he will soon be situated a short distance from a licensed location and a company-operated store.  Given that the North Carolinian reader will find himself between two Starbucks, I am reviewing them both:
((By the way, I won't normally do two store review blog posts back to back! This is an exception!))
**Licensed Starbucks located at Broadway and Union (1401 Broadway, Seattle, 98122):
This store is located inside a QFC grocery store on Broadway at the corner of Broadway and Union.  I don't usually visit licensed stores, but ran in today and bought a Pumpkin Spice Latte.  The store has an old Verismo machine.  There were two people working. The young man at the register was quite friendly, and saw me taking a pic of the store hours (I thought that might be useful information for you) and naturally, asked what I was doing. We had a minute of small talk and I explained that I blog about Starbucks.  He seemed genuinely intrigued, and asked me what my favorite Starbucks store is?  I mentioned that I am a fan of the "concept" store at First and Pike. He had no idea what a Starbucks concept store was.
Despite that often times the licensed locations baristas do not seem all that knowledgeable about Starbucks, the QFC locations seem to work pretty well as Starbucks locations.  At least in Seattle, the QFC locations do a good job of having friendly baristas, and also their licensed stores even honor most of the Starbucks discounts and promotional programs.  For example, today I received my 10 percent discount when paying with a Gold Card.
Granted, these are not Starbucks employees at this QFC Starbucks, but in truth it is NOT a bad option for a quick Starbucks run. I wouldn't recommend it as a place to camp out and stay.  There were only four tiny square tables, and I wanted to pics of the tables but the place was busy, and all seats were taken, so there was no way to take pictures without getting a ton of people in the pics. My pumpkin spice latte tasted fine.
Store hours for this location are as follows:
Sunday, 7:00 am to 8:00 pm
Monday through Friday, 5:00 am to 8:00 pm
Saturday 6:00 am to 8:00 pm
And a few pics to give a sense of what this area looks like: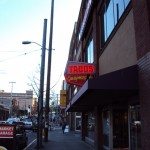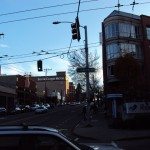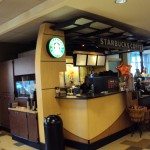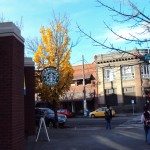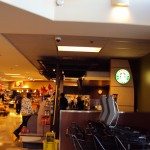 **The closest company-operated Starbucks is located at 1301 Madison, at about Madison and Summit.  (Starbucks store 3331):
This tiny Starbucks operates only Monday through Friday from 5:00 am to 7:00 pm.  I've been in and out of this store many times, though it is the kind of store that I get to only once or twice a year, and truthfully, only when I have a medical appointment in the area.  This particular neighborhood of Seattle is called First Hill, but sometimes it is called "Pill Hill" because it is densely packed with every kind of medical facility imaginable.  It has two newer Mastrenas to pull espresso shots, and its just generally speaking a nice normal Starbucks.  I guess since I often visit 'concept' stores or Clover stores, that I don't find myself so often in these 'normal' Starbucks anymore. I will say that I have always had good experiences inside this store.  I can definitely recall about 18 months ago ordering the bold pick of the day coffee, and having a very nice barista offer to brew it up without any hassle whatsoever. Today, at about 2:30 in the afternoon, I was lucky enough to find Thanksgiving Blend on the brew, ready to go, so I got a tall cup of Thanksgiving Blend, and only stayed briefly.  The barista remembered my personal cup discount too.  If any readers here are looking for more information on Thanksgiving Blend, I highly recommend reading my blog entry on it – It's a solidly bold and delightful whole bean coffee offering. And a few more pics to round off this blog entry: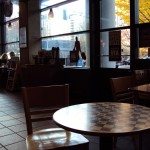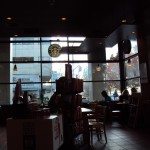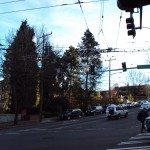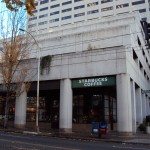 Related posts
Socialize

Subscribe
Join the StarbucksMelody.com mailing list to receive a weekly email with new posts.