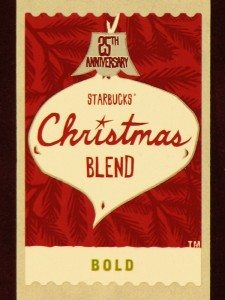 First introduced to the Starbucks whole bean line up, November 1984, Christmas Blend is still a favorite. The coffee beans in Christmas Blend are from Latin America, Asia/Pacific and Sumatra are first roasted separately and then blended together to create this special flavor. Most coffee blends are not roasted separately and then blended post-roasting. This coffee is unique because the Aged Indonesian and Aged Sumatra beans in it demand separate roasting, creating one of Starbucks very few blends actually blended AFTER the roasting is over.
Aged Indonesian beans are known for their unique spicy and syrupy flavors.  I have a very complete blog post here describing the unique sourcing involved in Sumatra and Aged Sumatra.
This year's Christmas Blend is available in 3 sizes: 8 ounces, a full pound size, and a 1.5 pound size.  It is also available in decaf; I don't pay too much attention to the decaf offerings, but I find that interesting that this coffee is available as decaf since there is no way to buy separately, 'decaf Aged Sumatra' beans.
This special coffee definitely is a winter favorite! Don't be confused though! It may also be sold in stores as "Holiday Blend" with very different packaging but the beans inside are exactly the same! (At least I've been told that Holiday Blend is the same coffee – If anyone knows differently, please let me know. Thanks).
(Thank you Larry at Seattle Custom Framing for the photo of the 2009 Christmas Blend coffee stamp.)
Related posts