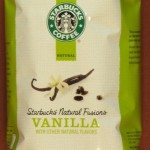 Starbucks sent me a housewarming gift!  I received a box from them with some Fusions literature, and a bag of each flavored coffee, and a French press!
Okay, it wasn't really a housewarming gift, but that's a nice thought. And it did arrive, coincidentally, at roughly about the time that I closed on my little condo.  The real story is that I emailed a contact person at the Starbucks headquarters, inquiring if there were any events coming up related to Fusions, and received a promotional Fusions box in response to my inquiry.  It's much more fun to think of it as a housewarming gift.
Since I received this box of goodies free, the FTC requires that I disclose that "Melody received free product in conjunction with this blog post."  Inside the free goody box was a bag of each Fusions coffee, a French press, and some marketing-type flyers.  For those who don't recall, Starbucks Fusions are available in three flavors:  Vanilla, Caramel and Cinnamon.
This blog post is long overdue, but here is my review of the Vanilla flavor Starbucks Fusions coffee:
Taking a big sniff of the coffee from the bag, I definitely was able to smell some sweetness to the coffee, but it was mild and not overwhelming.  It was almost herbally sweet.  I followed the instructions provided, and used the French press to make the coffee.  The directions called for 3 scoops of coffee, though I might have added just a little more, had I not been following the directions.
Once brewed, I noticed it still had a slightly sweet aroma.  The body of the coffee was light, and it's definitely a mild coffee.  The flavor is subtle and doesn't overpower the the coffee.  I drank my Vanilla Fusions black, but I think it is easily possible that a little milk and sugar would overpower the vanilla flavor to the coffee.  The vanilla flavor tastes like sweetened vanilla to me.  The flavor was even throughout drinking it, and did not end with any particular unusual flavors.  Definitely NOT a crisp, palate cleansing coffee, but rather this coffee flavor lingered slightly in the mouth.
This was a good cup of coffee, but not a great cup. How do I compare it to other Starbucks coffees?  Well, there is no doubt, I would far rather have a cup of Sun Dried Ethiopia Yirgacheffe, or Sumatra, or Aged Sumatra, or Sanani over this coffee.  I would probably pick Fusions even over Pike Place Roast.  Though in all honesty, I think I might take a cup of Via Ready Brew over Fusions!
After I made my cup of coffee, I wandered up to my building's roof top deck and caught the last little bit of light in the sky, and sipped Vanilla Fusions, enjoying a mini city view.
Fans of flavored coffee will probably enjoy this.  It'll never be my favorite, but it was fun to try and fun to review.  Here are a few pictures of the promotional box and its contents, as well as me making the coffee.  (Some of the photos were taken by Molly of Seattle Custom Framing).
If anyone here has tried the Fusions coffee, do tell! I'd love to hear your two cents.
Related posts