Wedgewood, Seattle Starbucks – featuring a neighborhood store
Melody, May 21, 2011
6
2 min

read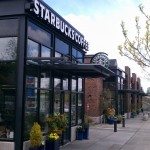 I decided to drop by the Starbucks in the Wedgewood neighborhood in Seattle today (May 7, 2011).  The last time I wrote about this store, I didn't actually give away the location that I was writing about:   The previous blog post was Goodbye Push Button Espresso at Starbucks:  The Simonelli has Arrived.  In that prior article, I discussed that Starbucks was experimenting with a new generation of manual machines produced by Nuova Simonelli.  The Wedgewood Starbucks is now back to using Mastrena espresso machines, which is the most commonly found machine inside Starbucks.
I dropped by this store today not knowing if the test was still ongoing.  I was told by a partner that Starbucks pulled the manual machines out of their store about three to four weeks ago.  The partner I spoke with obviously missed having a manual machine, and it was clear she loved working with the Simonelli.  She raved about the great tasting shots that she got out of it.
The Wedgewood store is a fairly busy neighborhood location.  It definitely has a steady stream of customers, and has every single time I've been to this store.  It can be hard to find a seat.  Although the manual espresso machine test is no longer in the works, I thought it would be fun to introduce my readers to this store.  It's small but has a homey feel.  I love that it has a fireplace, and I like the art hanging over the fireplace.  If you're in the area, be sure to drop by.  Here is the store's address:
Starbucks
7303 – 35th Ave. NE
Seattle, WA 98115
(206) 517 – 2877
I like to give blog time to both the glamorous beacon stores and the little unsung heroes of neighborhood stores, and so you'll see a bit of both of that this coming week here at StarbucksMelody. Hope you enjoyed this very short article on the Wedgewood Starbucks.  (For lots more store reviews, click here.)  Here are a few pics from visiting this store today:
Related posts
Socialize

Subscribe
Join the StarbucksMelody.com mailing list to receive a weekly email with new posts.
Recent Comments