A Starbucks partner earns her Coffee Master black apron: A special event!
Melody, November 20, 2010
28
6 min

read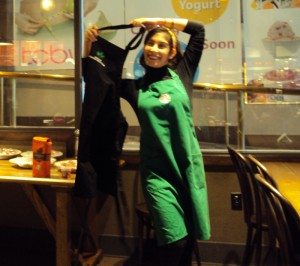 Today (11-19-2010) it was a complete privilege to get to share in the experience of watching a partner earn her Starbucks Coffee Master black apron.  The Starbucks on the corner of Sixth and Union in downtown Seattle recently went through a major remodel.  To celebrate new coffees being offered, a new store, and to earn a black apron, barista-Andrea put on an amazing coffee tasting.  I previously talked about this event in this blog post here – Check out this link for a few more photos of this store, the store address, and announcement of this event:
This event was open to any customers who wanted to join in.  I arrived at the scheduled time of 1:00 p.m. and met up with two friendly district managers here in Seattle.  (One of whom already knew me, and both appear to be blog readers.)  There was a small gathering of customers who joined in.  We went through the four important steps of a coffee tasting:  We smelled the coffee, slurped the coffee all over the mouth,experienced the coffee (making note of how it feels and tastes all over the mouth), and then lastly described and recorded the coffee experience.
Let's talk about the coffee tasted today: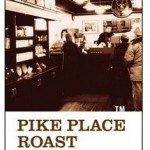 1) The first coffee tasted was Pike Place Roast, the Starbucks everyday brew.  This coffee was paired with a chocolate donut.  It was okay.  Pike Place Roast had an even lighter mouth-feel than what  remembered from last time I drank it.  While this was my least favorite of the coffee tasting pairings today, it was a good combination.  The chocolate glazed donut brought out some sweetness to the Pike Place Roast.
2)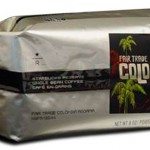 Next we taste Fair Trade Colombia Asoapia coffee paired with dark chocolate from Chocolopolis on Queen Anne hill.  The dark chocolate was made by Santander Chocolates, and the Colombia coffee was brewed with the Clover brewer.  This was a great pairing.  The Colombia is described as having a pungent herb quality to it.  I could definitely tell it had a lot more body and flavor than the Pike Place Roast.  This coffee is offered as one of the Starbucks "Reserve" coffees – A limited coffee offering for selected Starbucks stores designated to sell Reserve Coffee.  Some of the stores with Reserve line up of coffees are stores equipped with Clover brewers.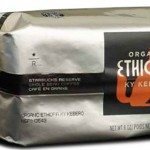 3)  After the Colombia coffee, we next tasted the Reserve coffee Organic Ethiopia Ky Kebero.  This is also a limited offering through the program of Starbucks Reserve coffees.  We had these coffee prepared through the Clover coffee brewer.  This was one of my favorite of today's tasting.  It was actually a light to medium body coffee to me, but had a ton of flavor.  It's primary tasting description is "citrus berry" though I would say I was picking up lots of lemon notes, which then were heavily accentuated with its food pairing.  Andrea got a lemon tart from Trader Joe's which was a perfect combination with this.  The two were delicious together and accentuated all the lemon citrus notes back and forth between the two.  This is an amazing coffee!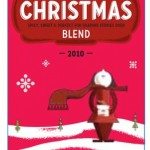 4) Lastly, barista-Andrea prepared a French press of Christmas Blend, and it was paired with Pumpkin Spice Cake from Trader Joe's.  This too was an amazing combination.  This may have been my favorite of all the coffees experienced today.  The body of the coffee felt very heavy and rich following the two Reserve coffee offerings.  Barista-Andrea described this as a "that something to go with everything" and I thought that was a great description.  The key characteristic of Christmas Blend is a spiciness which comes from Aged Sumatra beans blended in it.  This particular pairing really brought out the best of Christmas Blend.  Spice notes like clove and nutmeg were highlighted by pairing the Pumpkin Spice Cake with Christmas Blend.
If you want to try any or all of those four coffees listed above, you can order them at the Starbucks store: Try this link here to explore the Starbucks Reserve coffees.  At the end of this event, the store's manager presented Andrea with her Coffee Master black apron.  This prestigious apron means that she has learned about coffee, and can educate customers about coffees, pair coffees with food, and has coffee enthusiasm.  There is no way to get a Coffee Master black apron without earning it!  I felt a sense of pride watching her get it! There is a great photo below of Andrea giving her store manager a hug right after she gets her black apron. Way to go Andrea and CONGRATULATIONS!
Now some of my regular readers might be wondering how this blog post is different than my many previous posts about "coffee cuppings".  A "coffee cupping" is not the same thing as a "coffee tasting".  This event today was a real tasting: Learning about coffee, and even understanding how food and coffee pair together.  Here are two previous blog entries about "cuppings" for those who want to go back re-familiarize themselves with that aspect of coffee education:
This store is a special downtown Starbucks.  It's had a Clover far longer than most Starbucks.  I first discovered the Clover brewer at this Starbucks in January 2008, and my first coffee brewed with the Clover brewer was Casi Cielo.  At that time, the Clover was at the far end of the store (there is now a wood wall there, and bar-like seating) and I remember that Arabian Mocha Sanani was still on the coffee menu.  For a long time, until the August 2008 expansion of the Clover I would come back to this store over and over again just to experience that very special coffee experience.  I have to admit, that after more stores got a Clover brewer, I started coming to this store far less frequently.  This store though will always have a special place in my heart as the place where I discovered the Clover, and met the then-manager Jesse Kahn who I ended up learning a lot about coffee from.
I have an old photo from my phone which was taken inside the 6th and Union Starbucks some time in early 2008.  I wish I had more old photos so that I could show you a before and after of this store's design.  The sign shows off "Fresh Pressed" coffee (before it was called "Clover" coffee at Starbucks) and the store's Clover brewer and selection of small batch coffees was directly underneath the sign.  Now in that spot there is a wood wall, and an area with bar-like seating.
And two more photos, both of approximately the same space in this store:
Related posts