Clover coffee episode #3: Your guide to downtown Seattle Clover stores
Melody, December 25, 2009
16
9 min

read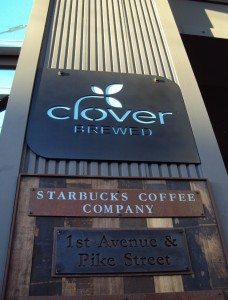 And now for your guide to visiting Clover Starbucks stores in downtown Seattle:
Starbucks has been adding new Clover coffee brewers to a variety of downtown Seattle Starbucks stores. There are currently six Starbucks downtown with Clovers, so it's time for a very short review and rundown of all six Clover locations.  Whether you're a tourist visiting Pike Place Market and shopping, or whether you're a regular business person coming downtown often, this is your guide to Clover Starbucks downtown (in chronological order as to when the store first received their Clover brewer):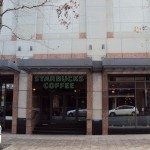 6th and Union – (Dec 2007) This was the first downtown Seattle Starbucks to receive a Clover. They have had one since December 2007 and were part of the first – extremely small – wave of Clover Starbucks stores.  I believe this first few select earliest Starbucks to receive a Clover brewer included Queen Anne Starbucks, Madison Park, and 6th and Union.  This was the place where I first found the Clover brewer.  January 2008, Melody found the Clover and it was love at first sip.
Dear readers, please do not confuse this store with 505 Union Station Starbucks.  They are two different Starbucks at opposite ends of the downtown Seattle corridor.  Actually, 505 Union Station is really more Pioneer Square or International District area.  6th and Union Starbucks takes its name from Union Street.  The Starbucks at 505 Union Station takes its name from a building called "Union Station" which has nothing to do with the Union Street where one finds the 6th and Union Starbucks.
The 6th and Union Starbucks is actually located within the City Centre U.S. Bank Building in downtown Seattle, a large office building dominating the block between 5th and 6th.  There are entrances to this Starbucks from within the building, along 6th, and a large exterior entrance on Union Street near 6th, obviously from which the store gets its casual Starbucks name.  In addition, the pic of this store in this blog is taken from Union Street, facing the large Union street entrance.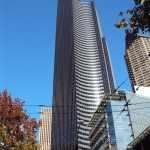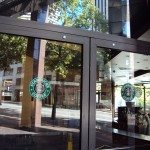 Columbia Center Starbucks – (Aug., 26, 2008) This store was part of a second wave of Starbucks Clover expansion. In August 2008 Starbucks did perhaps what was their largest wave of Clover expansion adding new Clovers to new cities, and adding several more to downtown Seattle.  The Columbia Center is Starbucks store 101 and is the oldest operating Howard Schultz Starbucks. The store started out as an Il Giornale in about 1985, which was the Howard Schultz coffee business before Starbucks sold to him their company.  In 1987, Howard Schultz purchased Starbucks Coffee Company for $4 million dollars, and the Columbia Center Il Giornale was renamed "Starbucks".  It has continually been operating as a Starbucks since 1987.  The store number for Columbia Center is "101".  The Il Giornale stores were numbered with "100" series numbers whereas Starbucks of the same era were numbered with "300" numbers.
This store received their Clover on August 26, 2008.  This is the Clover store closest to the King County Courthouse, Seattle Municipal Court, Seattle Municipal Tower, King County Administration Building, and City Hall.  The store is located on the 4th and Cherry side of the Columbia Center, on the street level, with main entrances both on 4th and on Cherry Street.
This store is open Monday through Friday from 5 a.m. to 6 p.m.
Click here for the official Starbucks blog entry about the August 2008 Clover expansion.
Also, Columbia Center store is mentioned in a previous blog entry here, because it is one of only a few stores with an old pre-1992 Siren on display.  Also noteworthy, the Columbia Center is Seattle's tallest building.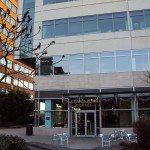 505 Union Station – (Aug., 26, 2008) – This store is located at the extreme south end of downtown Seattle, and really is closer to the International District.  It is located right above a major metro tunnel stop, and it is the closest Starbucks with a Clover near Safeco field, and Qwest field.  This store gets hits with waves of customers as buses and trains pour into the area.  There are also a couple of significant office buildings nearby and as a result there is an intense morning rush in this store too.
The store is also close to King Street Station, the main Amtrak Station for Seattle.  If you're visiting this store, be sure to say hello to "Ken" the store manager.  He's a very nice guy, and the store is lucky to have a coffee-passionate and knowledgeable coffee master named "Tracy".  She will gladly help you pick out your coffee choice and tell you more about the Clover.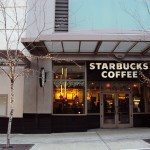 7th and Pike (Aug., 26, 2008) – This store is located on the same premises as the Grand Hyatt hotel in downtown Seattle.  Don't be confused though! It is NOT a licensed store.  This Starbucks is central to great shopping at Pacific Place downtown and the entire shopping core, as well as the Washington Trade and Convention Center.  It's always busy.  I never see it die down.  It also has very late Monday through Friday hours. I believe the store is open until 10 or 11 on weeknights.
The 7th and Pike store is often open at times even when other stores are closed – For example, today is Christmas, and the store is open.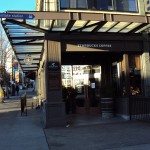 1st & Pike – "Heritage Starbucks" – (March 13, 2009) – This store opened brand new on Friday March 13, 2009.  It had one Clover at opening, and does such a volume of Clover sales that it now has two Clovers. I believe it is the only Starbucks operating with two Clovers! It is a beautiful store right at the entrance to Pike Place Market, and features an incredible store design of reclaimed wood, and has beautiful chalk menu boards.
The clientele of this store tends to be large waves of tourists visiting the market and few regulars as well.  If you visit this store, be sure to say hi to "Lea," who is the warmest friendliest store manager you'll ever meet. The team at this store is fabulous.  Every single time I visit it looks like they click very well together.  Coffeemaster "Jeremy"  will gladly help you pick out a coffee for your Clover selection. This is an awesome store.  Gorgeous store design and a fantastic team!
Click here to read more about this beautiful store.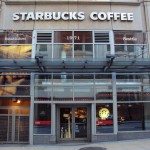 Pacific Place -(exact date unknown, but added a Clover sometime mid 2009) – This stores lies on the western side of Pacific Place between Pine and Olive Way, and the front entrance is located on 6th.  It went through a mini remodel sometime in about the middle of this year, and added a Clover brewer then.  This store hasn't been one of my main Starbucks that I cycle through so I don't have much to say about it.  I assume that its primary clientele are shoppers feeding into it from Pacific Place or generally other stores nearby,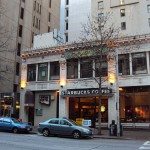 4th and Seneca (COMING SOON! Clover brewer coming March 2010) – This store does not have a Clover brewer as a I write this, but I have repeatedly heard gossip from multiple sources that this store will receive a Clover some time  in March 2010, or thereabouts.  I almost never go into this store, but I have to share a little story about today's trip into this store (I am writing this on 12-25-2009).
True story about today's visit to 4th and Seneca Starbucks:
Today, I decided in the afternoon to go into downtown Seattle and take some pictures of the Starbucks for this blog. I figured that since it is Christmas, parking will be easy, few people will be downtown, and most Starbucks will be closed so perhaps that will lend itself to some nice photos without people in them.
I got to 4th and Seneca, after visiting several other stores, and saw that it was open on Christmas.  I took a picture and went in.
I walked up to the register.  There was no line.  I haven't been to this store in a long long long time. In fact, I'm struggling to remember when I last walked into this store.  A friendly black apron barista cheerfully greeted me:
Black apron barista: "Hi Melody"
Melody:  A mix of thoughts racing through my head – unspoken, 'holy shit. Should I know this person? Am I wearing a name tag or something? I'm a little warm from walking all over downtown. What should I order? How did she do that?'
Melody: "What are you brewing?"
Cheerful black apron barista: "Pike Place. Our bold pick is Christmas Blend. Would you like me to brew you some?  We met at the 101."
Melody:  Thoughts racing through head, 'so now they're hiring mind-readers too as baristas'
Melody: Spoken: "No thank you. Actually I'm a little warm from walking around downtown. Venti Iced Chai."  (Unspoken, Melody thinks, 'Oh shoot. I still don't really remember her. Did she cover a shift at the Columbia Center?')
Melody:  Spoken, "I'm writing a blog entry about all the downtown Starbucks with a Clover, and since I know your store will get one, I'm including you too…"
And then we continued to talk for a moment about my blog.  Pretty much, I was completely embarrassed that this baristas obviously knew me, and knew something about me, and yet I had no idea who she was.  She told me that she had been to my site,  I later learned (from the friendly bar barista) that the register barista is the store manager, Alisha.
For more blog posts related to the Clover, visit episodes #1 and #2:
The official Starbucks Clover page is here.
Enjoy!  Many people write on MSI, or even in comments on this blog or other Starbucks blogs, that they want a Clover brewer to come to a Starbucks near them! I'd invite anyone to comment in this blog if they have a perfect Starbucks store in mind for a Clover, and why.  Just would be curious to see all of your thoughts on where Starbucks should put new Clover brewers.
Related posts