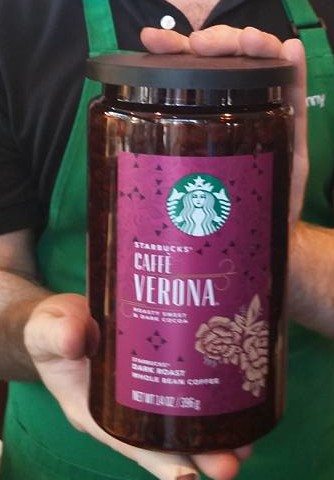 In Testing: Starbucks Coffee in Canisters.
Melody, May 11, 2016
8
3 min

read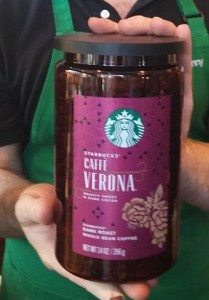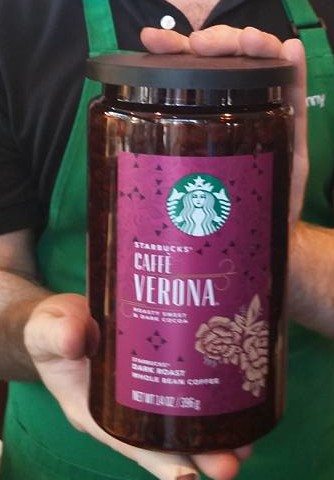 A reader used the "Submit a pic" button on this website, and submitted an image of Starbucks whole bean coffee in a canister, not in Flavorlock packaging. I know very little about this. I heard that this was spotted in Richmond, Virginia and that it's a test of different whole packaging. I don't know how long it has been in testing, nor how long it is scheduled to be in testing.
The current whole bean packaging is Flavorlock packaging, which is a bag designed to keep the coffee fresh, but with a small one-way valve on it. The purpose of the one-way valve is to allow the coffee to de-gas. Immediately after roasting, all coffee lets off some gases, so having the valve lets coffee expel those gases. The basic style of packaging, meaning this plastic Flavorlock bag, has been in use for decades, although the designs on the bags have changed over the years.
The story of the standard Flavorlock packaging, which is now the industry standard, begins in the 1980s. From Pour Your Heart Into It, "In 1989, we figured out an answer to what seemed an impossible conundrum. We began using FlavorLock bags, a kind of vacuum packaging with a one-way valve to allow carbon dioxide gases to escape without allowing harmful air and moisture in. This device, used by Starbucks in the early 1980s for wholesale customers only, enabled us to preserve freshness by putting coffee in five-pound silver bags right and roasting and sealing the flavor in before shipping. Once the bag is opened, the fresh flavor begins to decline, so the coffee must be sold within seven days or we donate it to charity.
In retrospect, the reintroduction of FlavorLock bags was a key decision that made our expansion strategy feasible. It allowed us to sell and serve coffee with the highest freshness standards even stores thousands of miles from our roasting plant." (page 117 of Pour Your Heart Into It).
Flavorlock packaging is enormously effective at what it does: preserves the freshness of the coffee. Light and moisture do not get into the bag. I've heard the bag itself is designed with about six micro-fine layers of plastic and at least one metallic layer. (Don't quote me on that – I'm not sure that I have that exactly right in terms of the bag design.) One thing for sure, Flavorlock packaging, which is now the industry standard, is not recyclable.
The only major reason I can think of to move to new packaging would be to attempt to create fully-recyclable packaging.
Here's the current sexy packaging!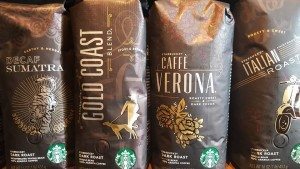 The current look of the packaging has been around since about 2013. I posted the above pic in a Facebook group, and someone immediately commented on how cool it is to try and find all the hidden symbols and messages on the bags!
What would you think of Starbucks coffee in jars, tubs, bottles or canisters?
Edit on May 13, 2016: Notice in the comments, one person (who appears to be familiar with the test packaging) indicates that the new jars of whole bean hold 14 ounces of coffee, not ounces like the coffee in Flavorlock bags.
Related posts