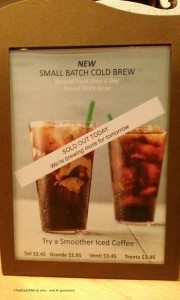 Starbucks is currently quietly testing iced cold brewed coffee. It's a very small test in one district (in the Boston area) and the test is only slated to run for a few weeks. Partners are brewing core Ethiopia in a Toddy-system for cold brewing coffee. When it runs out for the day, they put stickers on the in-store signage saying that it's out for the day. Like most traditional cold brew methods, it takes 24 hours to brew the coffee. As many people know, the New England region of the United States tends to have higher iced coffee sales than the rest of the country.
I mention this test largely because I'd love to see it expanded. I love a great cold brewed coffee. I've even featured cold brewed coffee recipes on this blog before. I'm a little pessimistic about the test expanding: One large limitation is that it's hard to scale. You can't quickly re-brew the coffee. Nonetheless, I see cold brewed coffee as part of an elevated coffee experience. I've often mentioned that it would be interesting for Clover – Reserve stores and/or Evenings store to have elevated coffee offerings, and this could be part of that. I'm thinking out loud here, but the bottom line is that this is an interesting test. I'm crossing my fingers, despite that I'm pessimistic about the test's expansion. The person who wrote me said that their iced cold brewed coffee is doing very well. She's hearing from customers that they love it.
If you like reading about Starbucks tests, click through this category here. Please keep in mind, Starbucks is constantly testing things and they'll test many more things than what actually makes it to a national product lunch.
Would you want a cold brewed iced coffee at Starbucks?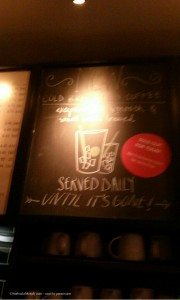 Related posts