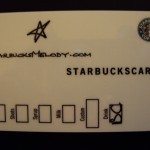 Woohoo! My customized Starbucks card arrived today! I realized though after I ordered the card that I should have tried to have it say something like, "check out StarbucksMelody.com" rather than just the website name.  I just registered the card, and it is ready to go! So exciting! I like the plain basic white with boxes but was disappointed that there was no way on the customized order card to indicate that I would want the "bold" pick.
If you too want to get a customized Starbucks card, here is the link.  One deceptive part of the process is that not all the images shown on the very front page were available to me when I actually selected the card. The options for images seems a bit limited.  I couldn't find a way to get the French press card image, which would have been my first choice.  Either way, I'm excited to have a custom card!
Look out world! Here I come!
Related posts