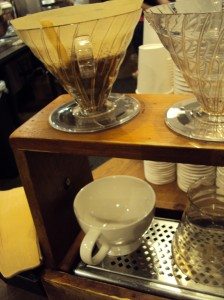 [[Edit on Feb., 15, 2010: Starbucks officially anounces the pour over system in the MyStarbucksIdea.com blogs:
Introducing Pour Over Brewing in the Afternoon
Check out that link for more information about the new pour over system which should be in all stores by early March 2010]]
The "pour over" brew method is coming to Starbucks soon. Just yesterday, I posted a blog entry about how inconsistent a customer will find the Starbucks "brew on demand" policy.  In the comments to that blog, two Starbucks partners both hinted that their stores would be receiving pour-over brew method equipment soon!  I tried to get a sense if this was simply a regional test or everywhere, and never got a clear answer. A few partners contacted me privately through either twitter or other means of contacting me, each confirming that pour over is coming soon to their stores. Either this is going to be a test in multiple regions, or a nation-wide launch.
Is "pour over" coming to Starbucks a good thing? ABSOLUTELY YES.
The two "mercantile" non-branded Starbucks are already using the "pour over" as one of their primary means of brewing coffee.  For those who are unsure what the "mercantile" Starbucks are, please click here.  A "pour over" involves a barista grinding enough beans for a single cup of coffee, using a cone brewer with filter, and then custom brewing one single serving of coffee by pouring hot water over the beans.
This brew method produces a coffee flavor close to the flavor profile from larger drip brewers because it is a brew method that uses a filter, unlike either a French press or a Clover cup of coffee.  If one were to talk about four possible coffee brew methods, one would say that (1) "pour over" and (2) drip-brewer are very similar and (3) Clover and (4) French press have similar coffee profiles (though there is a larger difference to me between the Clover and a press, than as between the "pour over" and the drip brewer, in my humble opinion).
This is such great news that the pour over is coming to Starbucks. I remember hearing a rumor about six to eight months ago that the pour over was tested in Boston, but I never did get a chance to see it there myself.  Previous mystarbucksidea.com threads, such as this one here, have long led to me believe that Starbucks has been experimenting with the "pour over" for quite a while.  At times, customers have come to My Starbucks Idea to request that Starbucks implement a "pour over" brew method, such as with this thread here.
I believe this is absolutely the right direction for Starbucks to go because it reinforces their fabulous bean variety; it is a great move in the direction of being about the coffee; and gives the customer great choice.  My only worry for this option is that it is fairly labor intensive and slow, and I worry that customers will not want to wait and baristas will not have enough labor to make this work.  I guess time will tell.  I also have a small worry that baristas will receive inadequate training to make this really effective and premium cup of coffee for the customer.
There are a few large suppliers of "pour over" cones: Two in particular that Starbucks has experimented with are (1) Melitta brand, and the other is (2)  Hario USA brand.  I don't know which would be used for the wide-scale "pour over" launch.
From what I know, the steps to prepare a high quality "pour over" coffee are as follows: (Caveat: I am not a barista, and these instructions follow the "Hario USA" pour over brew method which is slightly different from the instructions for the Melitta brand.)
Place paper filter in plastic cone.
Pre-wet the paper, and toss out the little bit of water from pouring water all over the paper. This helps rid the coffee of any residual paper flavor!
Grind beans on a setting a little coarser than espresso grind.
Pour the ground beans into the paper filter.
Measure out the right amount of hot water, which should be very hot at 202 degrees.
Pour the water skillfully in the center of the beans.
When I posted yesterday's blog entry on "brew on demand" I had no idea that something new would grow out of the comments.  I had been slowly writing that blog, and it sat in my drafts half-written for a month. Finally, I figured I might as well post it.  Looks like my timing wasn't bad at all!
If any baristas have any thoughts about the "pour over" or any other brew method, please chime in!
[[Edit on 2-7-2010: From conversations with baristas, I am getting the sense that the "pour over" launch is about one month out from now.
One more thing: I wanted to provide a little more information on the "pour over" brew method, and stumbled upon this blog which gives some detailed information about brewing with the Hario cone.
My gut intuition tells me though, if Starbucks is going to launch hand brewing nationally, they'll go with the Melitta cone brewer and not Hario. I only say that because my gut tells me that is the cheaper system to operationalize if you need to buy 10,000 cones!]]
[[Edit on 2-8-2010: Further gossip on this development that I'm hearing: Starbucks will launch this is all non-Clover stores on 3-8-2010, and will be using the Melitta cone system.]]
Related posts