Beautiful Starbucks barista chalk board art. [Open Thread]
Melody, February 10, 2010
15
1 min

read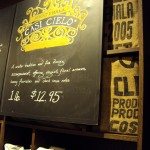 I'm sure everyone notices the chalk art signage at their local Starbucks store. Once in a while a sign will jump out at me, and I think, 'this is stunning.'  There are many unknown great artists hidden under green aprons.  This sign featured in this blog post was one of those moments.  I asked the barista who created it ("Heidi") how she did, and she said she just free-hand drew it.  I love it.  I love Casi Cielo too, and here is my previous blog entry on Casi Cielo:
Anyone who has some particularly wonderful barista art images that they'd like to see featured on my blog, I would consider doing another episode on this theme with reader submitted content.  Please email me at Sbux206@StarbucksMelody.com.  This is also an open thread.  Feel free to talk about any Starbucks-related topic.  I'm constantly looking for new content ideas too. Though it might not seem like it, I sometimes struggle to figure out what to blog about!
Related posts
Socialize

Subscribe
Join the StarbucksMelody.com mailing list to receive a weekly email with new posts.