25th Anniversary Vancouver BC Canada Starbucks Card
Melody, August 25, 2012
15
2 min

read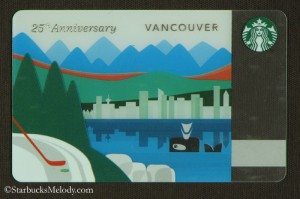 I just wanted to say a big thank you to the partner who sent me a 25th Anniversary Canada Starbucks Card, launched earlier this year.  The card features the skyline of Vancouver, B.C., the city where the first Starbucks outside of the United States opened.  The first Starbucks in Canada opened in Vancouver on  March 1, 1987.  I found this tidbit of information from the Starbucks Canada Facebook page:
On March 1st, 1987, Starbucks opened its first Canadian store, Seabus, in Vancouver, B.C. In 1995, Starbucks formed an alliance with Chapters, Inc., the Canadian bookstore chain. The next year marked the first stores in the Ontario market, with the January 20th opening of 5 stores throughout the greater Toronto area. To date, Starbucks Coffee Canada has over 700 company-operated stores and over 250 licensed concept stores across the country.
You can follow Starbucks Canada on Twitter also.
The partner included a lovely postcard of Vancouver where you can see one of the buildings in the Starbucks card!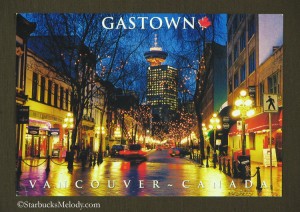 I really don't expect this to get a lot of comments, but I had to say a big "thank you."  I am touched by the gifts that partners and customers have sent me now and then!
Congratulations to Starbucks Canada on 25 successful years!
If you like reading about Starbucks Cards, I have also written about the Twilight Retreat Card – First and Battery Starbucks, Destination Cards, the Evolution Fresh Starbucks Card, the fall season Braille Card, Kyoto Japan City Card, and many more.  It was only just a couple of years ago that one could buy a customized Starbucks Card.
Feel free to talk about anything related to Starbucks Cards.  (And if you haven't seen it, I recommend browsing the "BucksCards" fan site too.)
Related posts