Starbucks opens its first LEED registered store in Japan
Melody, June 16, 2010
27
3 min

read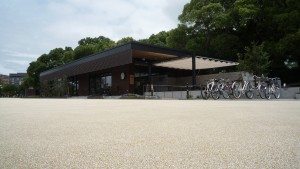 On May 26, 2010, Starbucks announced the opening its first store to be LEED registered  in Japan, located in Ohori Park.  I've heard from a number of people that the store actually first opened on April 26, 2010.  The official My Starbucks Idea blogs have a good blog entry explaining what LEED certification is, so I recommend that my readers drop by that blog post and read it over:
Though no interior pics are available, I have a few exterior photos of this store, and it's so visually interesting that's it's definitely worth sharing with all of you.  I owe a big thank you to Noboru Sakamoto who generously gave me permission to post these photos on this blog.  He is the copyright holder of all photos used in this blog post.  On Memorial Day this year I got the chance to meet Noboru Sakamoto in person, and I also recommend following him on twitter too!   He tweets as @Nobrice.
In late 2009, Starbucks announced its participation with the U.S. Green Building Council's LEED Volume Certification pilot program.  The strategy with the pilot program involved Starbucks constructing or remodeling a minimum of 10 pilot stores in six different bioregions around the world.  Once the pilot stores' environmental strategies are audited and approved, they can be replicated elsewhere.
This store in Fukuoka, Ohori Park, Japan is part of that continuing development of the initial LEED pilot stores.  Starbucks has opened previous pilot stores in London (Conduit Street store), Seattle (Roy Street Coffee and Tea), a remodeled store in New York City (72 Spring Street Starbucks in Soho), Paris, France (Disney Village Starbucks),  Madrid, Spain (The Palace Hotel Starbucks), and I believe Washington D.C., also.  I don't have a complete list of all the LEED pilot stores, unfortunately.  If anyone has that information, please let me know – I would love to have a list of all ten stores, if only to be as accurate as possible describing all the LEED pilot stores.  I have heard that the first of the LEED pilot program stores actually opened in San Diego, but I have no idea which store.  If any knows, please let me know!
My understanding is that this beautiful new store has two Mastrena espresso machines.
What do you think of Starbucks partnership with the U.S. Green Building Council and these new store designs?  I have had two other blog posts on "repurposed" store design that I want to revisit for a moment – I previously wrote about new stores opening up and remodels which use green materials, though are NOT part of the LEED registration process.  Click here for that blog entry, which focuses on a Starbucks at Pier 55 in Seattle, and in Bellevue Square, in Bellevue, Washington.  I previously wrote about Roy Street when their store opened new in November 2009:  This blog entry here has some photos of the Roy Street store which is LEED registered and part of the pilot program.
Without further side chatter, let's take a trip to the Ohari Park, and visit this new store.  It'll be like a walk in the park, and admiring a gorgeous store from the outside:
Related posts