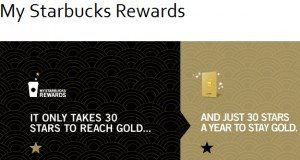 Let's talk about MyStarbucksRewards.  It's the loyalty program that Starbucks first adopted in 2008, and it is still around today.  The program has certainly gone through a number of changes since 2008, and as I understand it, is still going through some modifications and changes.
Prerequisites:  In order to earn any rewards, there are a few basic prerequisites to the program.  It's pretty simple.  You have to have a Starbucks card.  This really can be any card that strikes your fancy, whether that's a city card, the new braille card, the "Twilight" First and Battery Starbucks card, or any other card.  Don't let anyone tell you that you have to use some specific card.  You must register the card at http://www.starbucks.com/card, and you must use the card to pay for your purchases.
MyStarbucksRewards is set up with three different levels of benefits.  My understanding is that Canada will be getting the same version of rewards as the U.S. program.  The three levels of rewards are as follows:
(1) Welcome Level – (One Star) At the "Welcome" level of perks, you can earn a free drink coupon for a birthday beverage.  The drink coupon is mailed out a few weeks before your birthday.  My understanding is that you have to have an "active" account to get the free drink perk.  What I mean by that is that your card has to have been used at least once in the past 12 months.
(2) Green Level – (Five Stars) The Green level includes perks such as no additional charge if you want soy or breve milk in your beverage.  Standard syrups are free.  You can get ANY free tall beverage with the purchase of one pound of beans.  And similarly, you can get any tall beverage when buying one half pound of Starbucks Reserve coffee.  At the Green level, a customer can get free "refills" too.  A refill price is only available for customers staying in the store.  Regardless of original beverage purchased, a customer can get Pike Place Roast (or whatever happens to readily available on the brewers), iced coffee or iced tea as a "refill."
(3) Gold Level – (Thirty Stars) – At the Gold level of benefits a card holder receives all the perks available under the Welcome and Green levels.  The Customer also gets a shiny gold card with his or her name on it.  And  when at the Gold level, the customer will earn free drink coupons for every 15 stars, and other promotional coupons.  The customer must opt into additional postal mailings on his or her profile in order to receive the special extra coupons such as a free Frappuccino, free petite treat, free holiday pastry, and many more.
The above is a really short summary of the card perks.  Unfortunately, there are some challenges with the program, and the pitfalls haven't changed much over the years:
Pitfalls:
(1) Customers are confused about what is a "sauce" and what is a "syrup."  The typical customer knows almost nothing of the business of Starbucks, and has never pumped any sauce or syrup into a cup.  He or she might be only vaguely aware that there are some jars, and some pumps, and the barista uses that to put flavor into a cup.  So for many customers, they think that "Mocha" should be free under the card rewards.  If all the sauces were a free perk the problem would be that nearly every single person would only be buying a 'latte' as an espresso beverage, and there would never be a charge for a 'mocha.'  Starbucks never intended to stop charging for mochas, and it probably is not a good business idea to charge mochas as a latte.  Syrups are a little thinner than sauces, and a little cheaper for the business, so it makes sense that they can be offered as a freebie.
(2) Many partners do not realize that a customer can receive ANY tall beverage when buying a pound of beans, and will be free.  The register will automatically deduct the tall beverage with the one pound whole bean purchase.  (There is the same perk if a customer is  purchasing a half pound of the Reserve coffee offerings.)  I've seen many experienced partners get tripped up about this.  It's a Green level benefit.  I've watched partners think that you have to be using your gold card to get this perk:  That is simply untrue.  A customer only has to be at the Green level, and can use any registered card, and can receive this benefit, even if he or she wants a tall mocha Frappuccino with an additional espresso shot, when buying a pound of Pike Place Roast.
(3) The refill policy creates a lot of  confusion:  Customers erroneously think you can leave the store and still get a refill.  Partners often do not realize that a refill for in-store guests can be given regardless of original beverage purchased.  Here are some refill guidelines:
i. There is never a "refill" price for drive-thru customers.
ii. Refills are designed to encourage people to linger in the stores on the theory that they will buy additional food or merchandise.  There is never a "refill" price for customers who leave the store.
iii.  Refills do not have an arbitrary one hour or two hour time limit on them.  However, this is an area of ambiguity, but no customer-facing material that I can find describes that you can only stay two hours in the store and still receive "refills."  I recall in 2008, when Howard announced these perks, he clearly said, "Stay as long as you like …" and that is always how I have interpreted this.
iv.  Refills do not have to be exactly the same beverage that you started with.  If a customer orders a tall mocha, and then walks up to the register and asks for a tall Pike Place Roast in his or her cup, under Starbucks standards, that is a refill.
v.  The only beverages which can ever be charged under the "refill" price are Pike Place Roast (or whatever coffee happens to be brewing at the moment), iced coffee, and iced tea.  If the customer wants an iced tea lemonade, that is always full price.
(4)  The shiny gold card with the customer's name on it creates confusion.   There is NO  requirement to actually use this card to get any benefits.  This is SUCH a problem that so many people think you must switch cards to get perks! No no no no.  Use ANY card registered to your Starbucks.com account which is at the Gold Level, and you will earn all your perks.
(5)  Stars are earned per purchase, and do not have any relationship to the dollar amount of the receipt.  Most major retailers create reward programs that offer increased perks with increased spending.  At Starbucks, if a customer is buying a tall brewed coffee, and then decided to grab a CD at the register with the purchase, that is still "one star" unless the CD is rung up separately.  This set up is so very different from what so many retailers do that many customers will feel disappointed, as if there is no reason to 'add on' items at the register.
(6) The card rewards are hard to explain in a short soundbite.  Overall, this rewards program is a generous program.  It is especially rewarding to customers who order espresso drinks with syrups and soy or breve milk.  However, again, remember that the typical customer does not know about the business of Starbucks, and is not an expert in these rewards.  It is hard to appreciate what you don't understand:  These rewards can 'feel' like they're lacking if the customer never orders refills, milk changes, and syrups in drinks, and doesn't buy whole bean coffee.
One day recently, I was sitting at Menchies with a friend who asked me, "What benefit is there to having a registered card?"   I inquired about what she likes to drink at Starbucks.  I didn't realize that pretty much the only thing she orders is green tea.  The one time she was buying a pound of whole bean coffee (as a gift, as it turns out), she said she asked about a free drink and was told that it had to be 'coffee.'  (This was recently and she's definitely at the Green level!).  She tried to explain to the barista that she only likes iced tea, and says she was told that iced tea is not a free benefit.  This story is a good example of the typical problems with the rewards program:  Many baristas don't understand it well, and customers often understand it even less.
***********************************************
Problems with the MyStarbucksRewards website:
I have to be honest that I don't entirely trust the MyStarbucksRewards website.  If you dig for information about the rewards, there is still a section on that website that describes the old (and no longer available) 10% off rewards program.  The only thing that is going to do is confuse customers.  And the description of the rewards misses some key points, such as a free tall beverage with the purchase of a half pound of Reserve coffee.  It's not a terrible website, but I think it could be a bit more clear and thorough.
***********************************************
Conclusion:
There is a part of me that is exhausted by the rewards.  It takes a lot of work to explain them.
Once Starbucks opened up Pandora's Box of rewards, it became difficult to close it again.  Occasionally, I think we were better off before there were any rewards at all.  It was a much more simpler time!  I sometimes think that Starbucks should wipe out all the rewards.  For those who are interested, I've heard that Starbucks is doing a test of free additional shots in beverages.  However, it appears that the only to receive the perk is to order a "quad" beverage, or at least two more shots than what the drink recipe normally comes with.  Please don't take this as gospel!  I'm not totally clear if this is a test, or a permanent change on the way.
It's probably an expensive program too.  For a billion dollar corporation, they are not offering anything that they can't afford to do, but overall they probably spend millions and millions every year to operate and manage the rewards program.
One other thing is that in any business, it is generally thought that not all customers are the same.  The super frequent customers, even if buying a cheaper beverage, will ultimately spend more in one year than the customer who takes 9 months to get to Gold, and come in just for a treat of a Frappuccino.  It is kind of the idea that maybe 20% of customers drive 80% of sales:  There is an opportunity for partners to use the gold card to create customer loyalty.  The barista can learn names, and can immediately recognize that the gold card holder probably is in that more frequent category of super-regular customers.  For sake of numbers (and I'm not totally sure how accurate these numbers are!), I have heard that Starbucks has about 60 million customers a week cycling through their doors.  In contrast to that, there are probably less than 3 million Gold Card customers.  The Gold Card program provides a real opportunity to identify, nurture, and reward the customers who are super-regular and probably spend more in one year than any other group.  One lost Gold Card customer over a bad experience probably takes two or three 'treat seekers' to make up in sales.  From that perspective, suddenly the thought of a free tall Frappuccino with a pound of Pike Place Roast no longer seems so expensive.
Today is the day that Canada gets these rewards, so I felt it was time for a recap.  In many ways, I'm disappointed that Starbucks simply relaunched the same program that the United States has rather than improving upon it or fixing the flaws.  There are, as I understand it, some international markets that have completely different versions of the MyStarbucksRewards.
I want to make it clear that I appreciate these rewards, yet there are opportunities for improvements, and I'd like to see Starbucks make some minor changes.
Feel free to talk about anything Rewards related!  Are you happy with MyStarbucksRewards? If you could change one thing about it, what would it be?
Related posts