Store Review: North Bend, Washington & Melody's Via Taste Challenge
Melody, October 4, 2009
11
5 min

read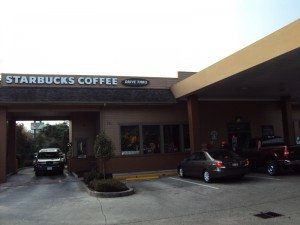 This weekend is the Via Taste Challenge weekend, and so I can't pass up this opportunity to visit a new store and do the challenge.  For those who don't know, VIA™ Ready Brew is an instant coffee in individualized serving packages. Each packet makes 8 to 10 ounces of coffee. (10 may be a little weak).  Via comes in two coffee varieties: Italian Roast and Columbia.  Via first was launched in Seattle and Chicago in March 3rd of this year, and then September 29 this year was the big national and Canadian launch. All Starbucks stores are now selling Via. My understanding is that it is also available online at the Starbucks store, in some Target stores, and at Coscto.
The taste challenge is framed as "Can you taste the difference?" So, can the customer tell which is freshly brewed Starbucks Pike Place Roast (the coffee selected for the challenge) and which is an instant coffee? I think the gist is that many people won't know an instant from a brew. I don't think the challenge is about comparing flavor profiles so much as it is about being tripped up about the brew methods. Is this really instant coffee? … Let's see how the store visit and challenge went …
On Sunday October 3rd I decided to head outside of Seattle (actually to avoid the possibility of running into baristas who know me) and so I found myself in the small town of North Bend, Washington.  Store #13730 is the subject of my Via Challenge and store review, much like famed Starbucks store reviewer Juan Valdez.
The store is situated in the mountainous Mt. Si area of Washington State, and probably gets lots of freeway passersby because of its close proximity to I-90.  There is a drive-through which seemed to stay steadily busy.
I arrived at 8:45 am, and saw 4 baristas working.  I decided to get my food before the taste challenge, and so I ordered a usual Starbucks breakfast for me: Oatmeal with 2 brown sugars and 1 nuts. I grabbed an orange juice and asked for the bold pick in a for-here cup. The barista asked me if I was going to do the Via Challenge and I said "yes" and so she offered to not charge me for the coffee. I thought that was nice, and said thank you.
Interestingly, the two customers after me also asked for the bold pick, and I thought somehow this area has a lot of bold coffee drinkers, possibly.
There were four baristas on the floor. One was tied up at the drive-through, another on bar, another on register, and a fourth floating back and forth between behind the bar and the Via Taste Challenge table. Though, four baristas on the floor sounds like a lot, to really have enough attention for the taste challenge, it would be nice to see one person dedicated to the Via Challenge table. However, these days, that simply is not the Starbucks way of allocating labor. At some point, the floor staff seemed to dwindle down to 3, and so the Via Taste Challenge table was up for grabs for customers to sort of just pour and do the challenge on their own.
Despite all this, what an enthusiastic crew! Every person was full of smiles and the young barista who was running back and forth between the bar area and the Via Challenge table was really trying 110% to get customers engaged. She was asking them which they liked better, which they thought was instant, and promoting the fact that there was a coupon.
I took the challenge, and sure enough, guessed right. But right after me, a tall wiry man in a Mariner's t-shirt guessed wrong and he seemed visibly bummed!
I sat down with my oatmeal and realized I needed a little more water, so I headed back to the register, and the register girl offered to put a little steamed milk in it.  That was a very nice gesture, but I declined. I am just not into warm milk which is why I am not a latte drinker usually.
By the way, huge kudos to the store for getting my oatmeal right. Despite that I always order oatmeal with 2 brown sugar and one nuts, I often get handed an oatmeal with one each (brown sugar, fruit, nuts) in the little brown bag.
A little later, a man in a leather coat also guessed incorrectly which was brewed and instant, and he too seemed a little bummed. Ah men, and their fragile egos. 😉  Much later a woman in sweats and hair in a pony tail tried the two, but she ended up just tossing out the little sample cups and not saying what she picked because by the time she drank the little samples, the store was too busy to come back and talk to her about it.
There were several occasions customers helped themselves to the two samples absent a barista around to assist their Via Taste Challenge. I could tell the baristas were really trying very hard to be attentive, but they were spread too thin. The store looked clean. Though, in order to be as thorough as Juan Valdez, I popped my head in to the ladies restroom: The restroom looked like a totally normal restroom. Clean enough, stocked, and a plunger next to the toilet.  I realize that from prior Starbucks Gossip conversation, there are those who believe that a plunger should not get stored in the bathroom, but I can't think of a better place for it.
I stayed in the store one hour, and never saw the barista enthusiasm wane.  One barista, who I assume had a name beginning with "k" since she wore small necklace with a "k" pendant, was constantly on the go, back and forth, to and from the table.  At the end of my visit, I finally bought a 12 pack of Via (it seemed like the fair thing to do), and let the register barista know that there would be a blog entry on her store.
All I can say are good things about this store. Keep up the good work!  I'd recommend this store to a friend!
Related posts