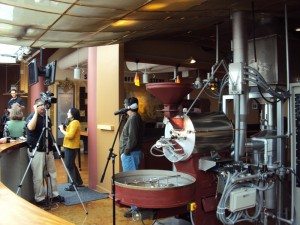 Last Friday, the Starbucks Twitter profile tweeted about a tweet-up, at the SSC, with limited space available.  This was the tweet:
"We're hosting a tweetup next week in Seattle! Free next Wed morning? Limited tickets available: http://starbucksapriltweetup.eventbrite.com/"
When that tweet was tweeted, I completely missed it. It never crossed my radar. I did not get a ticket. Later, I was twittering with my friend @lyracole, who mentioned that she managed to get one of the precious twenty tickets.  I didn't think much about this again until just this morning at about 7:30-ish when again I was twittering with Lyracole about the tweetup. She offered to GIVE me her ticket.  She really thought I should go since I'm a friend, and extreme Starbucks enthusiast, and a blogger, and she wanted me to have her ticket.  After much conversation with her, twittering back and forth, we decided that we would both go to the Starbucks headquarters and find out if it would be okay for Lyracole to handover her ticket to me, or whether somehow, we'd both be able to go.  I want to make it unambiguously clear the Lyracole was absolutely ready to turn over her ticket to me. I was very thankful for her generosity, and told her I would owe her big time.
We arrived together at the SSC at about 9:30-ish roughly, and a friendly receptionist printed  "visitor" tags for us, and told us to have a seat.  At about 9:45 Brad Nelson (the official twitter voice for Starbucks) came to meet up with the tweet-up group, accompanied by a PR person whom I also know (and she definitely knows me).  Brad had a definitely look of surprise on his face upon seeing me (obviously my name wasn't attached to a ticket), and Lyracole made it absolutely clear again that she wanted me to go, and asked if she could give her ticket over to me.  Brad and the PR person were both very welcoming and said that we were both welcome to attend the event. Brad said there was space available and it would be no problem if I attended. By the way, I should make it totally clear that I was either prepared to not attend and walk away (as the ticket could have been non-transferable?) or believe it or not, I was mentally prepared to take Lyracole's ticket, knowing that I would owe a big debt to her. (And I would have found some nice way to reciprocate).  Here's what the tweetup event information looked like: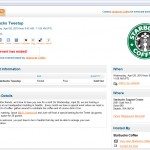 The event started shortly before 10 am with the roasting of some Organic Shade Grown Mexico coffee on a smaller-sized roasting oven at the SSC.  One thing I learned, that I hadn't realized before is that Organic Shade Grown Mexico is one of the lighter roasts, and is even lighter than House Blend. It is pulled out of the roasting oven right at the second pop.  The smell of the roasting coffee – and freshly roasted coffee – was fabulous.  A number of speakers gave brief presentations, as a crowd of people, mostly corporate partners, and a few customers tasted their Organic Shade Grown Mexico.  The tweet-up group included about ten guests total, and the remaining very large crowd was entirely partners.  The Starbucks Support Center routinely does this kind of monthly event for their partners, and once in a blue moon will invite a small group of customers to attend. The speakers were Ben Packard and Heidi Durham from the Starbucks Support Center.  One of the two of them (I'm embarrassed that I don't remember which one of them) spoke at length about the success of the previous promotion where if Starbucks customers brought in their own cup or tumbler, they would receive a free drip-brewed coffee or iced coffee in it (up to a maximum of a Venti size).  For example, the typical Starbucks store in the United States has about ten customers a day bringing in a re-usable cup or tumbler, but on April 15, 2010 (the day of the free coffee event) that number jumped to about 94 personal cups per day, per Starbucks company-operated store.
Following the tasting of Organic Shade Grown Mexico, our small group of ten twitterers all met up in a side alcove for a specially-prepared coffee tasting which included Organic Shade Grown Mexico (Core Coffee), Sun Dried Ethiopia Yirgacheffe (periodic Clover offering, and Sumatra (Core Coffee).
Jason from the coffee team lead the coffee tasting.  It is always an education attending one of his coffee tastings. I learned a few more things that I either didn't know or had forgotten.  The best coffees are grown at an elevation of about 3000 feet to 6000 feet.  There actually is such thing as "low elevation Arabica coffee" but Starbucks does not purchase it.  One of the reasons that the finest coffee is grown at such a high elevation is that there is less oxygen in the air at that elevation.  As the trees are, metaphorically speaking, 'suffocating' their cherries respond by produce more sugars in the actual cherry.  Another thing that happens is that trees growing at such a high elevation also tend to be denser due to the lack of oxygen.  A dense, hard coffee bean means that it can withstand intensive roasting without catching afire.  I counted ten tweet-up customers participating in the event. One woman to my right didn't like the Ethiopian Yirgacheffe coffee. I wanted to visibly shake my heads, and say, "why, why, why, how could that be?" but I bit my tongue.  As we all know, what people like in coffee is extremely subjective.
While I was there I took a few pics, and my friend Lyracole took pictures too. I will be adding some of her photos to this blog post later.  My camera battery was running low, but I still managed to get a few pics.
This next section is a little off topic for this blog post:
One more thing: Coincidentally, early this morning (4-28-2010) I was catching up on some blog reading, and read an article by Valeria Maltoni, called Understanding and Activating Your True Fans.   I was just reminiscing about my last event at the SSC (Starbucks Support Center, their headquarters) – It had been two years (actually about 18 months because the Thanksgiving Blend event was November 2008, as I recall)! I recommend that blog to anyone who is looking for a general marketing and PR type blog.
As I think about what it means for Starbucks to reach out to their fans – which is essentially what this day's event was – I imagine the challenge is the scale of the business. With the millions of customers cycling through their doors, it becomes really difficult to reach down and make contact with any sizable number of them.  My blog isn't busy enough to make any difference to Starbucks, and I want to make it completely clear that my attendance had nothing to do with this blog.  I just got very lucky that my friend Lyracole had a ticket.  I suppose that if Starbucks wants to figure out who to keep in contact with someone who is really influential, they then would woo Ellen DeGeneres and not a tiny little blogger in Seattle, or even ten customers in Seattle.  (Ten customers were in attendance).
Thank you Brad Nelson and my PR friend for letting me join in the fun today! I am ever-delighted to have been able to participate, and thankful for the opportunity. The small size makes it all the more precious that I got to attend.

I think legally now I have to say something like, "Starbucks may have provided promotional consideration for this blog post" which really means that I tasted coffee, and took home a freshly roasted half pound of Organic Shade Grown Mexico and a travel tumbler from the event.  I am a little overwhelmed with tumblers, so I gave mine to Lyracole so that she ended up with two tumblers.
Enjoy a few pics:
Related posts