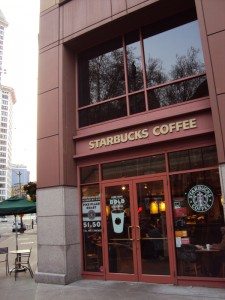 May 1st is the 17th birthday for the Pioneer Square Starbucks store located at First and Yesler, in the Pioneer Square neighborhood of Seattle.  The store first opened on May 1, 1993, and was (roughly) the corporation's 63rd store. (It definitely was not exactly the 63rd store because of several overlapping store numbering systems – For example, there is both a store 101 and store 301).   This store has continually operated in Pioneer Square, and is currently a large space, with lots of wooden chairs and tables, and two mastrenas and several friendly baristas.  I popped into the store this morning (4-10-10) because it had been a while since I had been there. At about 7:30 in the morning, somehow, every single table was taken.  Busy store! The store has no comfy seating, and has an incredible variety of customers.  I stopped into this store now and then over the past few years of working fairly close by, and I've noticed that the clientele ranges from the local homeless and indigent population, to a large number of tourists, and some business/office type people.
Here is the Seattle Times news article about the opening of the Pioneer Square store:
Starbucks Opens Store in Pioneer Square
This neighborhood gets a significant number of summer tourists who come to look at historic buildings like the Smith Tower, do the Seattle "Underground" tour, or to explore the First Thursday Art Walk.  Once upon a time, this neighborhood was the artistic hub of Seattle, though over the years I've lived in Seattle, it seems less so, as the galleries in Pioneer Square have struggled to stay in business during a recession.  The Pioneer Square Starbucks traditionally has made a concerted effort to keep local artist work, rotating it often.  Keeping local art on the walls is significant part of fitting into this neighborhood.
The neighborhood's art gallery history is mentioned in the Seattle Times article.
Enjoy a few pics of the store and the neighborhood!
Related posts