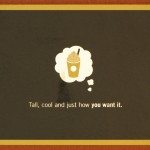 Starbucks is sending out coupons for a free tall Frappuccino! How about a free tall vanilla cream Frappuccino with orange mango puree instead of strawberries puree? It's like an orange cream. Or how about a whole milk Chai version? This is another Frappuccino and coupons blog post.  I owe a number of people apologies: When I first received the Gold card coupon I read it too hastily and thought it said, "Buy one get one free" (I don't know how I did that!) so those of you following me on twitter who saw that series of tweets, my bad!
One of the reasons I write this blog entry is that some very loyal Starbucks enthusiasts on twitter have told me that they didn't get this free Frappuccino coupon.  I have never figured out a rhyme or reason to how Starbucks distributes coupons because we've seen this before where Starbucks sends different coupons to different people.  There is something to be said for the idea of all Gold card holders receiving the exact same promotional coupons.  Though I have no idea the number of Gold card members at this time.  In a previous blog post centered around the Oatmeal discount promotional card, I mentioned previous My Starbucks Rewards coupons, but unfortunately didn't provide any images of the coupons mentioned.  I remember that one of the things that was talked about during that promotion was that not everyone received the same coupons.
Don't forget that the Starbucks Frappuccino has its own twitter profile: You can follow them here – Frappuccino.
Also, thank you to Molly at Seattle Custom Framing who helped me out with the pictures of the images that go with this blog post.
I am now opening up the conversation to anything you want to say about the new Frappuccino, coupons, My Starbucks Rewards, or just about anything else you can think of!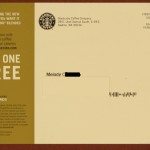 Related posts