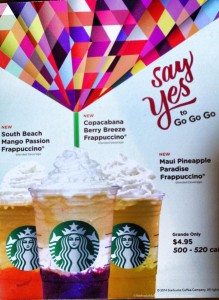 Starbucks is testing something pretty unique: It's a layered Frappuccino. The bottom layer is a semi-frozen fruit, such as pineapple, mango, or mixed berry, the middle layer is a fruity-mousse layer, and the last layer is a blended Coffee Frappuccino with Coconut Syrup blended in.  The whipped cream is citrus infused. This is a very small test in only a handful of stores in San Diego County. Still, it looks so intriguing that I want to shine a spotlight on it.
There are three test flavors of this new Frappuccino: The Maui Pineapple Paradise, the Copacobana Berry Breeze, and the South Beach Mango Passion.
The test began on April 29, 2014, and will run into the summer.
One thing about this beverage, right off the bat, it looks like it would be some work to construct. I certainly don't know if that's true or not, but since only the top one-third of the drink is blended, it looks like it might take more steps to put this Frappuccino together.
If you've tried this Frappuccino or have any thoughts on it, please weigh in.
Thank you to the reader who sent in these great images!
If you like reading about things Starbucks tests, there are many more of these kinds of articles here.
Edit on May 8, 2014: Following very strong interest via Facebook and emails, I'm including the address of the Starbucks location featured in this article: 635 Saturn Blvd., San Diego, California.
Related posts