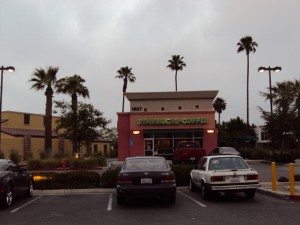 I had a long break in writing reviews of Starbucks stores, but I'm back at it again.  Here we are in Orange, California, at the Starbucks on Katella and Main. It's near a Chili's, a theater, an ice cream place, and a restaurant called King's Fish.
I arrived at 8:o6 pm on Sunday June 6th after an intense day of being at Disneyland literally all day.  My mom is at home resting, and I'm on my first Starbucks trip out for the day.  It's too bad there is no Starbucks coffeehouse right at Disneyland.  I ordered a tall Sumatra in a for-here cup, and a Strawberry Banana Vivanno.  The barista prepared a "pour over" cup of Sumatra.  I plunked down at a larger community table, and one other person worked on his laptop.
The store was very quiet.  Only a few people came and went.  This store has a drive-through too, but since I never use the drive-through I'm not sure how that compares.  It generally sounded like a quiet store.
As I sat writing this, one barista came out, stocked the condiment area, and then a little later, a man came out and swept in the lobby a little.  In total, it looked like three people were working.  A black apron barista (with his name embroidered on it, 'Andy'), and a young woman at the register and another green apron barista at the bar.
What's interesting about this store is their Frappuccino creativity:  When I placed my order at the register, I saw that the store had prepared their own list of store "exclusive Frappuccino" recipes.  I asked the young woman at the register if I could take a photo of their recipes, explaining that my own store in Seattle would get a kick out of it.  She obliged, a little begrudgingly, a little suspicious that I would want this.  (I genuinely do like the creativity in the idea.)
I sat down and the nice register barista brought out my drinks to me. That was nice of her to do!  I liked that she put my cold drinks in nice glass for-here ware.  Though I really had no room left in me for yet one more drink, I got up a second time and ordered a Frappuccino because I decided I had to try one of the house exclusive Frappuccino recipes.  I ordered the Caramel Apple Frappuccino.  Unfortunately, after I drank a tall Sumatra, a Vivanno with dark cherry syrup, and a tall Caramel Apple Frappuccino, I nearly felt sick.  I didn't even walk in thirsty or hungry.  My advice to my readers is not to order all of those things at one visit to a Starbucks.  This store has two Verismo machines for those who were wondering about that.
I used the restroom while I was there.  I can't comment on the state of the men's room, but the ladies' room was clean except for the floor.  Underneath the soap dispenser, on the floor, was a puddle of soap.  When I glanced at it at first I had the passing thought that it was a spill of something strawberry, but then realized the more obvious that the puddle was directly underneath the soap dispenser and the soap is pinkish in color.  It was a definite puddle.  I think the soap dispenser has a leak, or is poorly placed since it is not over the sink.  I actually do not ding the baristas for the puddle of soap – It could be that they clean that every hour and it constantly comes back.  That would be the nature of old soap dispensers poorly placed over floors and not over sinks.  I bet the baristas are constantly grousing about the soap dispenser.  Also, there were some footprints on the floor, like as if it had been walked on when it was wet, or someone came in with wet shoes.
I was one of the last people in the store and I looked around again before I left.  One thing I noticed is that there were no cold to-go cups.  I've heard of places where they sell out fast but hadn't really seen that.  There are cold cups all over downtown Seattle.
The baristas were friendly.  The beverages delicious.  The pour over cup of Sumatra was fine.  I liked that the store exuded some of its own special personality: The exclusive Frappuccino recipe list, and hanging in the store were some decorations (from Memorial Day, I assume) of little mini flags.  At the end of my visit, the baristas' conversations got a little loud, making it hard for me to write this blog post, but since it was literally the end of the work day, I would expect this to happen.  This is an above average store – gets a B+.  The bathroom floor could have been a little cleaner.
If you are curious about other store reviews that are on this site, here are a few older episodes:
Starbucks store reviewer Juan Valdez rides again (Silverdale, Washington store review)
Store review – North Bend, Washington
Store review – A licensed store and company-operated store in Seattle
Related posts