Bellingham, Washington gets a Starbucks Clover brewer
Melody, July 5, 2011
14
2 min

read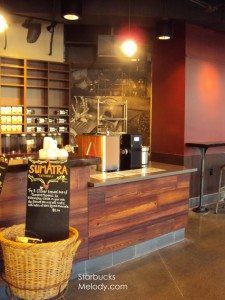 This week Starbucks launched the first Clover brewer in Whatcom County, Washington.  The Clover is in Bellingham, Washington, which is pretty far north, almost into Canada.  The store that got the Clover has recently been through a major remodel too.  On July 1, 2011, I decided to stop by and take a few pictures.  As many readers know, I like highlighting stores, and in particular, I tend to write about the Clover stores.
Since July 1st was a Friday, I worked all day, and then drove north to Bellingham.  By the time I arrived, it was late in the day.  The store was slow.  I met a partner named Joseph who told me that the store has had a Clover for "less than a week."
The store is beautiful.  July 1, 2011, was the official celebration of the launch of the Clover and celebrating the major remodel.  There were flowers and balloons.  While I was there, Jessica, a long-term store partner, dropped by.   She was able to tell me that the original opening day of this store was April 1, 2005.  It's such a small Starbucks world.  As it turns out, she is leaving this store to transfer to the Pier 55 Starbucks in Seattle.  She wants to be closer to Seattle to grow her Starbucks career.  Back in December 2009, I did a blog post with several photos of the Pier 55 Starbucks.  I wasn't focusing on that store, but Pier 55 had gone through a recent remodel, and I had wanted to show it off.  Salvaged pier wood has been used in parts of the store:  Previous blog article about Bell-Square Starbucks and Pier 55 Starbucks.
Here's the Bellingham store's address, in case you want to visit:
Starbucks -#9679  Downtown Bellingham
132 East Holly Street
Bellingham, WA
(360) 738 7539
One of the things that I noticed that makes this store amazing is its big picture windows.  It's stunning to turn around and stare at a pretty tree-lined small downtown street.  And I love the look of the new stores.  I assume there is probably a story behind the photo that says "shoes" on it, but I don't know it.
Hope you enjoyed the short tour of this new Clover brewer Starbucks location!
And so here are just a few pics!
Related posts