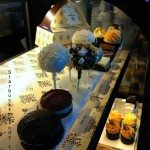 A few districts of stores in Arizona and also on the East coast are the site of the latest Starbucks food test: It's called the "mini" test.  Small-sized food items at a small price.  And look at these photos! They look amazingly delicious! I really want to try those cupcakes right this very minute.  This test began just two days ago on October 5, 2010, and I don't know how long it is scheduled to last.  I have been told that one item is usually price around $1.50 and some items are two for $2.50.  In addition, I have heard that the calorie count of each item is below 200 calories.
This is one of those blog posts that is all about the pictures.  I have not tried these little treats and I wish I had a reason to travel to Arizona!  I have very little information about the test on the East coast but I am told that a few stores have the same "mini" treat test.  I am always fascinated by the many items "tested" by Starbucks, many of which never launch nationally.  Some of you may recall that my very first blog post was on the Honey Vanilla Vivanno which failed to launch nationally having been tested in Sacramento, California.  It was delicious too!
If you like reading about test products, check out the link below for more blog posts at StarbucksMelody.com on tests at Starbucks:
If anyone here is familiar with this test and can add more information about it, or can comment on the quality of the little treats please weigh in!  And as always, your comments are welcome!
Related posts