An old logo mug. A snow globe. An open Starbucks thread.
Melody, February 12, 2011
38
5 min

read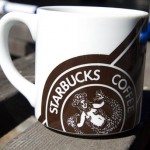 An old logo mug:  The mug in this photo has the first version of the Starbucks siren on it.  There was ever briefly (in 2008 only) another version of this same brown Siren but slightly modified to be more modest.  The 2008 version of the original logo was the same except the Siren had more hair on her head so that it fell over her breasts and there were no exposed nipples.  The 2008 version also seemed to be missing a belly button.  The questions to readers are as follows:  When was this mug produced?  Do you have any thoughts about its value?
Now let me provide the background story to this.
This blog generates quite a bit of email.  People really do use the "contact me" on this blog and send me emails.  I have to be brutally honest here – the majority of the emails I just click the "delete" button and never think twice about it.  I get a number of spam type emails, or people who want to sell their products at Starbucks, or they want to open a "franchise" overseas, or they want an interview with an executive, or they want to exchange backlinks with me (I don't do this),  or they say my blog needs better search engine optimization so I should pay for their services (no way Jose.  I can't believe anyone would fall for that junk), or they want to know how to sell certain CPG products at their international home market, or they want me to review products that have nothing to do with coffee, and so on and so forth.  Please don't send me an email addressed "Dear Howard."  I probably should not admit this, but I simply don't have the time to answer every single email.  I don't want people to stop using  the "contact me" form, and I'd say I write a personalized reply to almost one-third of the emails I receive, but as I already said, I simply can't answer every single one that I get.  I am sorry. 🙁
A couple of weeks ago, a reader sent me a photograph of a mug and asked questions about it.  I didn't know the answers and I was busy so I didn't respond.  The same reader didn't give up.  I got a second email from him which said the following:
Melody, this is the second message I'm leaving for you. I have a late 70's Starbucks coffee mug with no coppyright and the naked mermaid on the front. I need to know info about this mug.  I subscribed to this site so I get updates but I want you to look at the mug.
I replied to the above email and wrote the following:
Thanks for your email.  I really don't have any information about 1970s era Starbucks mugs.  I moved to Seattle in 1989.  I have heard that in the 1980s, Starbucks had a partnership with Hartstone pottery to make mugs for sale in their stores.  I don't even own any Hartstone Starbucks mugs.  Your mug clearly has value. Hope you'll keep it and cherish it.
The email conversation didn't end.  In its entirety, here was his reply:
Starbucks Co. are the ones who told me to get a hold of you, they said you were the #1 Starbucks knower of all. Here are a few pics,could you please post them on your site to see if ANYONE knows anything about the history of this mug? Thank you Obi Melody One, you're my only hope.
Yes, that made my head spin a little.  I had this mental image of someone calling Starbucks Customer Relations, and some confused customer service representative referring the person to me.  So, the mug images are attached, and if anyone has any information about the mug, please chime in.
I must admit, the more I look at the mug, I don't think the mug dates to the 1970s at all.  The store at 1912 Pike Place has continuously sold old logo mugs for a long long time.  Not all the 1990s era merchandise had dates on the bottom.  I have enough mugs to know that once in a while Starbucks failed to put anything on the bottom of the mug.  I would say that this mug is a 1990s old logo mug from 1912 Pike Place.  Anyone want to weigh in on it?  My guess could be totally wrong.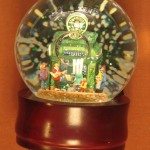 The snow globe:
The attached images are of a snow globe I found on ebay.  It is indeed a real Starbucks snow globe and was sold in stores in 1999.  I realize that Christmas is over, but this was a gem of a find.  It's fairly large, and heavy, and the music box still plays.  I really think it's an amazing snow globe.  I include it in the blog post as we continue to look at the amazing variety of merchandise that used to found in Starbucks stores.  In this blog we've talked about paperclips, blenders, mugs, children's stationary box, a Valentine's Day box, plus many more merchandise items.
If you like reading about merchandise, click here for more of those kinds of blog posts.
On Monday the 14th, I will post the names of the winners from the Seattle's Best Coffee Curiosity Pack Giveaway.
After that, I might drastically slow down my blogging.  I apologize now, and hope that you'll come back, but I am busy at work.  On top of that, I am going out of town over President's Day Weekend and probably will not really have time to put together blog content while I am out of town. Expect about a one week break in blogging starting on the 14th.
This is an open thread.  Feel free to talk about anything related to Starbucks.  On Twitter, one person called to my attention this news article about single-serve coffee and Starbucks.  The article has the subtle suggestion that Starbucks wants to have a machine that rivals the Keurig single serve coffee maker.  Also please weigh in on the coffee mug in this blog article.
Related posts