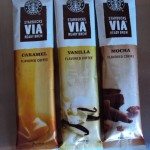 Flavored Via Ready Brew is coming soon to a Starbucks near you.  It arrives October 14, 2010.  There are four flavors of this new Flavored Via: Cinnamon, Vanilla, Mocha, and Caramel.  I was able to get my hands on a couple of packages and I made a video for you.  Please keep in mind, I had no extra packages to play around with in case my video came out horrible.  We just filmed it.  A friend of mine held on to my little Sony Cyber Shot camera, and I brewed a cup, and there you have it, on video.  Honestly, when I watch this thing, I laugh hysterically.  I mean like I had tears rolling down my cheek I was laughing so hard.  There was no script, and it was a one take video.  I think I laugh so hard at the embarrassment of watching myself do this.  Surely I will regret having made this public.  Please watch this three minutes and nineteen seconds of pure embarrassment, and if you've tried the new Via, tell me what you think.
Just a little information:  Each of the flavored Via packets makes 8 ounces of flavored coffee.  It's as simple as pour packet into hot water and stir.   A friend of mine said he got his hands on a packet of the caramel flavored Via, and tried it with steamed milk.  His suggestion is to definitely try these new flavored Vias with steamed milk – Delicious!  I wasn't that ambitious for the video below.
Alright, it's time for my readers to weigh in, and have a good chuckle at the video below:
Related posts
Socialize

Subscribe
Join the StarbucksMelody.com mailing list to receive a weekly email with new posts.